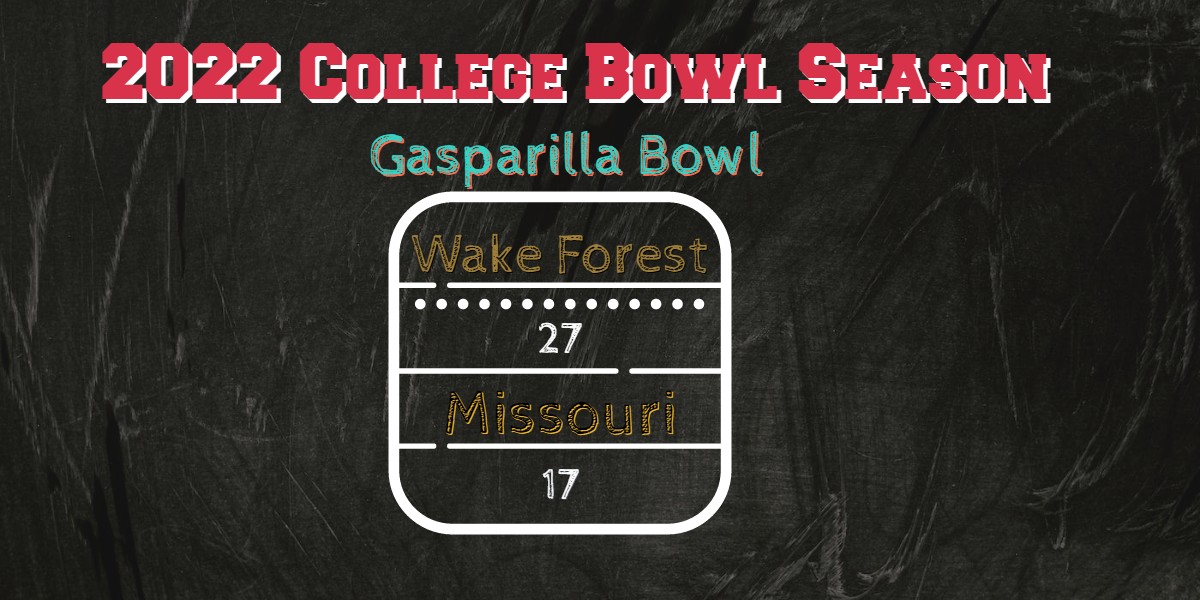 The Wake Forest Demon Deacons rounded out their 2022 season with an impressive come from behind win over Missouri in the 2022 Gasparilla Bowl. They led at the half despite a shakey first half which saw the Tigers grab the momentum following a couple of turnovers.
Missouri opened the second half with an 83-yard drive which took 6.22 minutes off the clock when Cody Schrader ran the ball in.  At that stage, it appeared that the SEC side was set to take over the game. However, a 48-yard TD pass from Sam Hartman soon had the Demon Deacons back in front.
Thereafter Missouri struggled to move the ball, turning it over on downs three times and a third TD pass from Hartman sealed the win with just over 3 minutes to play.  Wake finished the season 8-5 which may be a tad disappointing for them given their 6-1 start. Still, this was their fifth bowl win in seven seasons. Not bad for a relatively small college.
Missouri ended at 6-7 but given they were 4-6 going into their final two games reaching a bowl game was a decent achievement. They will have QB Brady Cook back in 2023 and should build on this going forward.
Sam Hartman
Wake will need to find a new QB for 2023 as Sam Hartman is set to either enter the transfer portal or declare for the NFL draft. Whatever he chooses we are looking forward to seeing him play in 2023. He ended 2022 with 3,701 yards passing and 38 TDs.
The Game Highlights which are well worth watching are below.
Gasparilla Bowl
Wake Forest 27 Missouri 17
Before you go why not check out our other bowl game articles.