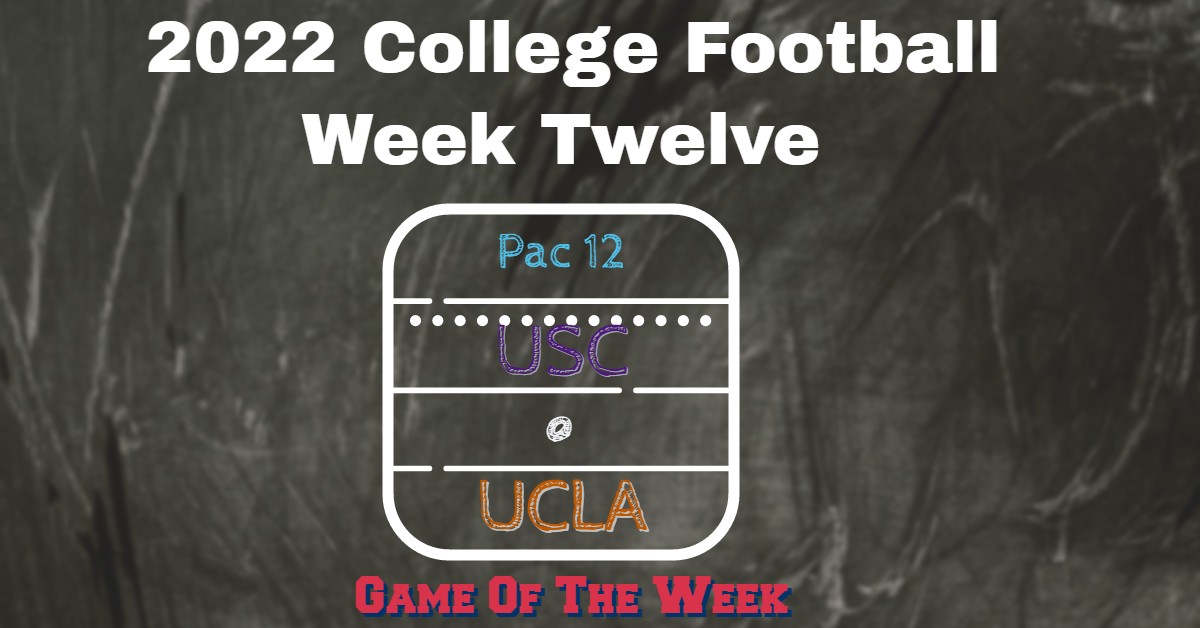 Week Twelve is always one for the calendar as it usually features a few elimination games either from CFP eligibility or in the group of five places in the conference championship games. This year is no different and there are plenty of games to keep the armchair fam entertained, starting on Wednesday and then every night right through to Saturday. Anyway here are the games to watch out for this week…
ACC
Louisiana @ 20 Florida State
Miami @ 9 Clemson
Georgia Tech @ 13 North Carolina
Clemson & North Carolina are set to meet in the conference final but both know that their only chance of making the final four would be as one-loss champions. Thus the stakes remain high, especially for Clemson who faces a Miami side that needs another win to get Bowl eligible. The Hurricanes are on the edge of joining Texas A&M in the ignominy of failing to reach a bowl game after being ranked top 25 pre-season.
Florida State Didn't even get a vote in the opening AP rankings but look likely to finish the season in the top 20 if they can win out. Quite a turnaround for a team who went on a three-game losing streak mid-season.
Big Ten
Illinois @ 3 Michigan
Wisconsin @ Nebraska
Northwestern @ Purdue
Indiana @ Michigan State
2 Ohio State @ Maryland
14 Penn State @ Rutgers
Iowa @ Minnesota
The Big Ten East will most likely be settled next week when Ohio State & Michigan meet. However, they both have one more game to successfully navigate before that winner takes all showdown. They would both get a further boost if Penn State wins out given its only losses have been to these two.
The West though is a mess and right now any one of five teams could get the chance to play party pooper in the Conference Final. Two weeks ago it looked like Illinois was the likely winner, however, a couple of bad losses have scuppered that and now they pretty much need a miracle to get in.
They do have the head-to-head advantage over Minnesota, Iowa & Wisconsin but if as expected they lose to Michigan that won't count for much. Overall the permutations are so vast its best to wait until next week to see who is still standing in the West.
The other game of note is Indiana @ Michigan State as the Spartans really need this to get bowl-eligible given they have to travel to Penn State in their final game.
Big 12
4 TCU @ Baylor
19 Kansas State @ West Virginia
Texas Tech @ Iowa State
Oklahoma State @ Oklahoma
TCU can take another big step towards making the CFP Semi-Finals by moving to 11-0. They finish the season with Iowa State at home so this is probably their last big test before the conference final. They are likely to meet Kansas State there and of course, the Wildcats would love to get revenge and the Sugar Bowl place. The best of the action is in the Pac- 12 though where any two of five teams could still make the conference final.
Both Texas Tech & Oklahoma need another win to get bowl eligible. Who would have thought we would be saying that about the Sooners pre-season?
PAC 12
7 USC @ 16 UCLA
Colorado @ 15 Washington
10 Utah @ 12 Oregon
USC is now the conference's last hope of a playoff berth but at this stage, they are still not even assured of a place in the conference final. A loss to UCLA would allow the Bruins to potentially move ahead of them.  Utah of course could do the same with a win at Oregon. There are even scenarios where Washington gets into the conference final. But that would need a lot of results to go their way.
SEC
Austin Peay @ 9 Alabama
1 Georgia @ Kentucky
5 Tennessee @ South Carolina
14 Ole Miss @ Arkansas
UAB @ 7 LSU
Some strange games here with both Alabama & LSU playing non-conference games. If either was to lose it would be a huge surprise and it would really throw the CFP into chaos. Can you imagine the committee's dilemma if we had a three-loss LSU winning the SEC Championship with one of those being to a C-USA team?
Tennessee would love that assuming they get past South Carolina, however in any event they remain well-placed should Georgia win out. Ole Miss has had another good season and will still in the hunt for an at-large Bowl bid with a win.
Independents
Boston College @ 18 Notre Dame
Utah Tech @ BYU
The Fighting Irish have recovered nicely from a couple of shocking losses and will still be hoping for an "at large" place in one of the New Year Bowl games.  They finish the season with a trip to USC so winning out should be good enough. That will be some turnaround for a team that started 0-2.
BYU after a good start need this one to get to six wins and Bowl eligibility. They will want that out of the way as their final game is a road trip to Stanford which won't be easy.
Group Of Five Divisions
The weekend's focus will no doubt be on the battle for the CFP places however there is plenty of interest in the Group of Five Conferences…
American
SMU @ 21 Tulane
Navy @ 17 UCF
Houston @ East Carolina
Cincinnati 22 @ Temple
Right now any two of five could still win the Conference Final. This would also almost certainly send them to the Cotton Bowl so expect some hard-fought games this weekend. The action kicks off on Friday when SMU need the win to keep their feint hopes alive. Even with a win, they would need a lot of help, but stranger things have happened. Tulane took their first conference loss last week, and defeat here would all but knock them out given they also lost to UCF.
Speaking of the Black Knights, they would all but guarantee a place with a win given they have the head top head over all the contenders apart from Houston and some of the others still have to meet in the final week.
Cincinnati was in the CFP semi-finals last year and they will be desperate to keep up the momentum with another New Year's Bowl game. They face Tulane in their final game so winning out would put them in.
Houston could still make it if they win their final two games but would need Tulane to win out and other results to go their way. Their hopes could be over by the time they kick off on Saturday.
C- USA
Florida Atlantic @ Middle Tennessee
The Owls need this one to keep their conference championship hopes alive. They play Western Kentucky in their final game which could be winner takes all.  However, even winning out would need North Texas to lose their final game of the season against Rice. Still one step at a time.
Mid American
Bowling Green @ Toledo
Ohio @ Ball State
Akron @ Buffalo
The main action takes place midweek and like Houston above Buffalo could already be out by the time they face the Zips. After losing their last two they still need this one to reach bowl eligibility so we are sure they will control their disappointment if as we expect Ohio clinches the division at Ball State. Toledo is already in the Conference Final but will be eyeing the possibility of finishing with double-digit wins.
Mountain West
San Diego State @ New Mexico
Boise State @ Wyoming
San José State @ Utah State
Fresno State @ Nevada
Boise may be 6-0 in Mountain West play, but they are still not guaranteed a place in the Conference Final. They play their nearest rival Wyoming this week.  They finish off with a home game against Utah State so should be ok. However, Utah State could still sneak the division with the right combination of results.
In the Western Division, Fresno just needs to win to be sure given they have the head-to-head advantage over San Diego & San Jose. A loss and win by the other two would leave them with a nervous finale against Wyoming. The scheduler should be commended for keeping things this interesting right to the final games.
Sun Belt
Coastal Carolina @ Virginia
South Alabama @ Southern Miss
UL Monroe @ Troy
Coastal Carolina is already in the Conference Final but will be looking to pad its resume slightly with a Power Five road win. OK, Virginia is not having a great season, however, it would still rank as their best performance if they come away from Scott Stadium with a win.
Troy will join them in the final with a win and a loss by South Alabama. They have the head-to-head over the Jaguars so their destiny remains in their own hands.
That completes our quick look at what's on offer in week twelve. Before you go why not check out our Week Eleven roundup and check back next week for the final regular season games.