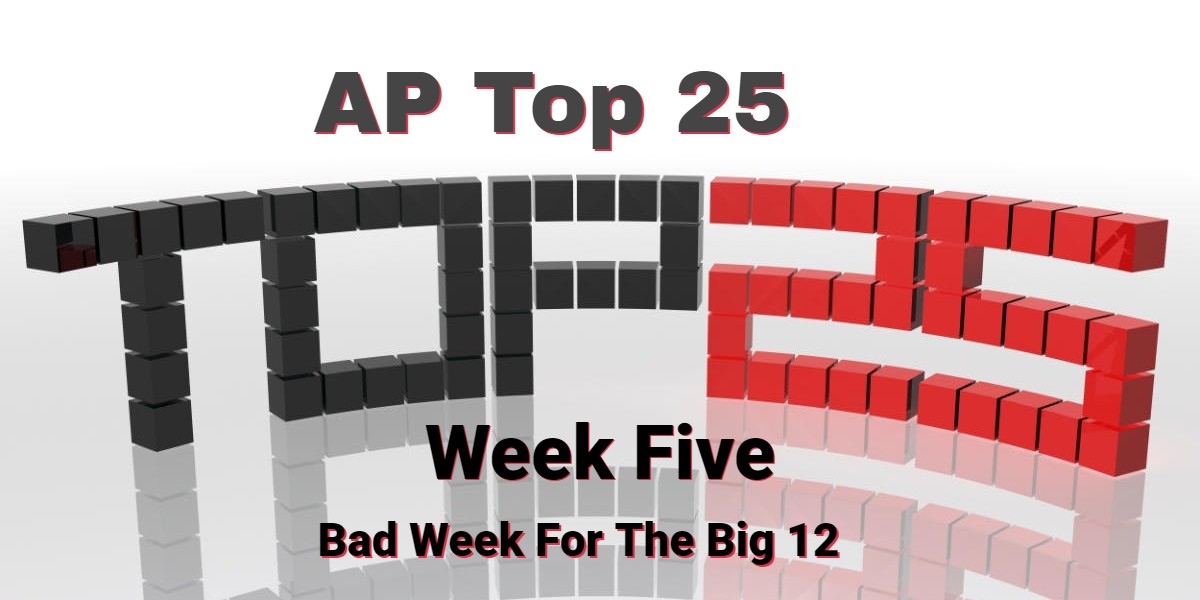 Week Five's rankings make interesting reading if you are a Volunteers fan as Tennessee has moved up to No 8. The last time they were this high at week five was 2005 when they were tenth! Well deserved too given they have two ranked wins and blew away their G5 opponents in the other two.  They travel to LSU this week and a win there will really male people sit up and take notice.
The SEC now has four of the top eight spots thanks to Kentucky holding on to beat now 1-3 NIU. Not the most impressive of wins given Vanderbilt beat them on the road last week, but they are 4-0. They have a tough game at Ole Miss next week so we will get a clearer picture of their prospects after that.
Otherwise, the main talking point was the carnage in the Big 12, where both soon-to-be SEC programmes Oklahoma & Texas lost. The Sooners were no 6 at the time but their current hoodoo team Kansas State pulled off a shock road victory. The Wildcats lost at home to Tulane last week which makes this look even worse. Texas wend down at TTU and are now out of the rankings.
Top Ten Losers
It was a bad day at the office for Oklahoma who lost to Kansas State – again. The Sooners probably can't wait to get to the SEC so avoiding having to play their jinx team every year. The Wildcats have now won three of their last four meetings. This has dented the Sooners' CFP hopes, but with plenty of big games left on their schedule, they can bounce back.
The weekend's other top 10 loser was Arkansas who missed a potentially game-winning 42-yard field goal late in the fourth quarter at Texas A&M. The Razorbacks should have had this one sewn up but silly mistakes and a red zone fumble that was returned for an Aggies TD pretty much summed up their night.
Other Bad Results
The Big 12 woes continued as Texas lost at local rivals Texas Tech in double OT, leaving Baylor the only ranked winner in the conference. With the rest of the Big 12 teams winning they suddenly find themselves playing catch up in the race for the conference championship game.
Still No Group of Five Representation
It's not been a good year so far for the so-called Group of Five (G5) conferences. Inconsistency and bad losses seem to be the story so far. Right now we would put at least 10 non-ranked P5 teams ahead of the best G5 side. Eventually one or two will get their act together but right now their "at large" NY6 bowl slot looks like it could be anybody's.
Welcome To The Rankings
Three new faces this week headed by Minnesota who moved to 4-0 with a convincing win at Michigan State. This was a solid win and with their hardest remaining game looking like their trip to Penn State, the Big Ten West could be theirs.
They are joined by another 4-0 team Florida State who have flown under the radar so far. They have three currently ranked teams coming up and if they were to get to 7-0 they would be genuine CFP contenders. Let's not get ahead of ourselves, however, it looks like they are on the way back.
Finally, Kansas State reaped the rewards of that hard-fought win over Oklahoma. QB transfer Adrian Martinez had another impressive night and he will already be catching the attention of NFL scouts.
On The Fringes
Hands up anyone who expected to see Kansas 4-0 and top of the Big 12 standings at this stage. What nobody? Well, no surprise there! Much of their improvement is down to the excellent play by third-year QB Jalon Daniels. He had another good night throwing for 4 TDs and another rushing as the Jayhawks won the battle of the Basketball schools 35-27.  If they beat Iowa State next week they should be in the top 25.
Anyway, the week five rankings and expect some changes next week as there are five all-ranked games.
Week AP Top 25 Five Rankings
1 Georgia 4-0
2 Alabama 4-0
3 Ohio State 4-0
4 Michigan 4-0
5 Clemson 4-0
6 USC 4-0
7 Kentucky 4-0
8 Tennessee 4-0
9 Oklahoma State 3-0
10 NC State 4-0
11 Penn State 4-0
12 Utah 3-1
13 Oregon 3-1
14 Ole Miss 4-0
15 Washington 4-0
16 Baylor 3-1
17 Texas A&M 3-1
18 Oklahoma 3-1
19 BYU 3-1
20 Arkansas 3-1
21 Minnesota 4-0
22 Wake Forest 3-1
23 Florida State 4-0
24 Pittsburgh 3-1
25 Kansas State 3-1
In – Minnesota, Florida State & Kansas State
Out – Florida, Texas & Miami
Conference representation
SEC 7
ACC 5
Big 12 4
PAC-12 4
Big Ten 4
Independents 1
Week Four's rankings