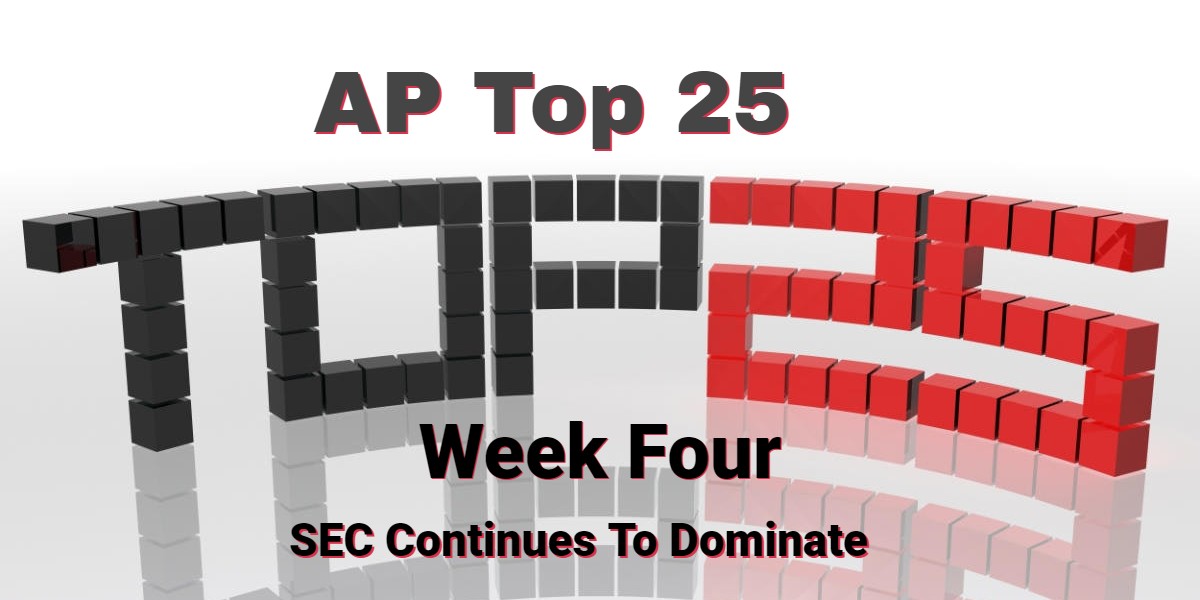 The AP rankings are out for week four and the top 10 is little changed given they all won with varying degrees of ease. Georgia deservedly remains No 1 following a crushing win over fellow SEC side South Carolina. With the remainder of the top 4 playing "Cup Cake games" this was never likely to change. The Bulldogs might just be even better than last year which is a scary thought for the rest of the teams. Check out the highlights …
Kentucky built nicely on their win over Florida to edge up a place while Tennessee continued their good form to make it five SEC teams in the top 11! They play Florida this week so we will soon know if they are for real.
No Group of Five Representation
With Marshall blotting their copybook with an OT loss at Bowling Green it's hard to argue with there being no group of five teams ranked.  Appalachian State is probably the closest thanks to their win over Texas A&M. If they can build on this week's crazy win over Troy they could be in this week.
Welcome To The Rankings
Washington is in thanks to an impressive win over then No11 Michigan State. The Spartans are out, which may be a little harsh given they were on the road. The Huskies play Stanford this week to open PAC-12 play.
Slight Abberation
Usually head-to-head counts in the rankings, however, this week Utah, who are the highest ranked 2-1 team are seven places ahead of Florida who beat them in their opener. The Gators are also 2-1 but their loss was to the current No 8 Kentucky. Go Figure!
On The Fringes
Washington State is 3-0 with a resume that includes a win over then-ranked Wisconsin. They play Oregon at home this weekend and if they can pull off another ranked win the Apple Cup might have some significance this year.
Anyway, the week four rankings are below and there will no doubt be a bit more volatility given there are four all-ranked clashes coming up.
Week Four Rankings
1 Georgia 3-0 SEC
2 Alabama 3-0 SEC
3 Ohio State 3-0 Big Ten
4 Michigan 3-0 Big Ten
5 Clemson 3-0 ACC
6 Oklahoma 3-0 Big 12
7 USC 3-0 PAC12
8 Kentucky 3-0 SEC
9 Oklahoma State 3-0 Big 12
10 Arkansas 3-0 SEC
11 Tennessee 3-0 SEC
12 NC State 3-0 ACC
13 Utah 2-1 PAC12
14 Penn State 3-0 Big Ten
15 Oregon 2-1 PAC12
16 Ole Miss 3-0 SEC
17 Baylor 2-1 Big 12
18 Washington 3-0 PAC12
19 BYU 2-1 IND
20 Florida 2-1 SEC
21 Wake Forest 3-0 ACC
22 Texas 2-1 Big 12
23 Texas A&M 2-1 SEC
24 Pittsburgh 2-1 ACC
25 Miami 2-1 ACC
Out – Michigan State
Conference representation
SEC 8
ACC 5
Big 12 4
PAC-12 4
Big Ten 3
Independents 1
No G5 teams and only three from the Big Ten. Not what we expected going into week four.
Last weeks rankings