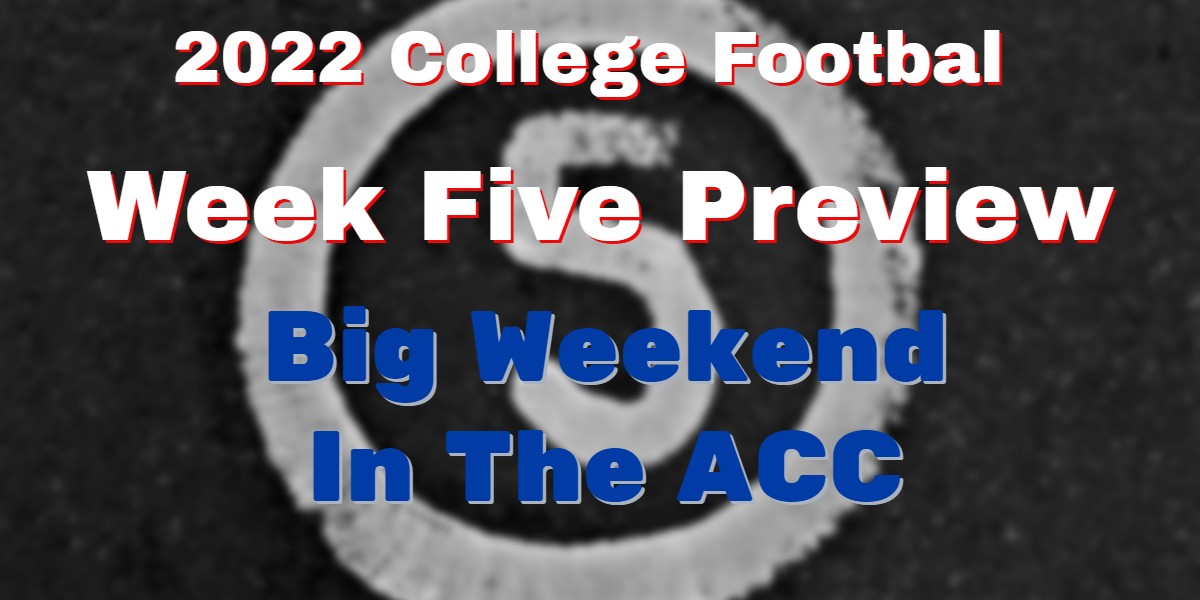 It's week five and conference play is underway and things are starting to get serious. This means we have five all-ranked games to enjoy and no doubt this will lead to quite a bit of turmoil in the rankings next week. A loss now can pretty much end a team's hopes of making the final four and there are crunch games in both the ACC & SEC. No. 8 Tennessee has the week off so might end up getting a little bump without throwing a ball.
The big game of the weekend is the all-ACC clash between NC State & Clemson both of whom are 4-0 and ranked in the top 10. The Tigers edged past Wake Forest last week to get their conference schedule started and this one will tell us if either is genuine CFP Final Four candidates.
There is another interesting clash at the lower end of the rankings featuring the ACC. Wake Forest took Clemson to Double OT last week and a win for them over a surging Florida State could give the Tigers a big boost.
In the SEC
In The SEC Alabama has the opportunity to further entrench itself in the playoff places.  We thought they may have been No1 this week given Georgia's below-par win. This would be a nice addition to their resume as the Razorbacks do look quite good this year.
This one is slightly overshadowed though by the Kentucky, Ole Miss game. Both are undefeated but so far Kentucky has had the harder schedule. It's not often this game has so much at stake and you have to go back to 1958 to find a year when both were ranked going into their meeting.
Big 12
In the Big 12, Oklahoma State will be hoping to make a statement and move to 4-0. They are pretty much the Conference's last hope as far as the CFP playoffs are concerned. Baylor's only loss was to No19 BYU and that came in OT, and they could pretty much sound the death knell on the Big 12's chances with a win.
So plenty of bragging rights at stake and for some, any hopes of a New Year's Bowl slot could be severely dented.
The top 25 fixtures are listed below with our picks highlighted in blue.
All Ranked Games
No. 10 NC State @ No. 5 Clemson
No. 7 Kentucky @ No.14 Ole Miss
No. 2 Alabama @ No. 20 Arkansas
No. 9 Oklahoma State  No. 16 Baylor
NO. 22 Wake Forest @ No. 23 Florida State
SEC Games
17 Texas A&M @ Mississippi State
1 Georgia @ Missouri
The Bulldogs will be looking for a better performance this week to cement their no. 1 position while Texas A&M is continuing to recover from their shock defeat by Appalachian State. Georgia should win this one with some ease, however, we remain less than impressed by the Aggies despite their two consecutive ranked wins. Could this be the week's upset?
Big Ten Games
Rutgers @ 3 Ohio State
4 Michigan @ Iowa
Northwestern @ 11 Penn State
Purdue @ 21 Minnesota
Hard to see anything but wins for the ranked teams here. Could we finally see Penn State in the top 10?
Big 12 Games
18 Oklahoma @ TCU
Texas Tech @ 25 Kansas State
Wins for OCK & KSU would boost both teams' resumes slightly and keep both in contention for the Big 12 championship. However, both games look quite tricky and could be close.
PAC-12 Games
Arizona State @ 6 USC
Oregon State @ 12 Utah
Stanford @ 13 Oregon
15 Washington @ UCLA
USC didn't look like the sixth-best team in the country last week, however, a win is a win and they should be too strong offensively for the Sundevils. Washington probably has the hardest task as UCLA is 4-0. OK, the Bruins may have had a fairly easy schedule but they have been scoring for fun. Overall the Pac-12 looks quite strong this year.
FBS Independent
Utah State @ 19 BYU
It's slightly surprising having BYU as the top independent team in the FBS. With Notre Dame not playing this should continue for another week at least.
ACC
Georgia Tech @ 24 Pittsburgh
Pittsburgh looks to have a great chance at repeating as ACC Coastal champions this year and they get Conference play started with what should be their easiest game.
Other Games Worth Watching Out For
Most attention this week will be on the big conference clashes, however, there is a smattering of other games warranting more than a passing interest. Starting with…
Wagner @ Syracuse
An 0-3 FCS team travelling to a 4-0 ACC team is not normally noteworthy, however here Syracuse is attempting to go 5-0 for the first time since 1987! The Orange will be strong favourites here but they have only just scraped to 4-0 with their last two wins being by a combined 5 points.
Navy @ Airforce
Not as big as the Navy v Arny game but still one for the calendar. There probably won't be a lot of passing yards in this one!
Sun Belt
Georgia Southern @ Coastal Carolina
Texas State @ James Madison
There are a couple of unbeaten teams left here and right now Coastal Carolina looks the most likely of the Group of Five teams to break into the rankings. They have only lost three of their last 20 games and those have been by a combined total of eight points!
The other is James Madison, who so far has made light work of the step up from FCS. They just got the better of Appalachian State last week but should find this one a little easier. They are not allowed to compete in the Sun Belt Conference title game or any Bowl Game in 2022 however They will still be keen to make a statement for recruiting purposes. Last weeks game was crazy and if you haven't seen it the highlights are below
Hurricane Ian
Finally, if you are an AAC fan be aware that the UFC game has been switched to Sunday due to Hurricane Ian. Hopefully, the storm will pass without too much carnage and our thoughts are with the residents of the affected areas.
That completes our quick look at what's on offer in week five. Before you go why not check out our week four roundup and check back next week for week sixes games.