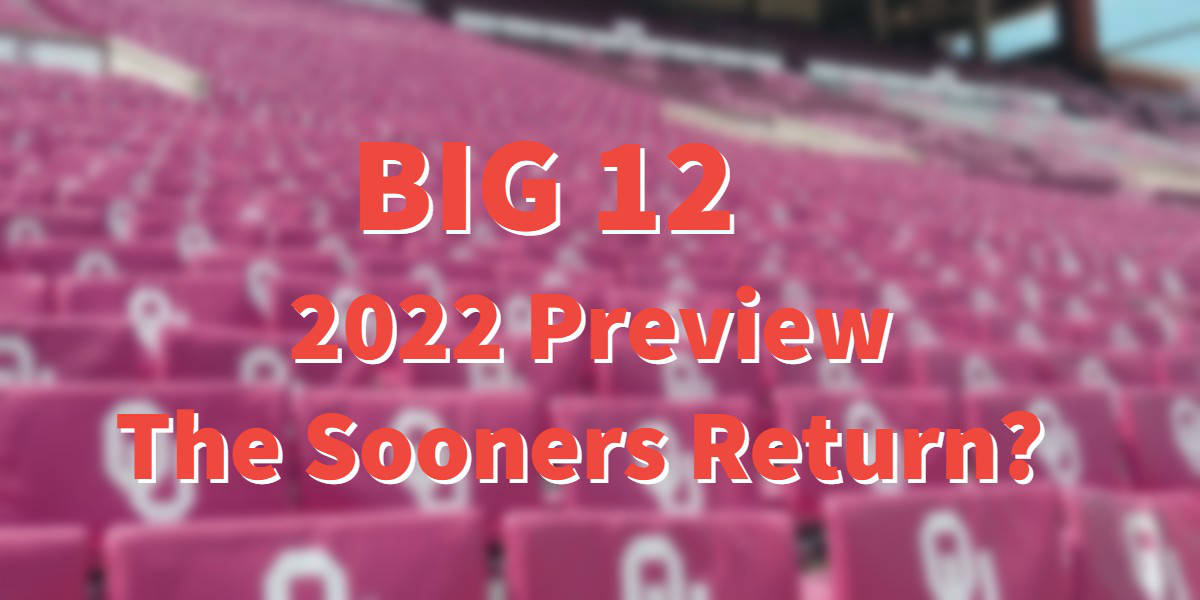 Last year the Big 12 crowned its first champion not named Oklahoma for the first time since 2014! The Sooners' domination had to end sometime, however, was 2021 an aberration or the start of a trend? A trend that will end in any event in 2025 when Oklahoma & Texas pack their bags for the SEC. 2022 looks like being pretty competitive again and we could make a case (of sorts anyway) for five teams. Having said that we expect it to be a shootout between Oklahoma & Baylor.
Last season's Champions Baylor was deserved winners, even if they rode their luck at times. They beat Oklahoma and gained revenge over Oklahoma State (OSU) in the Big 12 championship, but not surprisingly they never looked likely to enter the CFP playoffs.
Their schedule is tough but not unsurmountable, however, their only non-conference game of note is a trip to BYU  so even a 13-0 season might not be enough to get them into the playoffs. They return enough starters to make us believe they will be there or thereabouts again but road trips to the Sooners, Long Horns and Cyclones might just prove one banana skin too many.
Oklahoma has a lot of new faces on its roster but they look to have plenty of young talent ready to fill the void. Naturally, they will take time to settle, and the good news here is that their opening slate is fairly easy. They should be bedded in nicely by October when things start to get serious. They have Baylor & OSU at home too which will help. We can see them finishing with double-digit wins.
Possible Contenders
Oklahoma State won the Fiesta Bowl last year and both their losses were by a score or less. We are pretty sure that they would have edged Cinncinati out of the 4th CFP place if they had won the B12 championship and despite their losses in the draft they look capable of competing again. Head coach Mick Gundy who has been in the role since 2005 rarely has a losing season and they will get at least 8 wins.
Texas had a miserable end to 2021 losing six in a row and missing out on a Bowl game. Now departed QB Casey Thompson kept the scoreboard moving, however, their defense seemed incapable of stopping anyone.
The final dark horse is Kansas State. They have taken some time to adjust to Chris Klieman's tenure, however, they have shown that they can win the games they are expected to win. It will be interesting to see how QB transfer Adrian Martinez fairs. He struggled a bit at Nebraska, however, the talent here is a step up.
Fighting For Bowl Eligibility
TCU could be on the verge of becoming relevant again. QB Max Duggan has improved every year and he looks likely to be in the NFL next year. They have talent scattered through the roster and if Quentin Johnston continues to improve their offense could be fun to watch. Seven wins look achievable and with a favourable bounce or two who knows?
Iowa State has to replace QB Brock Purdy who has left for the NFL. Their tough schedule coupled with a penchant to underachieve have us pegging them at 6-6.
That might be it for the Big 12 Bowl wise although West Virginia and Texas Tech could find a slot if things go their way.
Big 12 Predicted Finish
Oklahoma 10-2
Baylor 9-3
Oklahoma State 9-3
Texas 7-5
Kansas State 7-5
TCU 7-5
Iowa State 6-6
West Virginia 5-7
Texas Tech 5-7
Kansas 3-9
Big 12 Champions?
We are predicting Oklahoma to win it for an 11-2 record which will not be good enough for a CFP semi-final place. Still, the Sugar Bowl will be a nice consolation. We doubt any of the other Big 12 teams will get any of the at large NY Six Bowl places.
Header Image: RaksyBH/Shutterstock.com