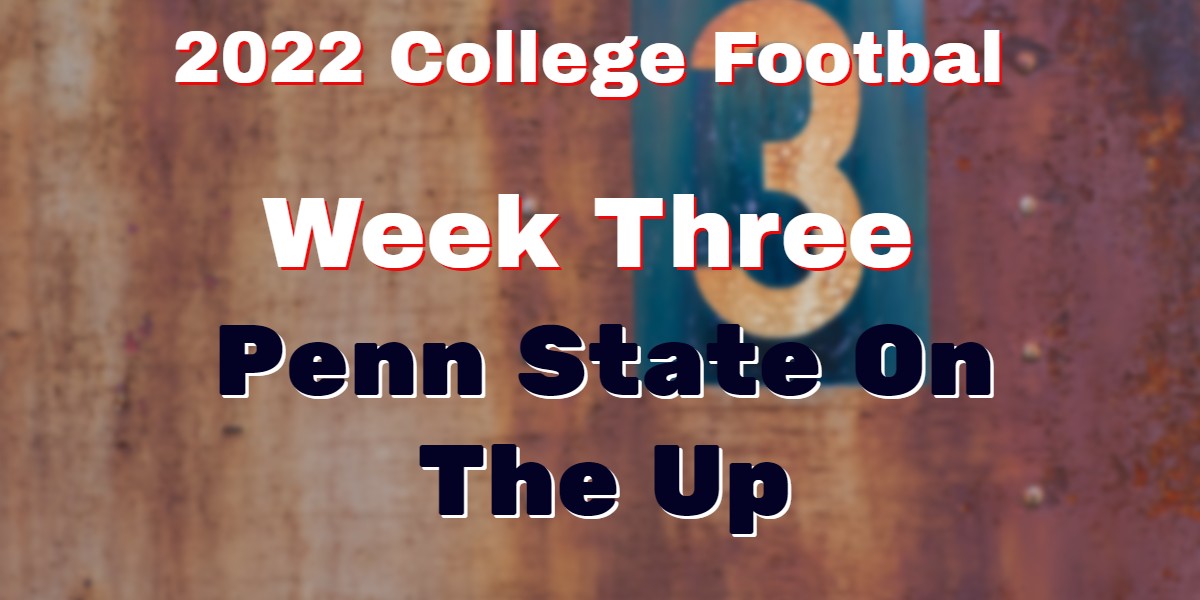 Week three of the 2022 college football season was a whole lot less eventful than last week with only one ranked team succumbing to an unranked opponent. Even here it was not a huge upset given Washington who beat no 11 Michigan State is now 3-0. They are likely to replace the Spartans in the rankings this week.
Only three ranked teams lost in total and although the higher ranked team lost in the other two games they were on the road. Oregon looked pretty beating BYU by three TDs and led 38-7 going into the 4th quarter. The Ducks might actually be quite a good team which speaks volumes for Georgia.
In the other all-ranked game Texas A&M got back on track, hanging n to beat a disappointing Miami 17-9. The Hurricanes were missing their No1 WR and sadly the supporting cast proceeded to drop a number of key passes.
Making A Statement
Penn State was surprisingly overlooked (not by us of course) pre-season but now at 3-0, they will be pushing towards the top 10 thanks to a mighty impressive road win at Auburn. The Nittany Lions ran for 245 yards and forced four turnovers while holding Auburn's highly regarded RB Tank Bigsby to only 39 yards! They didn't do as well against the pass but this Penn State team might actually be a threat in the B10 East.
Not Too Impressive
Florida & Wake Forest both won but struggled against opposition they were expected to manhandle. Liberty could have won the game but a failed 2pt conversion gave Wake Forest a win they barely deserved. It was a great game for the neutral though being back and forward with plenty of lead changes and turnovers! The Deamon Deacons will have to play a whole lot better if they are to repeat last season's heroics.
Florida similarly had to rely on their opponents to secure the win. It took a late fourth-quarter TD for the Gators to regain the lead and only a botched field goal attempt prevented the game from going to OT. This was not the bounce-back win Florida was hoping for after last week's painful loss to Kentucky.
The rest of the week's top 25 games pretty much followed the script with Georgia continuing to look impressive.  They lost 15 players in the draft but might actually be even better than last year.
AP Top 25 Results For Week Three
No.1 Georgia 48 @ South Carolina 7
UL Monroe 7 @ No.2 Alabama 63
Toledo 21 @ No.3 Ohio State 77
UConn 0 @ No.4 Michigan 59
Louisiana Tech 20 @ No.5 Clemson 48
No.6 Oklahoma 49 @ Nebraska 14
Fresno State 17 @ No.7 USC 45
Arkansas-Pine Bluff 7 @ No.8 Oklahoma State 63
Youngstown State 0 @ No.9 Kentucky 31
Missouri State 27 @ No.10 Arkansas 38
No.11 Michigan State 28 @ Washington 39
No.12 BYU 20 @ No.25 Oregon 41
No.13 Miami 9 @ No.24 Texas A&M 17
San Diego State 7 @ No.14 Utah 35
Akron 6 @ No.15 Tennessee 63
Texas Tech 14 @ No.16 NC State 27
Texas State 7 @ No.17 Baylor 42
South Florida 28 @ No.18 Florida 31
Liberty 36 @ No.19 Wake Forest 37
No.20 Ole Miss 42 @ Georgia Tech 0
UTSA 20 @ No.21 Texas 41
No.22 Penn State 41 @ Auburn 12
No. 23 Pittsburgh 34 @ Western Michigan 13
Entertaining Game of the Week
Plenty to choose from but for us, the honours go to…
Troy 28 @ Appalachian State 32
A good hard-fought encounter with plenty of offense and a whacky ending that clinched it for us…
Honourable mention goes to Florida State who moved to 3-0 with a nice win at Louisville. Plenty of 4th quarter action and an excellent performance in defeat from Cardinals QB Malik Cunningham. He led the stats in passing and rushing ending up with 370 combined yards and 3 TDs—Shades of Lamar Jackson on show.
Performance of the Week
Once again we are doffing our cap to an FCS programme. This week the award goes to Southern Illinois for their excellent road win against Big Ten Northwestern. This is the first FSC win over a Power 5 team this season and was well deserved. A late TD by the Wildcats made the score slightly less embarrassing and South Illinois also missed two Field goals.
Honourable mention goes to Bowling Green who brought Marshall crashing back down to earth with a 34-31 OT win. marshall was their own worst enemy in this one. They put up 170 more yards of offense but lost the turnover battle 3-0.
One You Might Have Missed
Kansas 48 @ Houston 30 
As we mentioned Kansas hadn't started a season 2-0 since 2011 and now low and behold they are 3-0 thanks to an excellent win at Houston, who big things were expected of pre-season. The Jayhawks have not won this many games since 2009 and haven't been to a bowl game since 2008. They are already halfway to eligibility.
So thats week three in the bag and it will be interesting to see how the voters react to the big wins by Penn State & Washington.
Check out our other 2022 Weekly Round Ups here