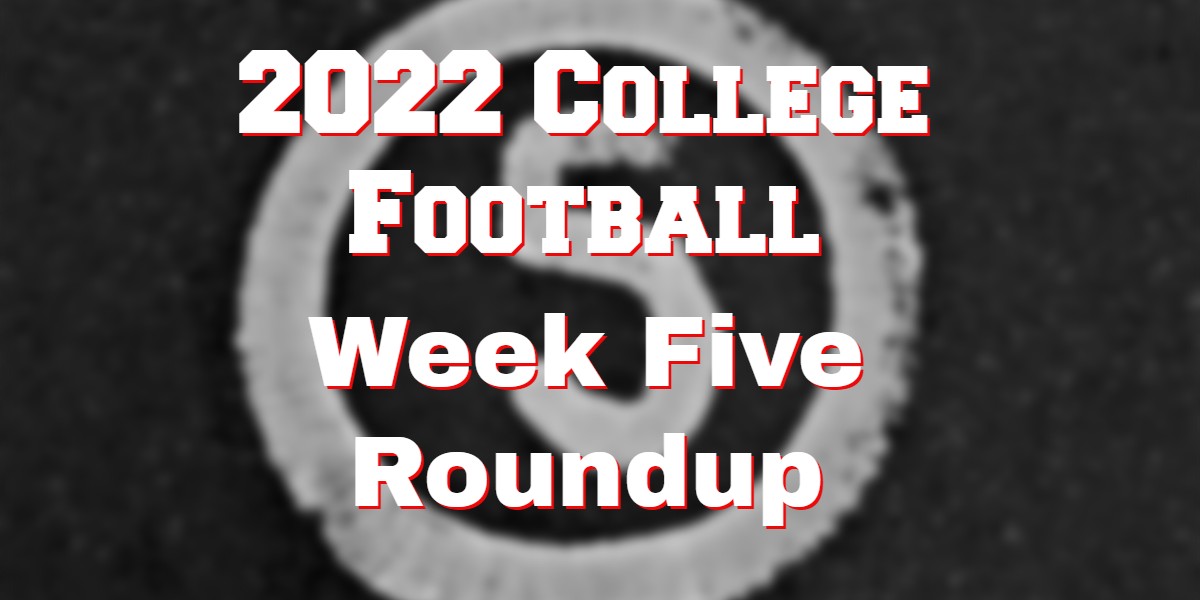 Things really did get serious in week five with 10 (yes Ten) of the top 25 losing and one or two not looking too impressive even if they scraped home.  It was a better week for the Big 12 though and they should have four teams ranked in week six. Surprisingly neither Oklahoma nor Texas will be among them though.
The top six all won so there won't be a huge amount of change at the top, however, we might see a new No.1, as Georgia failed to impress again. The SEC had another good weekend though and still has four teams unbeaten, all of whom could be in the top 10.
Clemson took the honours in the week's big game and they should be pushing for inclusion in the CFP playoff spots. Whether they can edge Michigan that this stage will depend on how the rankers view their respective schedules.
A Bit Disappointing
Minnesota crashed into the rankings for the first time last week, but will no doubt be gone again following their loss to Purdue. Similarly, the AAC can say goodbye to one of its ranked teams' thanks to Pittsburgh's stunningly bad loss to Georgia Tech. The Panthers were 22-point favorites in this one!
Making A Statement
UCLA was flying well under the radar at 4-0 due to a fairly weak schedule but a win over then-No 15 Washington should get them a bit more attention. They play Utah & Oregon in their next two games. If the Bruins were to get to 7-0 we would have to start talking about them as CFP contenders. Never thought we would even be contemplating that.
Anyway, the top 25 teams' results are below – In case you are looking for them, Tennessee had the week off.
AP Top 25 Results For Week Four
No. 10 NC State 20 @ No. 5 Clemson 30
No. 7 Kentucky 19 @ No.14 Ole Miss 22
No. 2 Alabama 49 @ No. 20 Arkansas 26
No. 9 Oklahoma State 36 @ No. 16 Baylor 25
NO. 22 Wake Forest @ No. 23 Florida State
Clemson won the weekend's big game (rankings-wise anyway) but was pushed by the Wolfpack who hung in there for much of the game. Clemson's 10 points off of turnovers proved decisive. That's two ranked wins in a row for the Tigers, who will be pushing for the No4 spot this week.
SEC Games
No. 17 Texas A&M 24 @ Mississippi State 42
NO.1 Georgia 26 @ Missouri 22
Georgia looked less than impressive for the second successive week. They trailed Missouri with less than 10 minutes to play, however, two late scores gave them a win that they just about deserved. They will probably stay No.1 but we would edge Alabama ahead of them given they were without QB Bryce Young for much of the game.
Texas A&M's loss was as comprehensive as it looked as they succumbed to a combination of poor ball control and Mike Leech's "Air Raid Offense". It looks like it's back to the drawing board for Jimbo Fisher!
Big Ten Games
Rutgers 10 @ No.3 Ohio State 49
No.4 Michigan 27 @ Iowa 14
Northwestern 7 @ No.11 Penn State
Purdue 20 @ No.21 Minnesota 10
Routines win for Ohio State & Michigan but a sloppy one for Penn State who turned the ball over 5 times. Still, the weather didn't help.  Minnesota broke into the rankings last week but it will be a short-lived stay following this defeat.
Big 12 Games
No.18 Oklahoma 24 @ TCU 55
Texas Tech 28 @ No.25 Kansas State 37
Oklahoma lost for the second week in a row and will no doubt slide well out of the rankings this week. We are not sure if the Sooners are just a bit meh or if TCU is actually rather good. Like UCLA  they had been largely overlooked due to a weak opening schedule. The win was easier than lit looked as they took their foot off the gas in the fourth when it was 55-17. They had 668 yards of offense too!
Kansas State struggled to shake off Texas Tech and they didn't pull away until the fourth quarter. Still, QB transfer Adrian Martinez looks like a different player to the one that suited up for Nebraska. 171 yards rushing and 4tds overall – shades of Lamar Jackson showing.
PAC-12 Games
Arizona State 25 @ No.6 USC 42
Oregon State 16 @ No.12 Utah 42
Stanford 27 @ No.13 Oregon 45
No.15 Washington 32 @ UCLA 40
Utah did what USC couldn't do last week – make Oregon State look ordinary. The Utes took control in the second half and dominated on both sides of the ball forcing 4 turnovers.
USC looked a lot sharper on offense this week, well in the second half anyway. The result was never really in doubt but it was less impressive than the score suggests and ASU is not a good football team this year.
Oregon and in particular Bo Nix continued their redemption beating Stanford a lot easier than the final score suggests. Nix had 4 TDs inc two rushing ones and the Ducks led 45-17 going into garbage time.
FBS Independent
Utah State 26 @ No.19 BYU 38
BYU moved to 4-1 with a workmanlike win over Mountain West Utah State. Neither side had a great game with BYU missing a couple of field goals and USU turning the ball over three times, one for a pick-six. Considering FCS Weber State beat Utah State 35-7 this has to go down as a disappointing result.
ACC
Georgia Tech 26 @ No.24 Pittsburgh 21
Pittsburgh blew their chance to move into poll position in the ACC Coastal. There are still plenty of games to go but this was a bad loss!
Entertaining Game of the Week
Normally this needs a lot of thought, however this week the game we would happily rewatch was pretty clear-cut…
Northern Illinois 38 @ Ball State 44 (2OT)
A bit of everything here with NIU dominating the run and Ball State the pass. Overall there were 11 TDs, four turnovers, and a storming late comeback to sneak an unlikely win.  NIU running Back Harrison Waylee had a night to remember too, rushing for 230 yards and 3 TDs.
Check out the highlights below…
Performance of the Week
No Doubt it was TCU but outside of the ranked games, we will plumb for…
UTSA 45 Midd Tennessee 30
Picking a C-USA  game may be a surprise however it was a record-setting night for Roadrunners QB Frank Harris who threw for 414 yards and scored four touchdowns. It was also a good win given that Middle Tennessee was coming off of a win at Miami. Harris was 27-of-36 passing & 2 TDs and ran for the other two.
Still Unbeaten
Wagner 0 @ Syracuse 59
Syracuse had not been 5-0 since 1987 but The Orange reached this landmark in some style not only shutting FCS Wagner out but holding them to 50 yards of total offence! Things get a whole lot tougher now for Syracuse but with a bit of luck they might just end up Bowl eligible for the first time since 2018.
Iowa State 11 @ Kansas 14
Wow, the Jayhawks are 5-0. That's as many wins as they managed from 2019-2021! This was not a great game to watch with punts and missed field goals being the order of the day. Still, it should just about get Kansas into the rankings given this week's results.
Georgia Southern 30 @ Coastal Carolina 34
The Chanticleers left it late, however, that last-minute TD maintained their impressive run. That's eight consecutive wins stretching back into last season and only 2 losses in their last 18 games. There are too many 4-1 Power Five teams for them to get ranked this week but, they will be knocking on the door if they win a couple more.  
Texas State 13 @ James Madison 40
JMU are 4-0 and continues to make fairly light work of their step up into the FBS. They similarly will be on the fringes of being ranked even if they are not bowl or Sun Belt Championship eligible.
Check out our other 2022 Weekly Round Ups here