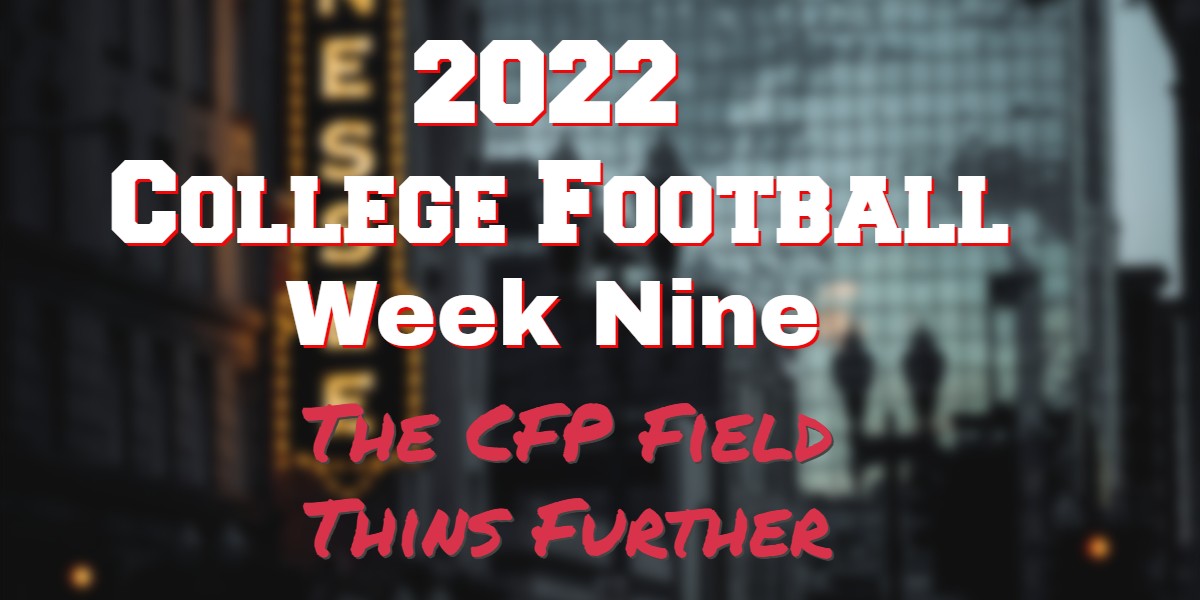 Week nine was a tale of two halves with the top teams all winning while seven other ranked teams lost. The night's big clash saw Ohio State cement their place in the playoff places with a decent win. Mark the 26th of November in your diary now as their game with Michigan will likely decide the B10 East.
Five of the six remaining unbeaten teams played and all won with varying degrees of ease and the CFP picture is now a lot clearer.
The Winners
Michigan gained again this week, not only by beating their neighbours with some ease but also thanks to Penn State's performance. They thrashed the Nittany Lions a couple of weeks ago and will take heart from Penn State giving the Buckeyes quite a game.
In The SEC both Tennessee & Georgia won as expected. This has set up the game of the season next week when one of them will see their 100% record fall, while the other will sew up their place in the SEC Conference Final.
The night's other big winner was TCU who not only won but saw their gutsy win over Kansas State get a bit of a boost. The Horned Frogs had another tough game in West Virginia but they are 8-0 and on course to crash the final four if they win out. They still have to negotiate a couple of tricky road games and the conference final but there is no way that the committee can leave out a 13-0 TCU. Can they?
Finally, Tulane also got a nice resume boost without throwing a ball. They beat Kansas State earlier in the year and at 7-1 sit atop the AAC. It will be interesting to see if the voters take note of that and move them up a bit in the rankings.
Not So Good
Oklahoma State's lingering hopes of sneaking into the final four ended in ignominious fashion with a 48-0 beatdown at Kansas State. That leaves them with a mountain to climb if they are going to get into the B12 Conference final and an NY6 Bowl game may now be off the table too.
The night's other painful loss was inflicted by UCF. They edged out Cinncinatti with a last-minute TD for a crucial win. It looked like a couple of fumbles was going to cost them, however, RJ Harvey's 17yard run gave them a win that leaves them nicely placed in the race for the AAC. The winner of the Conference final is almost certainly going to be heading for the Cotton Bowl!
Anyway, the top 25 results are below:
All Ranked Games
2 Ohio State 44 @ 13 Penn State 31
9 Oklahoma State 0 @ 22 Kansas State 48
19 Kentucky 6 @ 3 Tennessee 44
Penn State will look back on a game and wonder what if. They gave up 21 points from turnovers and the game was close until the final three minutes when The Buckeyes put on 14 points in ten seconds!!!
Kansas State and Tennessee were never threatened in their games.
ACC
10 Wake Forest 21 @ Louisville 48
Notre Dame 41 @ 16 Syracuse 24
Pittsburgh 24 @ 21 North Carolina 42
Virginia Tech 21 @ 24 NC State 22
Big Ten
Michigan State 7 @ 4 Michigan 29
17 Illinois 26 @ Nebraska 9
Big 12
7 TCU 41 @ West Virginia 31
PAC 12
8 Oregon 42 @ Cal 24
10 USC 45 @ Arizona 37
Stanford 13 @ 12 UCLA 38
14 Utah 21 @ Washington State 17
SEC
Florida 20 @ 1 Georgia 42
15 Ole Miss 31 @ Texas A&M 28
Missouri 23 @ 25 South Carolina 10
American Athletic
20 Cincinnati 21 @ UCF 25
With Tulane having the weekend off, the AAC spotlight is firmly on the Bearcats who face their last big test. UCF slipped up last week but they are tough at home and will know that a win in this one would keep their hopes of reaching the Conference Final alive. The AAC champion is odds on to take the "at large" place in this year's Cotton Bowl so the stakes are high.
Not Playing
Four teams had Halloween weekend off. most of them benefited to some degree without throwing a pass.
Alabama, Clemson, LSU & Tulane.
Group Of Five
A few games here with Conference title implications…
MAC
Toledo 27 @ Eastern Michigan 24
Miami (OH) 27 @ Akron 9
This keeps both Toledo and Miami in with a chance.
C-USA
North Texas 40 @ Western Kentucky 13
The Mean Green are well placed now for a rematch with UTSA
Mountain West
Colorado State 10 @ Boise State 49
Boise has just about sewn up their place.
On The Up
The Liberty Flames had the week off, but they could end up ranked thanks to results elsewhere. They are 7-1 and their only loss is by a point to Wake Forest. Ok, the Deamon Deacons didn't do them any favours, however, who else would you put at 25?
Speaking of Wake Forest…
Bad Day At The Office Award Goes To
Wake Forest – They say turnovers will kill you and it was certainly the case here. The demon Deacons gave up four fumbles & four interceptions. This included turning the ball over on five consecutive plays!
One you probably missed
Troy 10 @ South Alabama 6
Not the most exciting of games, however, that's the Trojans' fifth win on the bounce and they are now in a strong position to win the Sunbelt West. They have the head-to-head over their two nearest rivals. This matters as there is still an outside chance that the Sun Belt Champion gets the "At Large" Bowl Slot.
 Still Unbeaten
Still, six teams with 100% records, and five of these won again this week. This has set up massive games in the Big Ten & SEC which will effectively decide the place in the relevant conference finals.
ACC
Clemson 8-0
Big 12
TCU 8-0
Big Ten
Michigan 8-0
Ohio State 8-0
SEC
Georgia 8-0
Tennessee 8-0
Still Alive In The CFP
ACC
Clemson 8-0
North Carolina 7-1
Big 12
TCU 8-0
Big Ten
Michigan 8-0
Ohio State 8-0
Illinois 7-1
PAC 12
USC 7-1
Oregon 7-1
UCLA 7-1
SEC
Georgia 8-0
Tennessee 8-0
Alabama 7-1
Ole Miss 7-1
LSU 6-2
Yes even LSU could still make it by winning out. It would be the first time a two-loss conference champion made the final four though.
So ends our brief overview of week nine, just in time for the opening CFP rankings.
You can check out our other 2022 Weekly Round Ups here