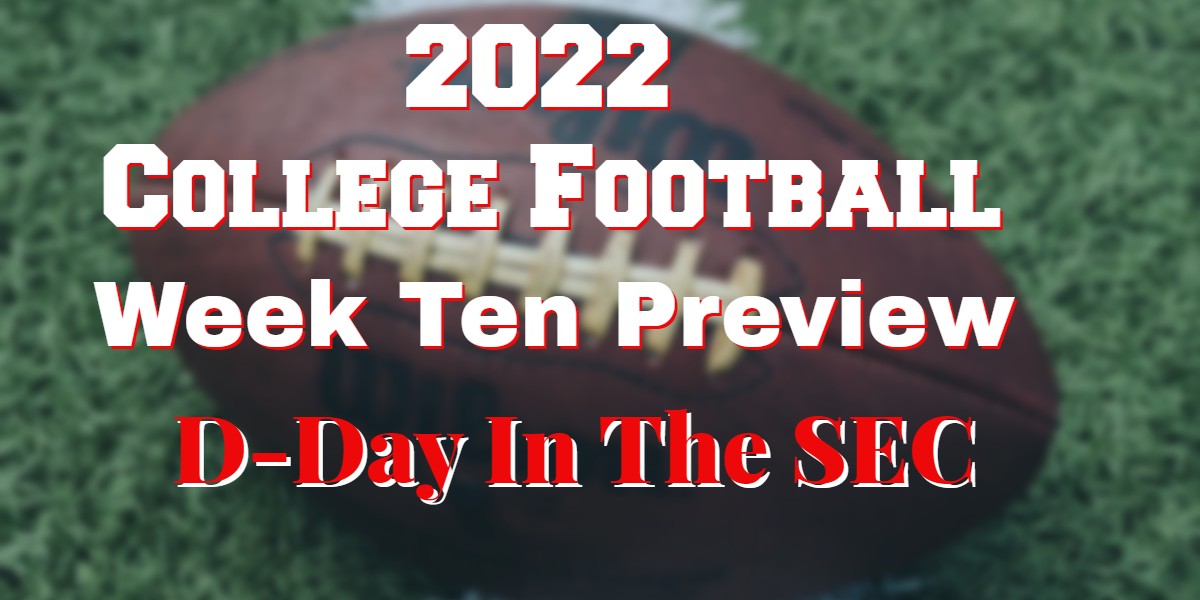 Week Ten is upon us and it is headed by the game of the season so far as the No. 1 & (joint) No 2 clash in a game that will have huge ramifications in the SEC. Not content with that the SEC is also serving up another pivotal game when the Tide travel to LSU. Lots of exciting games to look forward to and the only thing that is certain is that we will be down to a max of five unbeaten teams come Monday morning.
All Ranked Games
2 Tennessee @ 1 Georgia
6 Alabama @ 15 LSU
20 Wake Forest @ 21 NC State
The main focus here will be on the SEC where both games are effectively for a place in the Conference Final. Tennessee & Georgia are both undefeated and this is arguably the last big test for both. This looks like a thriller in the making pitching the Volunteer's top offense against the stout Georgia defense. The winner of this one will almost certainly be in the final four regardless of the result of the SEC Championship game so expect some fireworks.
In the night's other big game LSU will be looking to come back from the dead having been unranked for much of the season. They were well beaten by Tennessee in early October but two good wins since have suddenly put them in a position where they could grab a final four place by winning out. The atmosphere at Tiger Stadium will be incredible on Saturday and may just be enough to give them the edge.
The other all-ranked game is in the ACC. Wake Forest is coming off a bad loss after sneaking into the top 10. That loss to Louisville has probably cost them any hope of playing in a major bowl game, however with three currently ranked opponents to play their destiny still remains in their own hands. NC State was a tad lucky last week and will fall out of the rankings if they lose this one.
ACC
5 Clemson @ Notre Dame
17 North Carolina @ Virginia
22 Syracuse @ Pittsburgh
Clemson is on a hiding to nothing here. Beat Notre Dame and the pollsters will point to the Irish losing to Marshall & Stanford. Lose and they can pretty much kiss goodbye to their playoff chances. The thing is Notre Dame is actually pretty good on their day as North Carolina and Syracuse will attest. This is one of the weekend's most intriguing match ups.
Big Ten
2 Ohio State @ Northwestern
4 Michigan @ Rutgers
Michigan State 14 Illinois
16 Penn State @ Indiana
Nothing much to see here apart from Illinois having the chance to pretty much sew up a place in the Big Ten Conference Final. How would the CFP committee view a 12-1 Illinois? Now that would be worth being a fly on the wall for.
Big 12
Texas Tech @ 7 TCU
Texas @ 13 Kansas State
18 Oklahoma State @ Kansas
TCU need to keep winning, simple as that. A one-loss Big 12 champion might not get into the final four.  Kansas State can keep the pressure on TCU with a win. That would pretty much put them into the Conference final too with the chance to spoil the Horned Frogs' party.
PAC 12
24 Oregon State @ Washington
8 Oregon @ Colorado
10 UCLA @ Arizona State
California @ 9 USC
Arizona @ 12 Utah
The PAC 12's hopes of a final four place rely on one team going 12-1. Three of these teams can still manage that.
American Athletic
19 Tulane @ Tulsa
25 UCF @ Memphis
The AAC champion is odds on to take the "at large" place in this year's Cotton Bowl and there is still a slight chance that Tulane could finish high enough to get one on merit.
Independents
23 Liberty @ Arkansas
This would be a big win for Liberty who could make the Cotton Bowl if results went their way.
Not Playing
Ole Miss have the week off and they will be hoping for an Alabama win, as that could still give them a chance at the division.
In The MAC
Buffalo @ Ohio
Western Michigan @ Bowling Green
The path to the MAC conference final is now a lot clearer and given the games are mid-week affairs there is no excuse for not tuning in to watch.
In The East, it's "win and in" for Buffalo who would move to an unassailable 5-0 in conference play. However, a loss and Ohio would be in poll position via the head-to-head.
In the other meaningful game Western Michigan can keep their hopes alive. They trail Toledo by two games however the Rockets have played a game more and the two meet to end the regular season. So basically the Broncos can pinch the division by winning out. Hard to believe but true given they are currently 3-5!
Other Games Worth Watching
The weekend's focus will no doubt be on the SEC however there are a few interesting conference battles still going on in the Group of Five…
C- USA
UTSA @ UAB
Florida International @ North Texas
Western Kentucky @ Charlotte
UTSA will all but sew up a place in the conference final with a win. That would put them at 5-0 in conference play and they would have the head-to-head over their two nearest rivals. North Texas are next in line with their only conference loss being to UTSA.
They hammered Western Kentucky last week and have already beaten Florida Atlantic. Moving to 5-1 with wins over their only meaningful rivals would leave them in pole position for a rematch.
Western Kentucky will of course keep battling and a win would leave them in with a chance should either slip up badly. Not much chance of that but a win over charlotte would also see them bowl-eligible for the fourth year running.
Mountain West
Hawaii @ Fresno State
The Bulldogs have recovered nicely from a four-game skid and currently are top of the West Division. A Win over Hawaii would all but put them into the Conference final.
Sun Belt
Appalachian State @ Coastal Carolina
Troy @ Louisiana
South Alabama @ Georgia Southern
In the Sun Belt, Coastal Carolina can win the East Division with a win over Appalachian State. The Chanticleers had their 18-game regular season winning streak ended by the Mountaineers last year so this would be sweet.
Troy ground out a win over South Alabama last week to take over atop the West. They can pretty much sew up the division with a win, however, South Alabama will still be waiting to pounce should they win and the Trojans slip up. All will be clearer by Monday Morning.
That completes our quick look at what's on offer in week Eight. Before you go why not check out our Week Nine roundup and check back next week for week eleven games.