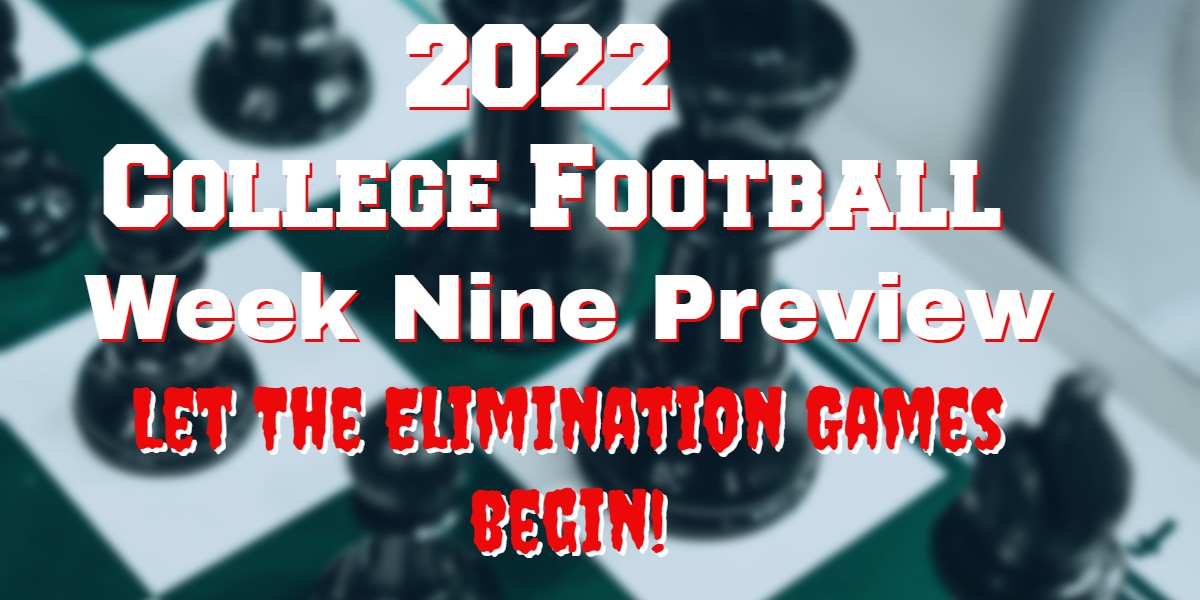 Week Nine of the 2022 College Football season happens to coincide with Halloween weekend this year and for some of the fringe CFP hopefuls, it could end up being a trick rather than a treat! The ranked games kick off on Friday this week and by Sunday morning we expect one or two of the remaining contenders to be all but eliminated.
Although all ranked games are a bit thin on the ground there are plenty facing tricky road trips or traditional rivalry games. Overall there are three all-ranked affairs and 15 others to enjoy as listed below (our predicted winners are in blue).
All Ranked Games
2 Ohio State @ 13 Penn State
9 Oklahoma State @ 22 Kansas State
19 Kentucky @ 3 Tennessee
Three huge games here. A win for Ohio State will put pay to Penn States' lingering hopes and set up a likely winner takes all clash with Michigan. A Penn State win would really mess things up though. Especially if the Buckeyes then went on to win out.
Oklahoma State would be officially out with a loss, while Tennessee needs this one to keep the pressure on Georgia.
ACC
10 Wake Forest @ Louisville
Notre Dame @ 16 Syracuse
Pittsburgh @ 21 North Carolina
Virginia Tech @ 24 NC State
Both Syracuse & wake Forest are just about alive in the ACC championship race, however, they would need Clemson to lose twice. North Carolina could pretty much sew up the Coastal Division with a win. Could they sneak into the final four as a one-loss ACC champion?
Well, that would depend on how Notre Dame finishes. The Fighting Irish are having a bit of a down year despite beating the Tar Heels. Right now they are far from sure to reach bowl eligibility.
Big Ten
Michigan State @ 4 Michigan
17 Illinois @ Nebraska
Illinois can just about sew up a place in the Big Ten conference final with a win in this one. They would be big underdogs in that one but once again they still have the chance of being a one-loss conference champion. Can you imagine The Fighting Illini in the CFP playoffs? No, neither can we but who knows?
Big 12
7 TCU @ West Virginia
The Horned Frogs need this one to keep their slim hopes alive. Win out and we think they are in.
PAC 12
8 Oregon @ Cal
10 USC @ Arizona
Stanford @ 12 UCLA
14 Utah @ Washington State
All four of the ranked teams could theoretically still win the Pac-12. The Ducks are in pole position being 4-0 in conference play and should cruise past Cal. However, USC & Utah's games are not gimmies.
SEC
Florida @ 1 Georgia
15 Ole Miss @ Texas A&M
Missouri @ 25 South Carolina
A win for Georgia should set up a winner takes the East clash with Tennessee on the 5th of November. Assuming neither drops the ball this weekend.
American Athletic
20 Cincinnati @ UCF
With Tulane having the weekend off, the AAC spotlight is firmly on the Bearcats who face their last big test. UCF slipped up last week but they are tough at home and will know that a win in this one would keep their hopes of reaching the Conference Final alive. The AAC champion is odds on to take the "at large" place in this year's Cotton Bowl so the stakes are high.
Not Playing
Four teams have Halloween weekend off. Those not playing are:
Alabama, Clemson, LSU & Tulane.
Crunch Time In The Mid Am
Toledo @ Eastern Michigan
Miami (OH) @ Akron
It's a quiet week in the MAC with only two games scheduled. However both of the above are significant. Toledo was rocked by Buffalo's late comeback last week and they face another tricky road game at EMU. A loss to the Eagles would see them fall behind them at the top of the MAC West.
In the other game, Ohio can set up a huge clash with Buffalo as they could take the top spot in the division from the Bulls on head-to-head with a win. Who would have thought that Mid Am football could be this exciting?
Other Games Worth Watching Out For
The main interest outside the above & the ranked games this week is on the other divisional races headed by…
North Texas @ Western Kentucky
Both have lost to UTSA, but the winner will be nicely positioned to get a crack at revenge in the C-USA conference final.
Colorado State @ Boise State
The Broncos have asserted their dominance in MW play this year and a win in this one could effectively sew up the Mountain Division. They would need Wyoming to lose though.
That completes our quick look at what's on offer in week Eight. Before you go why not check out our Week Eight roundup and check back next week for week Ten's games.