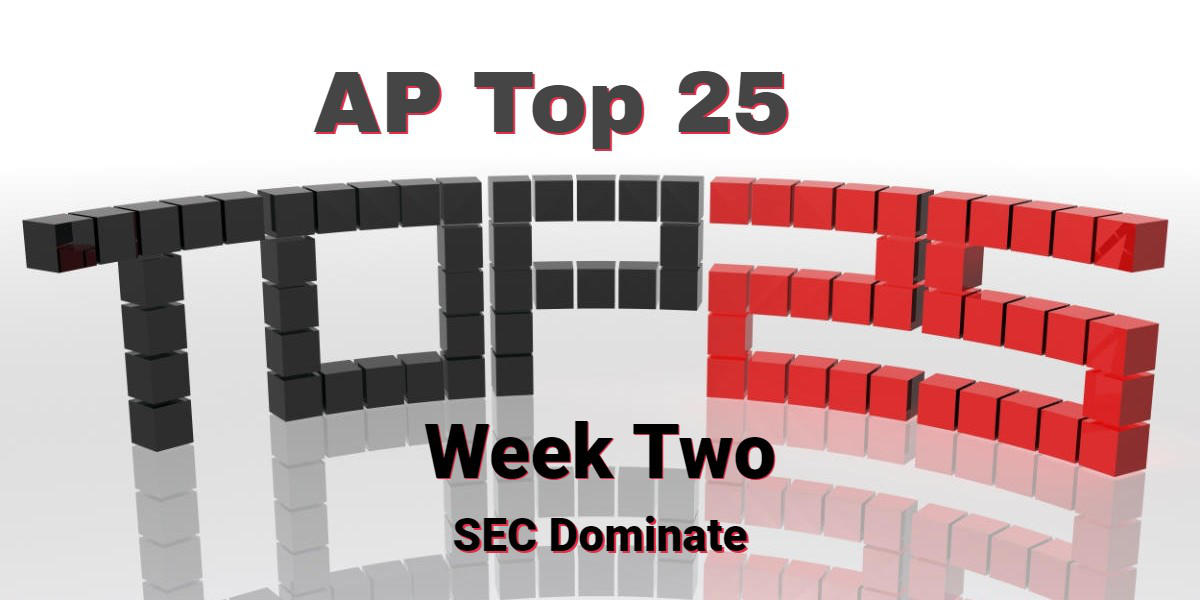 Week two's rankings are finally out, having been delayed due to Clemson playing on Monday night and there are not a whole lot of surprises. Alabama & Georgia are firmly ensconced at 1 & 2 thanks to impressive opening wins. Personally, we would have put Georgia top given they blew away then No 11 Oregon. They have slid right of the top 25 and may struggle to get back in any time soon.
Ohio State got a workmanlike win over No 5 Notre Dame and their slight slip is not surprising. However, seeing Clemson fall out of the top four after blowing away fellow ACC side Georgia tech is. They have been replaced by Michigan who thrashed Colorado State 51-7, however, that is nothing to shout about given the rams are likely to struggle in 2022.
It was no surprise that Utah took a tumble after losing to Florida. Mind you it took a last gasp end zone interception to give the Gators the win so we are not writing the Utes off just yet.  We were surprised to see NC State ranked highly during pre-season and although they sneaked a win they have slid five places. They have an FCS opponent this week so climbing back up this week is unlikely.
At the bottom, it was good to see Tennessee join the ranks at 24. Their arrival plus Florida's means there are Eight SEC teams in the top 25!
Group of Five Teams & Independents
Norte Dame didn't slide out of the top 10 given they made a fist of it against OSU which is fair enough. If they can sort out their QB play they could still pose a threat. BYU got a bit of a bump thanks to their high-scoring win. The game was long over before they gave up any points and maybe they are going to be better than we expected.
Houston is now the only G5 team ranked after Cinncinati went down in their all-ranked matchup. It's too early for any other non-power five teams to be making a move, but the likes of Airforce and Fresno State might be knocking on the door if they build on their good opening wins.
Should Be Included
Penn State had a nice road win at Purdue and we thought that might have edged them past Houston for the 25 spot given the Cougars struggled against UTSA. Still, the Roadrunners were a good team in 2021 and maybe they are going to be again in 2022.
The latest rankings are below…
AP Week Two Top 25
1 Alabama
2 Georgia
3 Ohio State
4 Michigan
5 Clemson
6 Texas A&M
7 Oklahoma
8 Notre Dame
9 Baylor
10 USC
11 Oklahoma State
12 Florida
13 Utah
14 Michigan State
15 Miami
16 Arkansas
17 Pittsburgh
18 NC State
19 Wisconsin
20 Kentucky
21 BYU
22 Ole Miss
23 Wake Forest
24 Tennessee
25 Houston
You can check last week's rankings here
Header Image: Mile Atanasov/Shutterstock.com