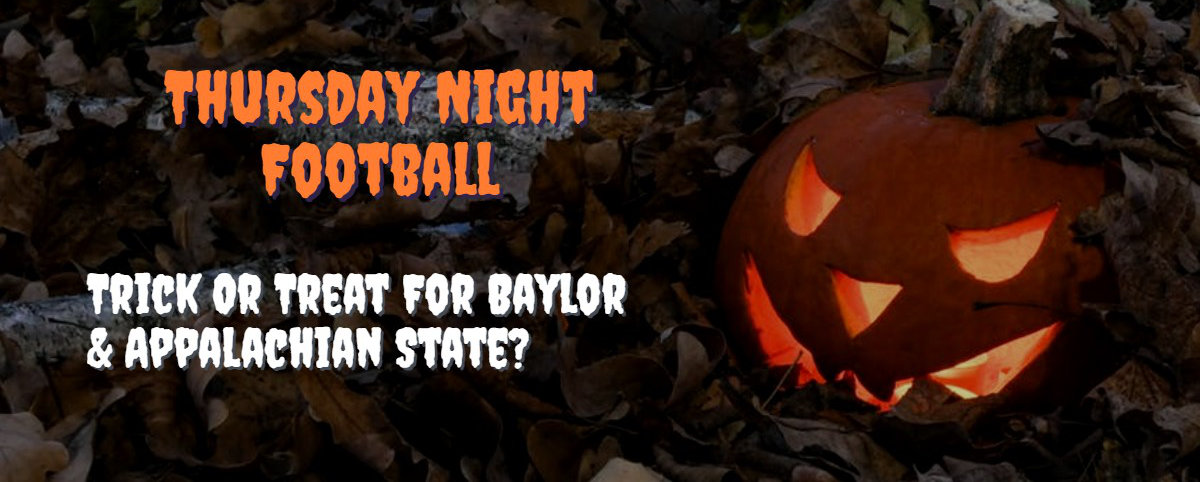 Thursday, 31 October: Will It Be Trick Or Treat For The Bears & Mountaineers?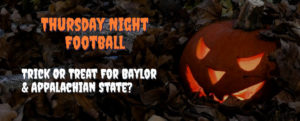 Halloween night sees College Football fans treated to a couple of important matchups, with two still unbeaten & ranked sides hoping that they can keep the momentum going. With all due respect to Appalachian State, most eyes will be on the Baylor game, with the Bears currently top of the Big 12 and having arguably their best season since Robert Griffin III was QB. They face a mediocre West Virginia, who are struggling a bit offensively since Will Grier left for the NFL. To be fair most of their issues are in the running game where they have been averaging only 88 yards a game. They come into this one on a three-game skid and with no easy games left on their schedule, defeat here could pretty much end their hopes of a bowl game this year.
Baylor is one of, if not the surprise team of the year, 7-0 and 4-0 in conference play. They have already surpassed last years six regular-season wins and although they haven't been dominant in Big 12 play they have done enough, and if they were to win out they should make the playoffs. That's a big if, however, this game shouldn't be easy and the spread is currently -18.5 which pretty much sums up WVU's chances of winning straight up.
The nights other game is an all Sun Belt clash with Appalachian State looking to revenge last years loss to the Eagles, which cost them their top 25 rankings. For those not familiar with it, Appalachian State entered the AP top 25 rankings for the first time in their history that week at No 25 after rattling off five wins in a row. However, they failed to follow through and played their worst game of the year that week allowing Georgia Southern to run all over them as well as giving up 5 TO's. This season Appalachian has beaten a decent ACC team on the road and look better placed to cope with the added pressure of being somewhat in the spotlight. Georgia Southern are no mugs though and two of their three defeats have been to LSU & Minnesota – both of whom are still unbeaten. The Mountaineers are at home so should win this but 15 points is a lot to give up so they might fail to cover the spread.
So we are predicting treats all round.
Predictions:
West Virginia @ No 12 Baylor Spread – 18.5
Baylor to win but not cover the spread.
Georgia Southern @ No 20 Appalachian State -15
Appalachian State to win but not cover then spread.