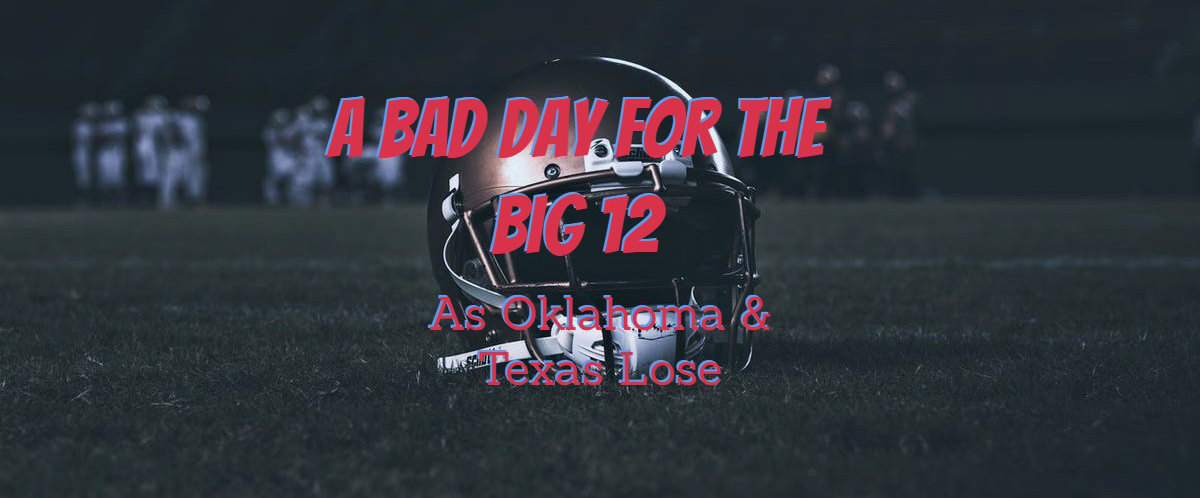 Another Week Another Shock Result.
The unpredictability continued for the third week running, with yet another shock result in the top 10, this time it was No 4 Oklahoma who lost at divisional rivals Kansas State as 23.5 point favourites. Overall it was the Big 12's turn to have a bad day all round with all three ranked teams falling to unranked opponents.  Texas now has three losses and are out of the New Year Bowl conversation, while Iowa State's loss to Oklahoma State, should bounce them well out of the rankings. The remaining glimmer of light in the B12 is that Baylor is still 7-0 and with home games to come against Oklahoma & Texas, they could still figure in the Playoff conversation; as could the Sooners if they win out.
Bad Things Come In Threes
One top ten loss is usually news enough, however this week we had three (ok two were all ranked games but still). No 8 Notre Dame had a night to forget against Michigan, not helped by the conditions, however giving up 303 yards rushing will sting for a while. This will most likely end the Irish's hopes not only of a playoff place but also most likely a tilt at either the Cotton Bowl or the Orange Bowl. The other top 10 loser was No 9 Auburn, who at least made a fist of things against N0 2 LSU, only going down by 3 points. Their Defense is top-notch but the offense is not good enough to challenge the best teams – yet.
Cotton Bowl Place Still Up For Grabs
There are still two unbeaten  Group of Five teams with SMU riding their luck to move on to 8-0, while Appalachian State stayed in contention with another nice win. They both have tough games left on their schedule though with SMU travelling to Memphis next and the Mountaineers still have a trip to South Carolina scheduled. The race for the Cotton Bowl is still wide open and don't count out either Memphis who are 7-1 but seemingly invisible to the pollsters and even San Diego State could get in on the act, although their mediocre schedule could count against them.
Playoff Position
Finally, we are starting to see a bit of separation, with the SEC & Big Ten flexing their muscles. Alabama & LSU both look capable of finishing in the final four, while in the Big Ten both Ohio State & Penn State are looking good they meet in what looks like a conference final eliminator clash in late November. Would the Playoff Committee leave out an 11-1 Ohio State with their only loss to A Big 10 Champion Penn State?  Whatever for both to be in they would have to oust Clemson who is the class of the ACC and still unbeaten. Whatever right now the odds favour four from these Five filling the slots.
New Year Bowl Candidates (and still just about alive in the playoff hunt)
Florida & Georgia still have to meet in the SEC East, and one of them will almost certainly end up playing in the conference final. Even losing that should be enough for an Orange Bowl or Sugar Bowl Slot. How would the Bowl committee treat either should they win out and take the Conference Championship? Probably they would be in but as Penn State can attest don't bet on that. In the Big Ten, Penn State have Ohio State coming up, but before then they have to take care of Minnesota who is 8-0 and technically has their destiny in their own hands still. A 13-0 Gophers with wins over Penn Strate and the Big Ten Championship would have to figure in the conversations. whatever they could still sneak a place in the Cotton Bowl.
Over in the PAC 12, we still have a couple of contenders, with a Rose Bowl berth assured for the Conference Champion, but currently, Utah is out of the Championship game on the head to head with USC. Oregon winning the Conference but without a win over an 11-1 Utah in the process would not make the playoffs. They will be supporting all of USC's opponents going forward in the hope the Utes make the final.
Finally, the Big 12 still has Baylor and Oklahoma, and one of these two will be in the Rose Bowl, while an unbeaten Baylor could just about sneak into the fourth playoff spot.
How about the two unbeaten Group of Five Teams? No chance even if they both won out. In this scenario, one would be in the Cotton Bowl and there would be an argument for a second at large place, but don't hold your breath on that one.
Our Predictions
Only 16 ranked games last week, but we were happy with our 12-4 both straight up and against the spread.
AP Top 25 Results For 2019 Week Nine
No 16 SMU 34 @ Houston 31 Spread +12.5
SMU lost the offensive yardage battle by a significant 510 – 385, but won the turnover battle and more importantly the game to move on to 8-0. They are in pole position for a Cotton Bowl place, but they face Memphis next week who at 7-1 could overtake them in the division with a win. Navy is also 6-1 along with Cinncinatti so the AAC remains wide open.
No 21 Appalachian State 30 @ South Alabama 3 Spread +27.5
Appalachian State won this with some ease, even if they didn't quite keep the punters happy by covering the spread. The game was never a contest and the Mountaineers held South Alabama to 139 yards of total offense. Appalachian State are 7-0 for the first time in their FBS history and should edge up in the rankings. Could we see a Sun Belt team in a New Years Bowl for the first time? Well, there is a long way to go but it would great for the game and would be a big boost for the Conference.
No 20 Iowa @ Northwestern Spread +8.5
Iowa moved to bowl eligibility with their second shut out of the season. Their two-loss resume is looking very good right now with Michigan dismantling Notre Dame and Penn State marching on. With Wisconsin & Minnesota their next two opponents, we could still see them in the Conference Final and possibly the Rose Bowl.
No 5 Oklahoma 41 @ Kansas State Spread 48 +23.5
This was a great game for the neutral with Oklahoma bouncing out to a two-score lead before a costly turnover sent them in a point down at the half. Thereafter it was a game to two quarters, with Kansas dominating the third and Oklahoma staging a desperate fourth-quarter fightback, which just fell short. This has put a sizable dent into the Sooner's playoff hopes, and now they will need to win out and hope the run of shock results extends to the unbeaten teams ahead of them.
No 13 Wisconsin 7 @ No 3 Ohio State 38  Spread -14.5
Ohio State made this look easy in the end but were greatly helped by Chase Young's two sack-fumbles, both of which were turned into seven points. The Badgers look a shadow of the team which bounced out to 6-0 and they seemed devoid of confidence at times. Their faint playoff hopes are now gone and they will need to regroup fast if they are going to salvage anything from this season. The Buckeyes by c0ntrast are nicely set now for the looming Big 10 clash with Penn State.
No 6 Penn State 28 @ Michigan State 7 Spread +5.5
Speaking of Penn State, they added another impressive win to their total thanks to a solid defensive performance, which included four turnovers. QB Sean Clifford had another quiet night passing yardage wise but put up all four TDs in the win. He currently has 20 TDs and only 3 interceptions on the year. You have to feel a little sorry for Michigan State as this was their third top 10 ranked opponent in a row and at 4-4 they need to start winning again soon if they are going to get bowl eligible.
No 15 Texas 27 @ TCU 37 Spread -1
The bad night for the Big 12 continued with Texas losing at TCU. The Longhorns QB Sam Ehlinger put up 321 yards passing but also threw 4 interceptions, which pretty much puts pay to his Heisman hopes. The conference has beaten up on its self this year and now only Baylor remains unbeaten. This could come back to haunt them when the playoff day of reckoning comes, as the Conference Champion whoever it ends up being will not have many quality wins to show.
Oklahoma State 34 @ No 23 Iowa State 27 Spread -10.5
Iowa State made it an imperfect three for the Big 12 with their loss to the Cowboys. All three ranked Big 12 sides lost at the weekend, and although Kansas State will get in thanks to their win over the Sooners the Big 12 suddenly look like being left out when the final four are called (along with the PAC 12) .
Maryland 10 @ No 17 Minnesota 52 Spread -14.5
Ok, Minnesota has not played the hardest of schedules to date, but they are 8-0 and technically at least, still in the playoff picture.  With Penn State, Iowa & Wisconsin to come they could easily end up at 9-3, however, on the flip side win them and the Conference Championship and they will be hard to ignore when the Bowl Selection Committee decides their final Four. Their destiny is in their own hands. In this one, they had 321 yards rushing and controlled the ball for nearly 43 minutes!
With their remaining schedule, Maryland is pretty much out of bowl contention now.
No 9 Auburn 20 @ No 2 LSU 23 Spread -10.5
LSU marched on towards their date with destiny against Alabama, the winner of which will (barring a disaster of biblical proportion) be SEC West Champions and pretty much assured of a playoff place. Joe Burrows had another big night yardage wise with 321, but only managed a single TD.  This was a tough game for LSU and Auburn probably have the best defense in the SEC if not the FBS. Their QB B0 Nix will learn from this experience and they could be a real force in the SEC in 2020.
Arkansas 7 @ No 1 Alabama 48 Spread -31.5
Alabama had a comfortable warm-up for the big clash with LSU in two weeks time and backup QB Mac Jones had a good night throwing four TDs and no picks. Arkansas turned the ball over 4 times but ran it quite well which gives them some hope for the future. However, at 2-6 there is virtually no chance that they can make it to a bowl game this year.
No 23 Arizona State 32 @ UCLA 42 Spread +3
ASU's loss is a blow not only to their bowl chances but also to the PAC 12's playoff hopes, as they will no doubt tumble out of the rankings and deprive Oregon of a final chance at a ranked regular-season win. ASU should manage to pick up another win to get to a Bowl, but for UCLA to make it they will need to win at either USC or Utah which looks unlikely.
Boston College 7 @ No 4 Clemson 59 Spread -35
Clemson reminded everyone that they are reigning champions and still a force to be reckoned with following an emphatic win over Boston College on Saturday. They seem to have been almost forgotten since their lucky escape against North Carolina, but this will remind the pollsters that they are an 8-0 team and despite having Trevor Lawrence at QB very much capable of winning it all.
N0 8 Notre Dame 14 @ No 19 Michigan 45 Spread +1
The game was played in torrential rain and Michigan adapted to the conditions by far the better as the score indicates. Both will struggle to make a New Year Bowl game now but the bragging rights will keep Jim Harbaugh in a job for another year.
California 0 @ No 12 Utah 35 Spread -20.5
Utah kept their slim playoff hopes alive with a comprehensive win over Cal, thanks in no small part to Zack Moss who had another 115 yards rushing to add to his bevvy of school records. He is now Utah's career leader in yards rushing, touchdowns on the ground and if that's not enough this was his 15th 100 yard + game for them; also a record. They have to hope USC loses a conference game if they are going to make the Pac 12 Championship though.
Washington State 35 @ No 11 Oregon 37 Spread -14
Oregon survived a tough encounter with the Cougars to move on to 7-1 and pretty much sew up their place in the Conference Championship. They will be hoping it is against Utah as they will need another ranked win to have a case for a playoff berth.
So that's seven ranked losses this week and the race for the National Championship is starting to thin out.
Racking them up
Outside of the top 25, the honours on the scoring front goes to:
UCF 63 – Temple 21
UCF may have dropped out of the headlines thanks to them finally losing a couple of games this year, however they showed they can still advance the scoreboard in this second half demolition job. It was 28-21 at half time and Temple actually led 7-0 early in the game.
Honourable mention goes to…
UConn 56 – UMass 35
Prior to this one, these two sides had a combined record of 2-12 and both defenses were used to shipping points. So it was no surprise that the scoreboard kept turning,  but the highlight was Running Back Kevin Mensah getting 5 TDs – he only had four all year prior to this game.
Entertaining Game of the Week
A few candidates here including the already discussed KSU v Oklahoma game. But outside of the top 25, this one takes some beating:
Navy 41 Tulane 38.
Navy looked to have this one sewn up early racing into a 31-14 half time lead, however, the Green Wave battled back tying the score at 38-38 with just over a minute left. Navy avoided the lottery of overtime by kicking the winning field goal as time expired. The Midshipmen are flying under the radar but with a fair wind and more than a pinch of good luck a berth in the Cotton Bowl is not out of the question
Performance of the Week
Plenty of candidates here however we just favour…
Louisville 28 Virginia 21 
Virginia started the season as favourites in many peoples books (including ours) for the ACC Coastal and despite dropping to 5-2 had the chance to pretty much sew it up together with a shot at the Orange Bowl. However, the Cardinals had other ideas and they have bounced back really well from last years disappointment. This is by far their best win this year and suddenly bowl eligibility looks on the cards.
One you might have missed
Air Force 31 – Utah State 7
The Falcons are bowl eligible thanks to a solid win over the Aggies, who have one of the best QB's outside of the Power Five Conferences in Jordan Love. Airforce has no passing game worth speaking of but they can run a bit and they piled up 448 yards rushing in this one! Utah, by comparison, were held to 14! Air Force are already bowl eligible and looking at their remaining schedule double-digit wins is not out of the question.
Looking Good
Louisiana Tech 42 UTEP 21 
Ok. beating UTEP is not something to shout about, but since losing their opener to Texas the Bulldogs have rattled off seven wins and are top of the C-USA West. They should be close to breaking into the top 25 this week, and they are not completely out of the race for the Group of Five's at large place in the Cotton Bowl.
Still Unbeaten
One dropped off the list this week with Oklahoma succumbing. We still have two from the Group of Five conferences which is nice to see.
In The AAC –  SMU
In The ACC – Clemson 
In The Big 12 – Baylor 
In The Big 10 – Ohio State, Penn State & Minnesota
In The SEC –  Alabama & LSU
In The Sun Belt – Appalachian State.
Looking for a win
Not a good day for the remaining winless teams who all lost and in some style:
Southern Mississippi 20 – Rice 6 
Northern Illinois 49 Arkon 0
Georgia Southern 41 New Mexico State 7 
Not a great week for any although New Mexico can at least brag about the fact they got a TD and actually led the game for nearly a minute (well 59 seconds to be precise).
Stat Attack
For those who like their stats, here are the FBS leaders in the main categories at the end of week nine. Is the Heisman winner amongst them? Well outside of Joe Burrows likely not.  
2019 Passing Leaders
Anthony Gordon Washington State – 278/397 3,387 yds, 32 TD
Joe Burrow LSU – 205/260 2,805 yds, 30 TD
Brock Purdy Iowa State – 202/295 2,567 yds, 15 TD
2019 Rushing Leaders
Chuba Hubbard Oklahoma State – 216 attempts, 1,381 yds, 16 TD
J.K. Dobbins Ohio State – 154 attempts, 1,110 yds, 9 TD
LeVante Bellamy (Western Michigan) – 168 attempts, 1,055 yds, 17 TD
2019 Receiving Leaders
Omar Bayless Arkansas State – 60 receptions, 1,070 yds, 12 TD
Antonio Gandy-Golden Liberty – 48 receptions, 945 yds, 6 TD
Gabriel Davis UCF – 50 receptions, 916 yds, 10 TD