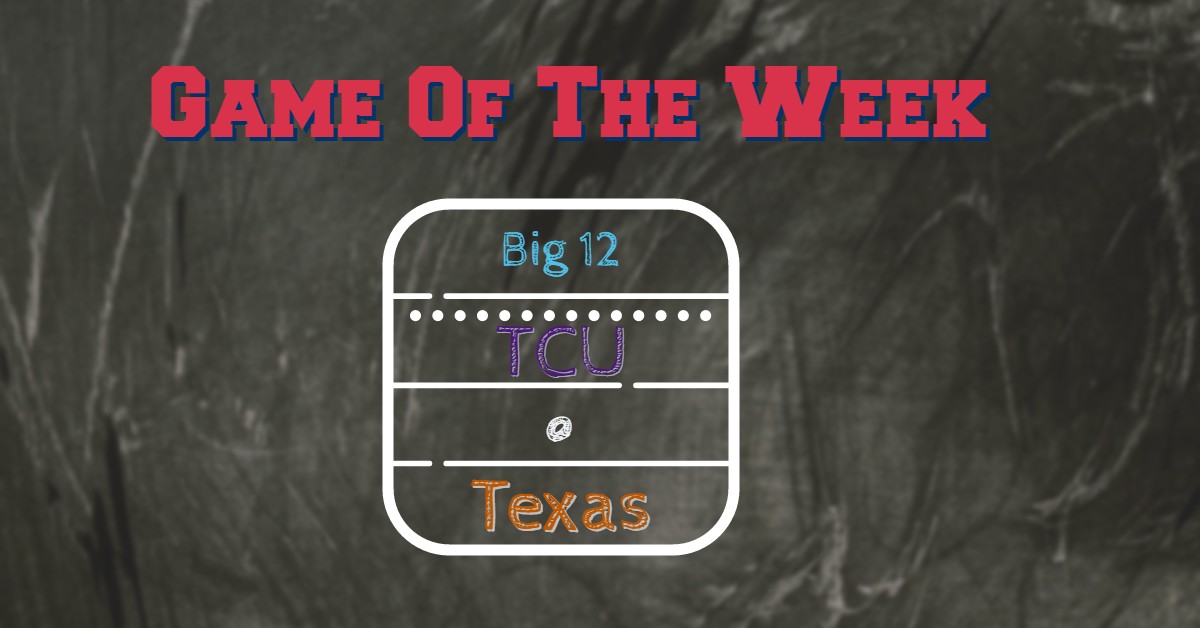 Week eleven looks like being a lot less disruptive than last week, although we have four all-ranked games to look forward to. Also, all of the ranked teams play this week including Liberty who once again found themselves snubbed by the CFP despite being 8-1. The lack of power five games on their schedule has cost them so far but if Arkansas can hang with LSU then maybe they will sneak in next week.  All of the all-ranked games have some implications, and arguably the biggest one is in the Big 12 where TCU will be hoping to maintain their unbeaten run.
Outside of the rankings, the race is now for bowl eligibility and surprisingly the likes of Miami, Florida & Oklahoma are not yet certain to earn a slot. Right now it looks like there might not be enough eligible teams but would any of those three take the embarrassing route of going to a minor bowl with a losing record?
Anyway, the top games are below with our predicted winners highlighted in blue as per normal.
All Ranked Games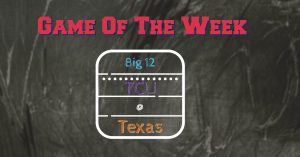 No.4 TCU @ No.18 Texas
No.9 Alabama @ 11 Ole Miss
No.25 Washington @ No.6 Oregon
No.22 UCF @ No.17 Tulan
All important to differing degrees. TCU needs to win to keep the pressure on the CFP committee. They seem to be finally getting a bit of respect and a win in Texas as underdogs will go a long way toward cementing their playoff place.
The other big ranked game is the last chance saloon for both Alabama & Ole Miss. Whoever loses is pretty much out of the race for the SEC West. Even then they would both need an LSU loss.
ACC
Louisville @ No.10 Clemson
No.15 North Carolina @ Wake Forest
Boston College @ No.16 NC State
No.23 Florida State @ Syracuse
North Carolina can secure a place in the conference final against Clemson with a win. The other ranked teams are playing for an outside chance at a New Year's Bowl slot.
Big Ten
Indiana @ No.2 Ohio State
Nebraska @ No.3 Michigan
Maryland @ 14 Penn State
Purdue @ No.21 Illinois
Can Illinois get back on track? Their final conference game is against Michigan so lose this one and they would fall behind Purdue in the Big Ten West race.
Big 12
No.19 Kansas State @ Baylor
PAC 12
Colorado @ No.8 USC
Arizona @ No.12 UCLA
Stanford @ No.13 Utah
The PAC 12 could be in turmoil if the underdogs get wins this week. The Conference also needs a strong finish to add to the champion's resume. A two-los PAC 12 champion is not getting in.
SEC
No.1 Georgia @ Mississippi State
Missouri @ No.5 Tennessee
No.7 LSU @ Arkansas
Vanderbilt @ 24 Kentucky
LSU will sew up the West with a win while Georgia will pretty much get the No one seed with another win.
Independents
No.20 Notre Dame @ Navy
Liberty @ Uconn
Liberty has been snubbed by the CFP and needs this one to have any chance of catching their eye.  Uconn is 5-5 so this would be a decent win if they can pull it off. Notre Dame are still in with a chance of reaching a nice bowl game and must be wondering what if.
Other Games Worth Watching Out For
The weekend's focus will no doubt be on the SEC however there are a few interesting conference battles still going on in the Group of Five…
C- USA
Rice @ Western Kentucky
Louisiana Tech @ UTSA
North Texas @ UAB
UTSA will clinch a place in the conference final with a win this week. They still have three C-USA games to play but have already beaten North Texas & Western Kentucky.  Similarly, North Texas could clinch with a win but a trip to UAB is never easy. The Blazers are 4-1 at home and are chasing bowl eligibility so that one could be close. WKU is not out of it but they need to win and hope North Texas
Mountain West
Boise State @ Nevada
Wyoming @ Colorado State
Fresno State @ UNLV
The conference final places could be all but settled this weekend but all three of the main contenders have tricky road games. Boise lost to BYU last week but remains 5-0 in MW play and they need to win this one to keep Wyoming at bay. They are scheduled to meet next week and assuming (as is likely) they both win it will set up a thriller next week.
On the other side of the conference, Fresno can take the division with a win and a loss by San José State. The Bulldogs lost four in a row earlier in the season but have the head-to-head over the Spartans. They will be hoping this comes off as they have to play Wyoming in their final game and they won't want to go into that one needing a win
That completes our quick look at what's on offer in week Eight. Before you go why not check out our Week Ten roundup and check back next week for week Twelves games.