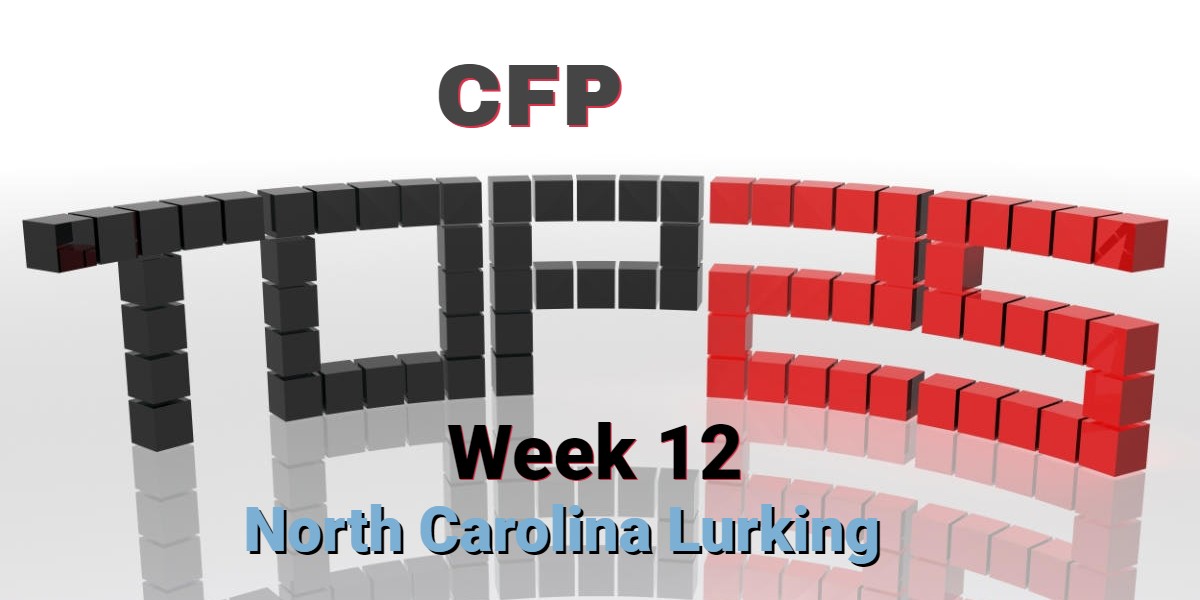 Not a whole lot changed in week 12 given Oregon were the only top-ten loser. That and a bad loss for UCLA leaves USC as the Pac-12s' last big hope. Given one of Ohio State and Michigan has to lose there is a good chance that the committee with pick a 12-1 conference champ over an 11-1 team. Further, if TCU were to lose then the fact that six Pac teams are ranked could have some bearing. Still a way away from that scenario though.
Six Three-Loss Teams Included!
Last week we passed comment on there being five three-loss teams included while the likes of Coastal Carolina & Liberty were left out despite being one-loss teams. Well as it happens they were right about Liberty however snubbing a now 9-1 Chanticleers still seems a bit harsh. They travel to Virginia this week and maybe a Power Five win will do the trick. Mind you that is quite a big ask.
The Dark Horse
North Carolina won a crazy game against Wake Forest and although no one is really talking about them they are still in the CFP mix. they have ranked four places behind Clemson due to them not having a ranked win. However, they did play Notre Dame a bit closer than the Tigers did. They will be cheering for the Irish as they still have to play USC and the Tar Heels will play Clemson in the ACC conference Championship.
A 12-1 ACC champ might not edge out a 12-1 USC, however, if Notre Dame were to beat them, who knows?
Anyway, the week's rankings are below…
CFP Week 12 Rankings
1 Georgia 10-0
2 Ohio State 10-0
3 Michigan 10-0
4 TCU 10-0
5 Tennessee 9-1
6 LSU 8-2
7 USC 9-1
8 Alabama 8-2
9 Clemson 9-1
10 Utah 8-2
11 Penn State 8-2
12 Oregon 8-2
13 North Carolina 9-1
14 Ole Miss 8-2
15 Kansas State 7-3 
16 UCLA 8-2
17 Washington 8-2 
18 Notre Dame 7-3
19 Florida State 7-3
20 UCF 8-2 
21 Tulane 8-2
22 Oklahoma State 7-3 
23 Oregon State 7-3
24 NC State 7-3
25 Cincinnati 8-2
Gone & Probably Forgotten
 Texas, Illinois & Kentucky 
Texas & Kentucky are now both on four losses and Illinois will likely join them soon as they have Michigan up next. Barring some shock wins it's hard to see these three coming back into the rankings.
Conference representation
PAC-12 6
SEC 5
ACC 4
Big Ten 3
Big 12 3
AAC 3
Independent 1
This bodes well for the PAC 12. If they can maintain this then there is a good chance that a 12-1 USC will make the final four.
You can check previous CFP rankings here