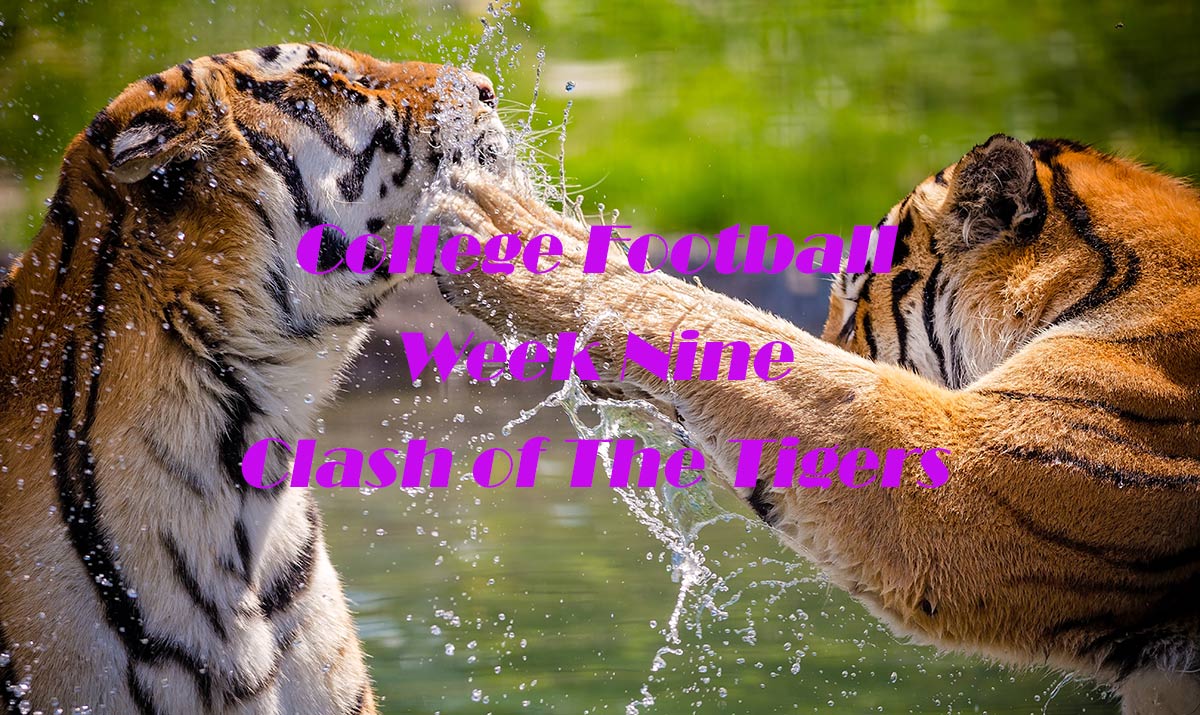 Week Nine – When Two Tigers Fight.
This week is headlined by the big SEC clash between the 7-0 LSU Tigers and the 6-1 Auburn Tigers. The old adage goes that the winner leaves the field mortally wounded with the opponent dead, however in this case although defeat for Auburn would, of course, end their playoff hopes for LSU it would not be completely fatal. Auburn still has a path to the playoffs but it would involve winning out and getting revenge over Florida in the Conference Championship. A Tall order.
Saturday night's other big games feature the Big 10 with Wisconsin looking to bounce back from last weeks shock loss. Unfortunately for them, they have to travel to Ohio State, so like Auburn, their playoff hopes could (and probably will end this week). In the other big game involving the Big 10 Michigan, whose playoff hopes are already over entertain Norte Dame who at 5-1 still have a slim chance, but like Auburn's it would involve winning out. Even then they will need a bit of help, but after the last couple of weeks shocks anything is possible.
Anyway here are our predictions for the week.
No 16 SMU @ Houston +12.5
SMU are the surprise team of the year 7-0 and currently in pole position for a place in the Cotton Bowl. This game is the mid one of a three-match "Murderers Row" and a win here would not only maintain their at large place but would leave them handily placed to win the AAC West. In their way is a Houston side who are really missing their defensive talisman Ed Oliver who is now shining in the NFL.  They are 3-4 and in danger of missing a bowl game for the first time since 2012.  Can SMU go to 8-0? Probably but they are not near two TD favourites in or book.
SMU to win but not cover the spread. 
No 21 Appalachian State @ South Alabama +27.5
This should be a fairly easy win for the Mountaineers, who won their first-ever game as a ranked team last week. Not sure they are 4 TDs better than South Alabama though.
Appalachian State to win but not cover the spread. 
No 20 Iowa @ Northwestern +8.5
The Hawkeyes are a pretty good team and their two losses have both been by 7 points or less in low scoring games. They have a great defense and should win this one easy enough.
Iowa to win and cover the spread 
No 5 Oklahoma @ Kansas State +23.5
Oklahoma are ranked five largely thanks to a one-score win over Texas and this will be a bit of a test given that KSU seems to be adjusting rather well to life after Bill Snyder. Can KSU win it? probably not but they should hold this to within the spread.
Oklahoma to win but not cover. 
No 13 Wisconsin @ No 3 Ohio State -14.5
The Badgers had one of those days last week blowing a game they should have won. It will be interesting to see how they react and the opposition doesn't come much tougher than this. Ohio State looks the class of the Big 10 (although Penn State might argue this), and we expect them to put the final nail in Wisconsin's playoff coffin tonight and possibly even kick them out of the rankings.
Ohio State to win and cover the spread.
No 6 Penn State @ Michigan State +5.5
Penn State has looked quite impressive in getting to 7-0 and they have shown battling qualities in their last two wins over Iowa & Michigan. MSU is an average team, but have struggled against good defenses and they might just come up short here. The spread looks about right but we think Penn State should be TD too good.
Penn State to win and cover the spread.
No 15 Texas @ TCU -1
Texas are out of the playoffs at 5-2, but will still be playing hard as a New Year Bowl is still a possibility and they could make the Sugar Bowl if Oklahoma goes to the playoffs. TCU has been up and down but despite being 3-3 they can point to two ranked losses and losing at Kansas State is also no disgrace. Surprisingly (to us anyway) they are favourites in this one, however, we expect it to be close we don't see them winning.
Texas to win straight up 
Oklahoma State @ No 23 Iowa State -10.5
Iowa State is in our opinion the best two-loss team in the FBS with their losses being to two currently ranked teams by a combined 3 points (yes three points total). They are on a three-game winning streak, which has included a couple of Big 12 road victories, and they should go on to 6-2 here and keep their Sugar Bowl hopes alive. OSU has struggled on the road but should hopd this to within the spread.
Iowa State to win but not cover the spread
Maryland @ No 17 Minnesota -14.5
Minnesota seems to be getting better week by week and they look set to move to 8-0. Things get a lot tougher from here, but they are now nicely poised for a shot at the Conference Title and who knows where they could end if they won that. Maryland started well but have looked pretty bad of late and we can see them shipping a few points in this one.
Minnesota to win and cover the spread. 
No 9 Auburn @ No 2 LSU -10.5
The game of the night and one which will not only have repercussions in the SEC but also in the playoff standings. If as we expect, LSU prevails then they should be ranked No 1 going into what should be a winner takes the division clash with Alabama next. Auburn, lest we forget, are still 6-1 with only that loss at Florida blemishing their record, and winning out would put them in the playoffs, so expect a battle and QB Bo Nix should be better for that experience in Gainesville. This could be closer than the spread but LSU should go on to 8-0
LSU to win but not cover the spread
Arkansas @ No 1 Alabama -31.5
Alabama quarterback Tua Tagovailoa is out of this one, but that shouldn't stop the Tide from rolling on to 8-0 against a mediocre Arkansas side. The Razorbacks lost by 41 points against Auburn last week and Alabama's stand-in QB will want to make a statement so we think they should still cover.
Alabama to win and cover the spread. 
No 23 Arizona State @ UCLA +3
ASU is another surprise team this year and despite being outclassed by Utah last week they are still sitting at 5-2 knowing this will make them bowl eligible. UCLA are a strange team 2-5 but with good wins over Stanford and Washington State but equally bad losses to Oregon State & San Diego State.  Who knows which UCLA we will get tonight.  The spread says is all and we thing UCLA can sneak this one.
UCLA to win straight up
Boston College @ No 4 Clemson -35
Clemson has the longest winning streak in the FBS and despite Trevor Lawrence not exactly shining at QB, they should win this one easily enough to stay firmly in the playoff conversation. Boston College is 4-3 and has played pretty well apart from that aberration against Kansas so it wouldn't surprise us if they managed to keep the score within the spread.
Clemson to win but not cover the spread.
N0 8 Notre Dame @ No 19 Michigan +1
A big game for both, with Notre Dame still just about alive in the playoff hunt, while Michigan still has New Year Bowl aspirations. These hopes will end for the loser and we think it will be Notre Dame who move on.
Notre Dame to win and cover the spread
California @ No 12 Utah -20.5
Utah still has a path to the playoffs ahead of it, but that involves winning out and lots of help. Still, before they can even consider that they need to win the PAC 12 south and currently they are a game behind USC. Losing this would not only end those slim hopes but also probably cost them the division so we expect them to be up for this one. It seems like ages ago that Cal was ranked 15 and looking like contenders for the Rose Bowl at least. Still, three losses on the bounce will soon remove them from memory and although their losses have not been awful last weeks at home to Oregon State did raise a few eyebrows.  Utah should win this but possibly not by 3 TDs.
Utah to win but not cover the spread.
Washington State @ No 11 Oregon -14
Like Utah, Oregon can still see a path to the playoffs, but similarly, it would involve winning out and hoping. Since losing their opener at home to Auburn the Ducks have racked up six wins, however, none have been statement performances and they were a tad fortunate last week against Washington coming back from 10 points down to win it with a fourth-quarter TD.  They face a WSU side who have struggled in PAC 12 play, but they are capable of piling up the yards with their quarterback Anthony Gordon leading the nation in passing yards per game. Oregon should win this one and in doing so tie up their place in the Conference Final; where they might meet Utah with the winner either going to the playoffs or at the very worst the Rose Bowl.
Oregon to win but not cover the spread.