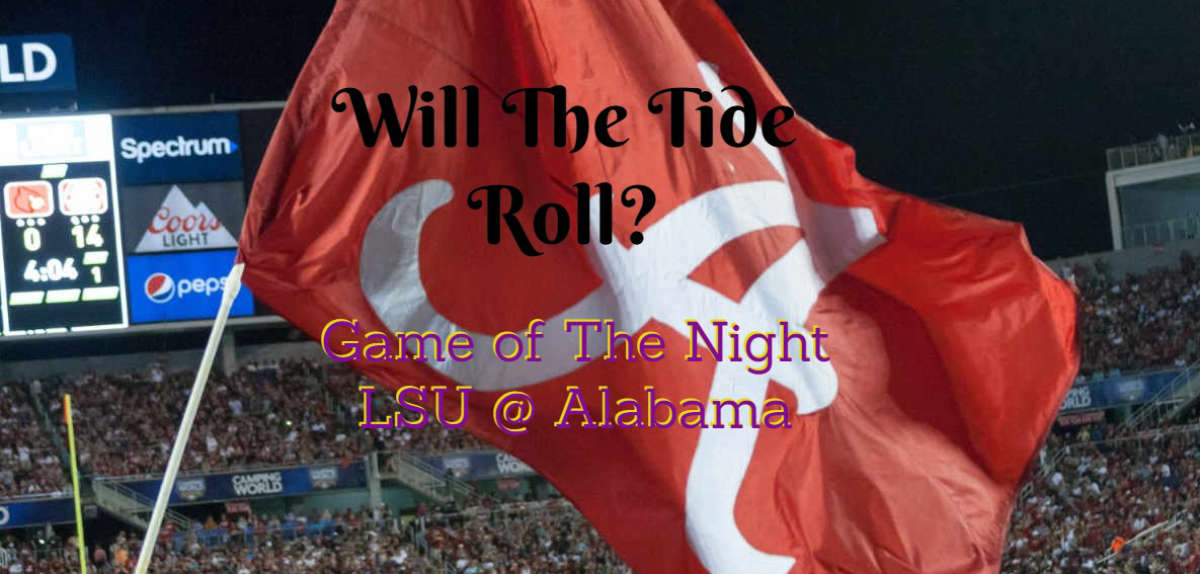 CPF Rankings Are Out.
Week Eleven seems to have rolled around awfully quick this year and as often happens this week is pivotal with their not only being a slew of meaningful games but its also the week when we find out what the College Football Playoff Committee (CFP) are thinking. No matter what the other polls think this is the one which will ultimately matter.  The initial rankings did raise a few eyebrows (including ours) by putting Ohio State No 1 and also by including a three-loss team. Their thinking process should become clearer as the last few weeks unfold. Whatever with there will be some changes after Saturday's games.
Clash of the Titans
The Big Ten & SEC will be the main focus as far as playoff contention is concerned this week with two games between unbeaten teams featuring. The main game is LSU's trip to Alabama, which will almost certainly;y decide the fate of the SEC West. The winner will almost certainly be in the final four come season end, however, it is not totally fatal to the loser who could end up 11-1 with a loss to the eventual SEC Champion.  Mind You whoever wins this will still have to get past Georgia who should pretty much sew up the SEC East this week.
In The Big Ten, we have the Penn State who are currently Number Four travelling to No 17 Minnesota. Both are 8-0, however, Penn State has played a much harder schedule and a win in this one would keep them in the top four heading into the conference game of the season against Ohio State later in the month. What would happen if the Golden Gophers win is anyone's guess, but if they did then they would have to come into the reckoning.
On the Fringes
Reigning champions Clemson have slipped to No 5 but with all four above them playing they should re-enter the playoffs next week, assuming they take care of business in their game at NC State. This is no given but they will be up for it and should move to 10-0. The PAC 12 is still in the hunt but neither Utah or Oregon are playing this weekend so the remaining attention is on the Big 12 whose last chances lie with either Oklahoma or Baylor. Both have tricky but winnable games this weekend, and much like the scenario in the PAC 12, they both have to win out and meet in the Conference Final to have a realistic chance of breaking into the top four. A loss of either would almost certainly end the Big 12's hopes.
The Race For The Cotton Bowl
The Group of Five "At Large" bid for the Cotton Bowl is wide open right now with Five teams ranked, three of whom play Saturday. All are at home and on paper have fairly winnable games, so not a lot is likely to change; unless one of then drops the ball.
Other Interesting Games
Although neither are going to figure in the playoffs the other all ranked Big Ten clash still has meaning, as the place in the Rose Bowl could be up for grabs if both Ohio State & Penn State make the final four. This would probably require Penn State to win out, but it's still possible. This should be a bit of a defensive slugfest so don't tune in expecting to see the scoreboard rattling.  Notre Dame are similarly out of the playoff conversation, however a New Year Bowl Game, most likely the Orange Bowl is still a possibility, however, to get there they will have to keep winning and hope that Clemson gets into the final four.
At Large Outsiders
The bid for the Cotton Bowl is not confined to the Five ranked teams so keep an eye on UCF. They are not completely dead in the AAC with two losses and given Cinncinati still have to play Temple & travel to Memphis they could still sneak the division and a win in the conference final would probably give them the at large place, for the third consecutive year. Now that would be some achievement.  Speaking of At Large outsiders don't write San Diego State off just yet. They are 7-1 in the Mountain West and are all but assured of a place in the conference final. A 12-1 Aztecs team with a win over a ranked Boise State would be nicely poised to strike should the AAC end up beating upon its self.
CFP Top 25 Games
Here is our predictions for the ranked games this week:
Maryland @ No 1 Ohio State -43.5
The Buckeyes should win this with some ease. The way they dismantled Wisconsin last time up indicates that they should be able to win this by a few TDs
Ohio State to win and cover the spread.
No 2 LSU @ No 3 Alabama -6
We know that LSU are really good this year and they are battle-hardened after good wins over Florida & Auburn. The same can't be said for Alabama who despite winning their first eight games easy enough you are struggling to pick out a statement win. Add to this Tua Tagovailoa had surgery three weeks ago, so probably won't be fully fit if he does play. Still, they are at home and they have Nick Saben on the sideline. Tough one to call.
Alabama to win but not cover the spread
No 4 Penn State @ No 17 Minnesota +6.5
Penn State could be the best team not only in the Big Ten but also the FBS with quality wins over teams who are good wins themselves.  We all love a fairytale and Minnesota having their best year since 1960 has been great to watch but it probably ends here.
Penn State to win and cover the spread
No 5 Clemson @ NC State +32.5
Clemson should edge back into the top four after this one. Might not be that easy though.
Clemson to win but not cover the spread
Missouri @ No 6 Georgia -16.5
Georgia are down but not out and they should move above the loser of the Bama – LSU game with a win in this one. Missouri are on a bit of a skid at the moment and this should end up as loss four on the season.
Georgia to win and cover the spread
Iowa State @ No 9 Oklahoma -14.5
The Sooners know what they need to do – win and in some style.
Oklahoma to win and cover the spread
Vanderbilt @ No 10 Florida -26.5
Florida are close to being a playoff contender but just lack that offensive firepower. That may stop then covering the spread in this one.
Florida to win but not cover the spread
No 12 Baylor @ TCU  +2.5
Baylor hasn't looked that impressive at times against the conference rivals, however, they did beat OSU on the road and on that form should be good enough to sneak this one and keep the Big 12's playoff hopes alive.
Baylor to win and cover the spread
No 18 Iowa @ No 13 Wisconsin -9.5
This is a clash of two of the best defenses in the FBS and thus should be close. The spread looks a bit big to us.
Wisconsin to win but not cover the spread
No 15 Notre Dame @ Duke +8
The Fighting Irish bounced back from their disappointing performance against Michigan with a hard-fought win against Virginia Tech last week.  Of course, Duke handed VT one of their worst defeats in living memory earlier in the season soon form this should be close. Still, Duke are a model of inconsistency this year so the Irish should just edge it.
Notre Dame to win but not cover the spread
No 16 Kansas State @ Texas -7
Kansas State is to the surprise of many 6-2 and firmly in the rankings thanks to that shock win over Oklahoma a few weeks back. Going to Texas is not easy this year and their only home loss was against LSU. This could be close.
Texas to win but not cover the spread
No 19 Wake Forest @ Virginia Tech +2.5
Virginia Tech played pretty well against Notre Dame last week but Wake Forest really should be undefeated and would have been but for that crazy game with Louisville which ended 62-59. They should edge this one and keep their Orange Bowl Hopes alive.
Wake Forest to win and cover the spread
Connecticut @ No 20 Cincinnati -35
Cincinnati needs to put on a show in this one to justify their pole position in the at large race. Connecticut is the AAC whipping boys having lost all five conceding 48 points or more in four of them. The Bearcats defense is solid so they should cover the spread.
Cincinnati to win and cover the spread
Wyoming @ No 22 Boise State -14
Boise look set to reach the Mountain West Conference Final, however, Wyoming are no pushovers this year and although they shouldn't win this one they could hang around.
Boise State to win but not cover the spread
East Carolina @ No 25 SMU -21.5
SMU's unbeaten season ended in a shootout against Memphis last time out, but they should get back on track here. ECU has struggled in conference play but gave Cinncinati a fright last week. This could be quite close.
SMU to win but not cover the spread
Still Looking For A Win
The only game featuring a winless team this week is:
New Mexico State @ Ole Miss.
Hard to see the aggies getting any joy at the Rebels who may not be having a vintage season but hey they are playing in the SEC and they gave Auburn a bit of a game last time up.
Looks like we will end the week with three teams still looking for a win.