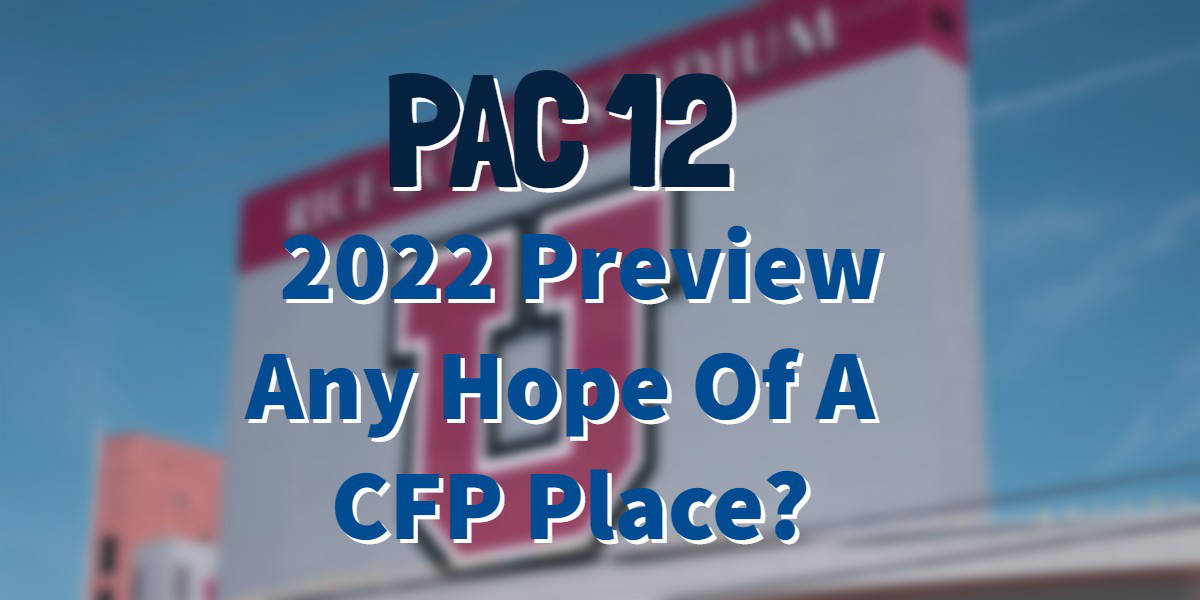 The PAC 12 has been the bridesmaid where the CFP is concerned for a few seasons now. In fact, you have to go back to 2016 when a 12-1 Washington earned the No 4 seed. Since then only Oregon in 2019 has even sniffed the playoffs and it's hard to see that changing in 2022.  Still, someone has to play in the Rose Bowl and there are a few contenders. We think it will be a three-team race, however, there could be a dark horse lurking…
The Contenders
Utah finally made the Rose Bowl in 2021 and what a game it was. The Utes were a tad unlucky losing 48-45 to Ohio State. As a result, they are justifiably among the favourites for the repeat. Their head coach Kyle Whittingham is entering his eighteenth season in charge and this stability may be an advantage. Both of their main rivals have new head coaches and Oregon has lost its best Edge Rusher to the NFL.
USC has been in the doldrums of late but their new head coach has been busy in the transfer portal and suddenly things look a lot brighter. Obtaining Caleb Williams is a coup but adding ex-Pittsburgh WR Jordan Addison might be even more impactful. They are going to be exciting on Offense and if the defense can keep up who knows?
Oregon looked like contenders early on in 2021, but the wheels fell off in that awful (and wholly unavoidable) loss to Stanford. They never really recovered and ended up losing to Utah twice. Star defender Kayvon Thibodeaux decided to forgo his senior year and he will be hard to replace. Their opening schedule is horrible.
Opening with a trip to Georgia is a boom or bust move. Win it and they are ranked No1, lose it and they are playing catch up. Following this with a game against a good FCS team is a hiding to nothing and then it's BYU & Washington State.  Their season could be pretty much over before September is out!
Still, it gets easier thereafter. and we will be watching to see how Bo Nix fares (remember him?).
The Dark Horse
Our dark horse in the Pac 12 this year is Washington State. Ok, the days of Mike Leaches air raid offense have gone. but that has been replaced with a stout defense which is as good as any in the conference. We are also intrigued by the arrival of QB Cameron Ward who put up staggering numbers at FCS Incarnate Word in 2021. If he as we expect makes the adjustment to Power Five they will be hard to beat.
Fighting For Bowl Eligibility
There are a group of teams behind these four who will probably end up beating each other enough to see a few become Bowl eligible. The only two we are writing off are Arizona & Colorado.
Big 12 Predicted Finish
Utah 10-2
USC 10-2
Oregon 8-4
Washington State 8-4
UCLA 7-5
Washington 6-6
Oregon State 6-6
Arizona State 6-6
California 5-7
Stanford 5-7
Arizona 3-9
Colorado 3-9
PAC 12 Champions?
We are predicting Utah for the repeat (just) to win it for an 11-2 record which will leave the Pac 12 out of CFP semi-final places again. Still, a second consecutive trip to the Rose Bowl is not to be sniffed at.  USC or whoever ends up chasing them home might scrape an at large NY Six Bowl places.
Header Image: University of College/Shutterstock.com