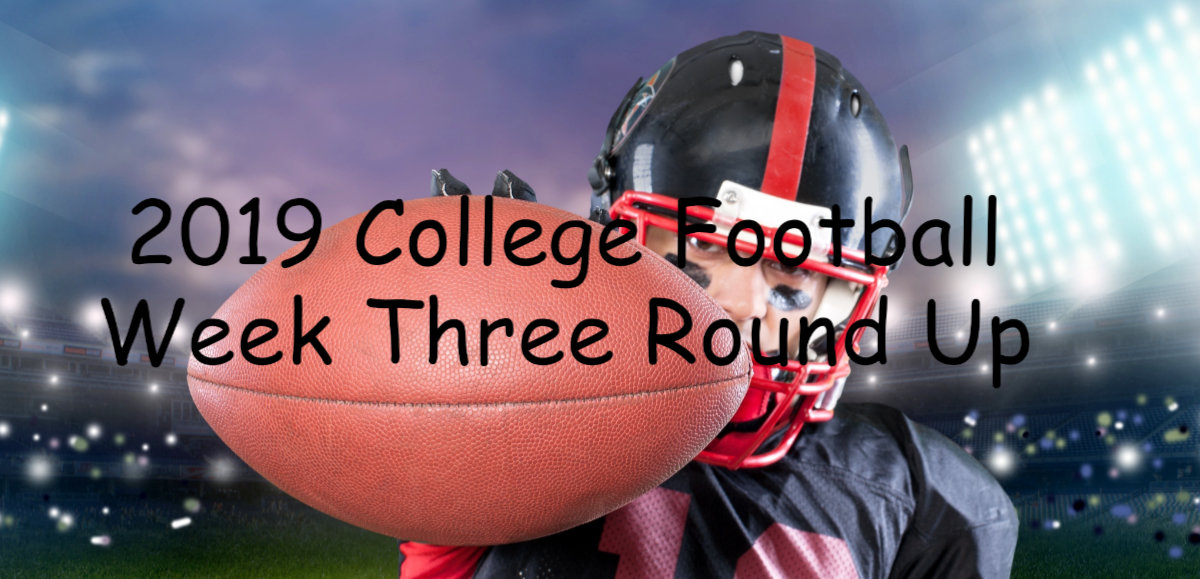 Week Three is in the bag already – that's a quarter of the regular season gone. So who is on the up, and who and which teams are looking at a quiet December? There may be a lot of football still to play, but already things are shaping up especially at the top.
The AP Top 25 Results
1               Clemson 41 – Syracuse 6. Another big win for the reigning champs. Ok Trevor Lawrence threw a couple of picks but 395 yards and 3TDs shows he is no weak link
2              Alabama 47 – South Carolina 23. A nice SEC win for the Tide thanks to quarterback Tua Tagovailoa and his 5TDs the defense looked, well un Alabama like though
3              Georgia 55 – Arkansas State 0. A romp and a shut out against one of the Sun Belt's powerhouse teams. There is a case for the Bulldogs to be No 2.
4              LSU 65 – Northwestern State 14. After a slightly shaky start, LSU went into cruise mode. The Tigers are one to watch and have possibly the best win of any top 10 team
5              Oklahoma 48 – UCLA 14. Jalen Hurts continues to look like a Heisman Candidate with 439 combined yards & 4TDs. ULCL are not great but they are still a PAC 12 team
6              Ohio State 51 – Indiana 10. With Dwayne Haskins & Coach Urban Meyer gone they could have taken a step back but they actually look better than last year.
7              Notre Dame 66 – New Mexico 14. This was never anything close to a contest with ND being 66-7 up before a garbage-time TD. Week 4's trip to Georgia Should be epic
8             Auburn 55 – Kent State 16. Auburn put on a rushing master class amassing 467 yards, however, Kent State is not a good team and it was only 14-10 at one stage; not overly impressive
9             Florida 29 – Kentucky 21. The Gators had to rally back from 21-10 down going into the 4th Quarter. This could prove to be a very good win by seasons end.
10           Michigan – Had a Bye week
11            Utah 31 – Idaho State 0. Utah showed that their defense will be their strength again this year shutting out their FCS opponents and holding them to 116 yards of offense.
12           Texas 48 – Rice 13. Nice bounce back after last weeks tough home loss to LSU, however, bear it in mind that Rice could be the worst team in the FBS this year.
13           Penn State 17 – Pittsburgh 10. A hard-fought win against a Panthers team which is probably better than its record suggests. Penn State needs to sort the Offensive line fast.
14           Wisconsin – Had a Bye Week
15           Oregon 35 – Montana 3. A routine win against a decent FCS team (ranked 20 in the FCS Poll). Of note, QB Justin Herbert added 5 TD passes to his resume that's 11 for the year so far
16           Texas A&M 62 – Lamar 3. Easy win against lesser opposition. Still a nice way to bounce back from that Clemson loss. Next up Auburn!
17           UCF 45 – Stanford 27. Another huge win for The Black Knights who are going for yet another unbeaten regular season. This win makes it 155 points in their first 3 games!
18          Michigan State 7 – Arizona State 10. Not sure what to make of this one Missed FGs and poor discipline cost the Spartans. ASU has not looked good in their games but 3-0 they are.
19          Iowa 18 – Iowa State 17. We expected a low scoring slugfest and with the aid of some awful weather, that's what we got. Still, this is a huge road win for the Hawkeyes.
20         Washington State 31 – Houston 24. A classic clash of two styles with WSU's air raid offence against Houstons Run game. Washington started slow but took over in the second half.
21         Maryland 17 – Temple 20. Mayland twice had the ball inside the Owls 10-yard line in the Forth quarter and came away with Nil Points. Their top 25 ranking may be short-lived.
22        Boise State 45 – Portland State 10. A routine win for Boise in the end but the first half was tough. The Broncos are looking good going into Conference play.
23        Washington 52 – Hawaii 20. Washington bounced back from that shock loss to Cal last week with a comfortable win over a good Hawaii team.
24        USC 27 – BYU 30 (OT). USC may see their place go to BYU next week. This was BYU's second consecutive OT win and their only loss so far was to Utah, They may actually be quite good
25        Virginia 31 – Florida State 24. Better from Florida State but they will still have an uphill struggle to get bowl eligible. Virginia top the division at 3-0 after rallying from 24-17 down.
Overall the only real surprise result was Michigan States loss and the other two losses were pretty close. The three losing teams should fall out of the rankings though, and the way things are going the SEC could have three teams in the playoffs.
Racking them up
The honour for running up the score in week three goes to (drum roll):
The Louisiana Ragin' Cajuns who beat FCS side Texas Southern Tigers, 77-6. That's 184 points the Tigers have conceded in their opening three games, not surprisingly all losses.
Other big scorers included
Miami 63 Bethune-Cookman 0. The Hurricanes finally put one in the win column with this beat down on FCS opposition. Maybe this will kickstart their season after a couple of narrow lossses.
Tulane 58 Missouri State 6. A nice win for the Green Wave leaving them 2-1 going into conference play. Four more and they will be Bowl eligible
Western Michigan 57 Georgia State 10. The Broncos racked up 7 rushing TDs in this MAC v Sun Belt clash. It was even more impressive as Georgia State beat SEC Tennessee in their opener!
Entertaining Game of the Week
Several candidates for this one but we have settled on Southern Miss 47 Troy 42. Southern Miss picked up an impressive road win who picked up an impressive road win against one of the Sun Belts top programmes. However, for the neutral, it was a one-score game most of the way through and add in 1154 yards of offense (passing mainly) 12 TDs, no TOs and few penalties and as you can guess the action rarely stopped. This was also a contender for our performance of the week. Speaking of which:
Performance of the Week
Again a few candidates here, Clemson's demolition job on Syracuse was impressive, as was Alabama's big SEC road win. TCU's big Power Five win at Purdue also raised our eyebrows, but the week's award goes to:
The Citadel 27 Georgia Tech 24 (OT). It's not every day (or every season for that matter) that an FCS team goes on the road to a Power Five team and gets a win. This was no fluke and GT only got to OT thanks to a Field Goal as time expired.
Honourable mention goes Kansas State 31 Mississippi State 24. A monster road win against a good SEC team, and in a year when rebuilding was on the cards, following the retirement of their greatest ever Head Coach Bill Synder. The Wildcats are 3-0 going into Big 12 play.
Valiant in Defeat
Georgia Southern 32 Minnesota 35.  Georgia Southern did the Sun Belt proud going on the road to a decent Big 10 side and only TD with 13 seconds left spared Minnesota's blushes.
One you might have missed
Southeastern Louisiana 29 Ole Miss 40.  The score doesn't tell the whole story, as The FCS side from the Southland Conference went toe to toe with their illustrious opponents for three quarters before literally being run over. Even then they had the ball at the Rebels 28-yard line before throwing their third interception to effectively end the game.
Looking Good
California 23 North Texas 17. The Golden Bears are 3-0 and top of the PAC12 North thanks to some resolute play. The weekends win was not impressive scoreboard wise but they never looked in danger. A win at Ole Miss this weekend would really have people taking notice.
Slightly Disappointing
Kansas 48 Boston College 24. Boston College after starting 2-0 found themselves in the news for the wrong reasons as Kansas recorded their first road win against a Power Five team in 48 attempts; that's nearly 11 years in the waiting. It was not just the loss but the manner of the defeat with Boston registering exactly no points in the second half.
Wake Me Up When It's All Over
There was no really drab game this week with the most likely candidate ASU @ Michigan state at least ending in a bit of drama thanks to a "12 men on the field" penalty which stopped the game going into OT. Let's hope this is the pattern going forward.
Header Billion Photos/shutterstock.com