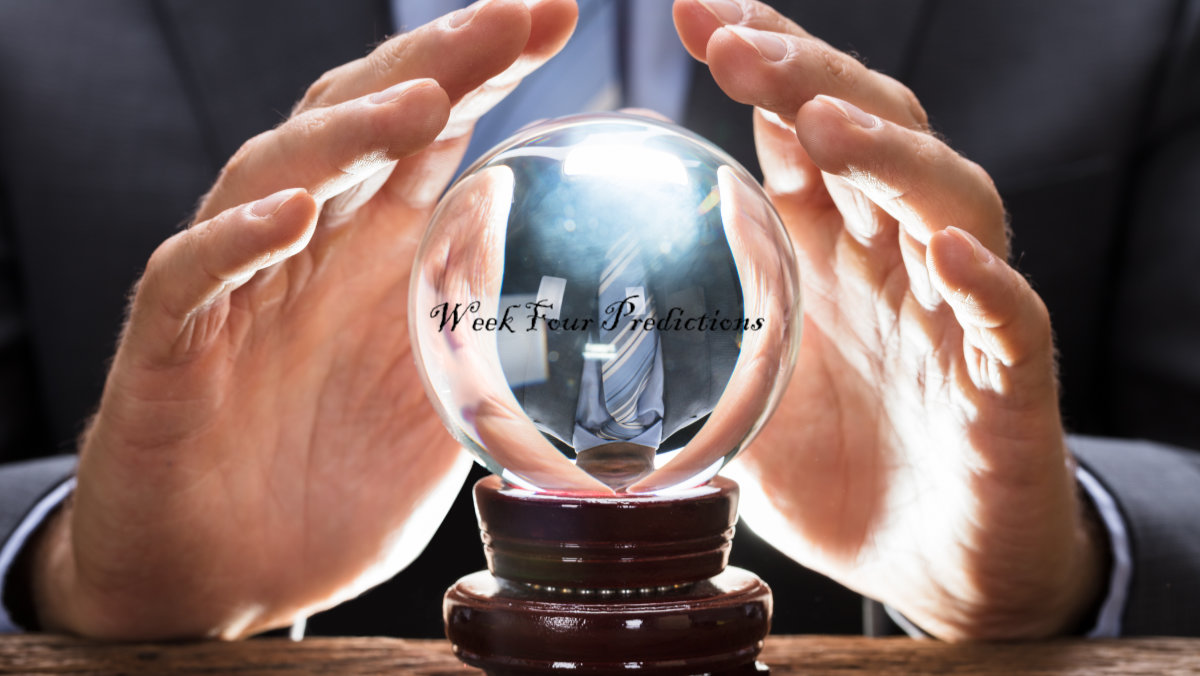 College Football Week Four – Now it gets Serious!
Finally the conference play begins in earnest and as the headline says now this **** gets serious with three all ranked matchups, including the game of the day at Georgia, a result which will have major playoff implications (well if the Irish pull of a surprise it will), and important clashes in the SEC and Big 10. Overall there are 19 games to look forward to and even at the lower end of the rankings there is plenty to play for with the likes of Army and Kansas State ready to take advantage of a slip up and of course Oklahoma State and BYU have their ranking destiny largely in their own hands – win and they are in – well for a week at least.
Anyway, we were 21-2 in our predictions last week straight up so this week to add a bit of spice we will try our luck against the line too.
Games
Charlotte @ 1 Clemson Line: CLEM -41.5
Clemson have the swagger of National Champion about them and despite losing a clutch of players to the draft they don't seem to have missed a beat. Hard to see anything but a comfortable win and they should just about cover the spread.
Clemson by 42points +
Southern Mississippi @ 2 Alabama Line: ALA -38.5
You can't really fault Alabama on offense this year with Tua Tagovailoa playing like a Heisman winner, however, the defense maybe is not quite as good as in previous years? Just our thoughts and although there is no way Southern Miss wins this one the spread is chunky. We will take a punt and predict they don't cover.
Alabama by 35 points
7 Notre Dame @ 3 Georgia Line: UGA -14.5
The clash of the night and one which should have major ramifications when the CFP rankings come out. An unbeaten ND would definitely be in, while for Georgia a loss here would almost certainly scupper their chances, barring a win over Alabama in the SEC Championship game.  Neither team has had much of a test yet and both have run up the score against mediocre opposition, so for us, it's hard to gauge this one. The oddsmakers don't seem to have a problem though putting the Bulldogs as 2 TD+ favourites. Overall Georgia at home should take this one but maybe not by the spread.
Georgia by 10 points
4 LSU @ Vanderbilt Line: LSU -24.0
LSU is looking good this year and has arguably the best in in the FBS so far over Texas. Vanderbilt have been poor so far this year and LSU will want to outdo Georgia in this one to boost their playoff hopes. Could be a drubbing for Vandy.
LSU by 27 points 
Miami (OH) @ 6 Ohio State Line: OSU -38.5
Ohio State doesn't appear to be missing Urban Meyer or Dwayne Haskins as much as we thought they would at the start of the season, and although they will face some challenges this on their way to what they hope will be another Conference Championship will not be one.
Ohio State by 40 points
8 Auburn @ 17 Texas A&M Line: TA&M -3.5
Another all ranked clash – this time with SEC and New Year Bowl implications (can't see either figuring in the playoff conversations). Auburn has a couple of nice wins under their belt including a ranked one against Oregon and that win over Tulane looks even better now after they upset Houston last night.  A&M is starting to get things going under Jimbo Fisher but they were no match for Clemson and their other wins were more of the cupcake variety.  Auburn to get a massive road win and put themselves in contention for a tilt at the Sugar Bowl.
Auburn by 4 points
Tennessee @ 9 Florida Line: FLA -14.0
Florida will be starting Kyler Trask at QB this week following the unfortunate injury to Franks, however, on his showing against Kentucky, they won't have anything to worry about here.
Florida by 14+
Oklahoma State @ 12 Texas Line: TEX -6.5
Oklahoma State has pretty much owned the Longhorns for years, including winning their last five road visits! Does the run stop here? Well, Texas probably should have beaten LSU but they failed twice on fourth down from the 2-yard line. Had they punched one of those in – ore even taken the two easy field goals this could have been a different game. The Cowboys have won their three openers with some ease band have a power running game led by Chuba Hubbard (you couldn't make these names up), however, they gave up 36 points to Oregon State and 21 to Tulsa which speaks volumes about the defence. They should hang around in this one for a while but ultimately Sam Ehlinger will put the game away.
Texas by 7 points +
10 Utah @ USC Line: UTAH -3.5
Utah was our tentative tip for the Rose Bowl pre-season and at 3-0 with a good win over BYU we have no reason to change this view. Looking at their schedule this was one game they could drop, however, BYU beat the Trojans last week and although form lines don't always work out they look too strong defensively. This may be a low scoring affair though and they might not cover the spread.
Utah by 3 points
11 Michigan @ 13 Wisconsin Line: WIS -3.5
The first real Big Ten clash sees the Wolverines travel to a Wisconsin side keen to make amends for last seasons disappointment. Michigan struggled against Army'striple option last time out and they can expect plenty of ground and pound from the Badgers who have averaged 216+ yards on the ground in their openers. They have also shut out both opponents for a combined score of  110-0! This would normally be impressive enough but one of those teams was USF who are no slouches.  At the start of the year we thought this would be Michigans turn to shine, and it still might be but we have a sneaking suspicion that Mr Harbaugh is going to be disappointed again.
Wisconsin by 7 points 
15 UCF @ Pittsburgh Line: UCF -11.0
UCF just keep on winning and keep on getting little or no respect from the CFP committee. They are 3-0 again this year and they will go to ACC Pittsburgh fresh off of putting 45 points on Stanford. Win this one and they should be knocking on the door of a top 10 ranking. It won't be as easy as the spread suggests but they should pull off the win.
UCF by 7 points 
16 Oregon @ Stanford Line: ORE -10.5
Oregon has bounced back nicely from that opening loss to Auburn – which doesn't look so bad now, while Stanford's pre-season top 25 ranking is but a distant memory. Having said that 10.5 points is a lot to give up in a road game.
Oregon by 7 points or less
UCLA @ 19 Washington State Line: WSU -18.5
Washington State has not beaten much in their 3 wins and their latest one over Houston doesn't look so good after last nights result, however, UCLA are just plain bad. The Cougars can run up the score in this one.
Washington State by 21 points.
Air Force @ 20 Boise State Line: BSU -7.0
Boise has quietly been amassing nice wins and even last weeks stroll against FCS Portland State was impressive given that Portland gave Arkansas plenty to think about in the season opener. Airforce had a good OT win against Colorado last week but the Broncos are a different proposition especially at home.
Boise By 10 points  
Old Dominion @ 21 Virginia Line: UVA -28.5
Virginia are top of the ACC Coastal with a couple of nice conference wins under their belt. Its hart to envisage anything but them moving on to 4-0 after this one but they may not quite cover the spread.
Virginia by 28 points
22 Washington @ BYU Line: WASH -6.5
BYU is having a good season and we would have just about edged them into the top 25 rankings with their OT win against USC last week. Washington bounced back nicely against Hawaii last week and may just sneak this one.
Washington by 6 points
23 California @ Ole Miss Line: MISS -2.5
Cal are the surprise of the PAC 12 this year 3-0 with a win over Washington. However, a trip to any SEC team is not easy and Ole Miss seems to have bounced back from that Memphis loss in the opener. We think they might just edge this one.
Ole Miss by 3 points.
Colorado @ 24 Arizona State Line: ASU -7.5
Colorado is 2-1 but they lost a bad one at home to Airforce last week.  ASU is one of the years surprise packages at 3-0 wins which includes a scrappy one at Michigan State last week. On that form, they should win this one and may just cover the spread.
ASU by 8 points +
SMU @ 25 TCU Line: TCU -9.5
TCU has not really garnered much attention and somehow find themselves at 25 thanks to a win over Purdue – which is no great shakes. SMU is 3-0 but although their wins are nice they have not included any Power Five teams and given this is a road game we can't see them pulling off an upset.
TCU by 10 points + 
Header Andre Popov/Shutterstock