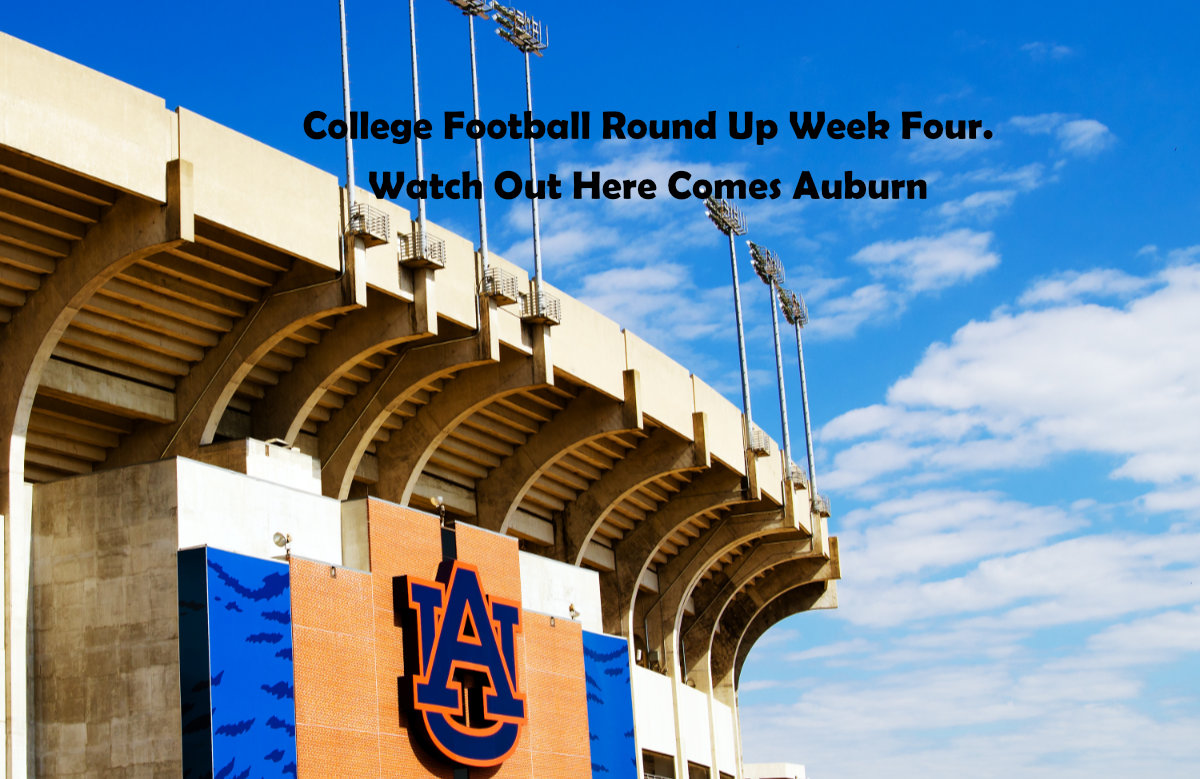 The Cream is Floating to the Top
Week Four, as expected began to separate the contenders from the pretenders and for the PAC 12, it probably ended any faint hopes they had of getting a team into the CFP playoffs. Washington was the last PAC team to make it back in the 2016 season. The question now is – will the Playoff committee risk a mountain of public backlash and put three SEC teams into the final four? There is a long way to go but the SEC is already beginning to dominate the top 10 and one playoff candidate may come from left field in the shape of Auburn.  Ohio State, Wisconsin and Oklahoma will probably have something to say on this matter though.
Anyway here's how things at the top panned out, and don't forget to scroll all the way down to see a crazy Rutgers TD celebration – well they don't score many.
The AP Top 25 Results
 No 1 Clemson 52 – Charlotte 10
Clemson was never troubled in this one scoring 31 points before Charlotte got on the board. They even had the luxury of pulling starting QB Trevor Lawrence out after the first quarter, in which he went 7 of 9 for 94 yards and 2 TDs. They just covered the spread mainly due to taking their foot off the gas early. This was The Tigers 19th consecutive win for those who are counting.
No 2 Alabama 49 – Southern Mississippi 7
A comfortable night for the Tide, who swept past Southern Miss. Tua Tagagovailoa did his Heisman chances no harm with TDs.
No 3 Georgia 23 – No 7 Notre Dame 17
This clash lived up to its billing of "Game of the Week" and after a scoreless first quarter, it briefly looked like Notre Dame might pull off a shock, going in leading at the half. However, 16 unanswered points in the second half put Georgia in control and although the Irish battled back and even had the chance to win it in the final minute, the result was just about right. Georgia will no doubt remain third in this week rankings, however, we would rank them top following this performance.
No 4 LSU 66 – Vanderbilt 38
LSU ran up the scoreboard, against an admittedly quite poor Vanderbilt side – out doing Georgia by a few points (The Bulldogs had a 30-6 win over Vandy in their season opener). The Tigers are certainly fun to watch this year with QB Joe Burrows throwing TDs for fun (6 in this one), however, their normally stingy defense seems a bit generous this year and this is the second time they have given up 38 points in a game. You can get away with this against lesser teams but they can't be that generous against the likes of Florida Alabama & Auburn who are all looming on the schedule.
No 5 Oklahoma – didn't play but will get a nice boost from UCLA's crazy win at Washington State
No 6 Ohio State 76 – Miami (OH) 5
The Buckeyes actually trailer 5-0 in this one before running up the score to remind the CFP committee that there is life outside of the SEC. OK, the Red Hawks have not been good this year but still, all they could do was win it and they managed that with some style.
No 8 Auburn 28 – No 17 Texas A&M 20
This was a statement road victory for Auburn, and their second over a highly ranked opponent, having opened the season with a nice win over then No-11 Oregon. On strength of schedule to date you could make a case for them moving up to six or even Five in the rankings, however, they will probably end up leaping into Notre Dames spot.
With Florida, LSU, Georgia & Alabama on their schedule, they are dark horses for the playoffs.
No 9 Florida 34 – Tennessee 3
Florida didn't seem to miss Felipe Franks in the slightest in their dominating win over the Volunteers, who were held to 239 yards total offense. Kyler Trask looked a bit nervous coughing the ball up three times but still ended up with 293 yards passing and a couple of TDs.
No 10 Utah 23 – USC 30
The Pac 12's last big hope for a playoff place blew it under the Friday night lights, as USC made some amends for that surprise 3 point loss at BYU last week. Utah did a nice job of stopping the run but their secondary got torched by back up QB Matt Fink who threw for 351 yards and 3 TDs. He might not be the backup for very long if he keeps playing like this
No 11 Michigan 14 – No 13 Wisconsin 35
This was the first meaningful Big 10 clash of the season and although on paper it looked like being close, on the field it was embarrassing. Wisconsin who hadn't conceded a point this season in their opening fixtures controlled the game from the start and were 35-0 up late in the third quarter before they took their foot off the Wolverines throat. The time of possession speaks volumes – Michigan only had the ball for 18.53 minutes! The Badgers could be for real again after last seasons disappointment.
No 12 Texas – Oklahoma State
Texas finally got a win over OSU thanks to another solid all-round performance – led by QB Sam Ehlinger who had a four TD night. In all honesty, the game was never as close as the score suggests.
No 14 Penn State – Didn't play- but last weeks win over Pittsburgh looks a whole lot better now
No 15 UCF 34 – Pittsburgh 35
All good things have to come to an end and Saturday saw the end of UCF's incredible 27 regular-season games unbeaten run.  It was a topsy-turvy game with Pitt leading 21-0 midway through the second Quarter only for UCF to rally back taking a 31-21 lead. The Black Knights looked like extending their streak but a last-minute Pittsburgh TD clinched the win. Now it is likely that Boise State has its destiny in its own hands in the race to be the Group of 5's representative in a New Year's Six Bowl.
No 16 Oregon 21 – Stanford 6
Justin Herbert gave the NFL further notice of his prowess with a nice 3 TD display in their conference opener against a disappointing Stanford. The Ducks have Cal at home next week and a win in that one would catapult them into Rose Bowl contention. They have the best loss in the Conference and although any chance of a playoff place effectively evaporated in that week one loss to Auburn they are nicely placed for a tilt at a New Year Bowl game. As for Stanford that 23 ranking after week one will probably be as high as they get this year.
No 19 Washington State 63 – UCLA 67
Where to start? Well, how about with a sympathy note for Anthony Gordon who threw 9 TD's and ended up on the losing side. We can't find any record of a similar feat in FBS history but will stand corrected. Then how about Washington State blowing a 32 point lead but actually coming back themselves to lead 63-60 until UCLA's near last-minute TD to win it. The crowd of 32,952 got their money's worth in this one with 1377 yards of offense and 18 TD'd total. Not entirely surprisingly there were only 3 sacks in the game.
No 20 Boise State 30 – Air Force 19
Air Force played pretty well for nearly three quarters in this one before the Broncos took control. Boise will no doubt leapfrog UCF in the at large race, and with their schedule could be looking at a big season.
No 21 Virginia 28 – Old Dominion 17
Virginia looked anything but impressive in the first half and went in trailing by 10 at the interval, however, they rallied in the fourth quarter to avoid an embarrassing defeat. OD may be having a poor season but they are no strangers to upsets, having beaten Virginia Tech in 2018.
No 22 Washington 45 – BYU 19
The Huskies are back on track after that shock (well at the time anyway) loss to Cal. BYU are no slouches and this should push Washington back up the rankings.
No 23 California 28 – Ole Miss 20
Looks Like Cal could be for real this season (who saw this coming). OK, they were sort of outplayed and a bit of refereeing controversy helped, however, the record books will show this as a road win against an ok SEC team. That's got to be worth a bump in the rankings. The next couple of weeks will confirm if the Bears are genuine PAC 12 contenders as they face ASU and then travel to Oregon. Two wins in those and they could be knocking on the door of the top 10, two loses and their top 25 stay will be over.
No 24 Arizona State 31 – Colorado 34
ASU's stay in the rankings is likely to be brief following this home loss to their divisional rivals. Colorado was never behind in this one and will be happy with their 3-1 record with that loss being an OT on against a pretty good Air Force. They are halfway to bowl eligibility. ASU has not looked that good in their three previous wins
No 25 TCU 38 – SMU 41
We were surprised that TCU made the rankings last week, however, this will still go down as one of the performances of the week as SMU never really looked threatened and the scoreline is a bit flattering for the Horned Frogs. Will SMU get into the top 25 – no chance even at 4-0 given the bias against Non-Power Five Conferences,  we think they deserve that 25 slot though.
Racking them up
No prizes for guessing the winner of this one take a bow Washington State and UCLA for serving up several games worth of action in one sitting.
Outside of the top 25, the honour goes to Iowa State – who racked up the score in their demolition of UL Monroe.
Final Score 72 -20 
Other notable scores were:
Coastal Carolina 62 – U Mass 28
Liberty 62 – Hampton 27
Kent State 62 – Bowling Green 20
Entertaining Game of the Week
New Mexico 55 New Mexico State 52
Well after the obvious score fest in Washington the most interesting game for us anyway was the New Mexico derby which saw the Lobos hold off a late Aggies rally to win 55-52. New Mexico State is not having a great start to their adventure as an FBS Independent and has now fallen to 0-4 although to be fair they have also faced Alabama WSU and San Diego State who beat UCLA  a couple of weeks ago. As for UNM they are 2-1 and will be targetting bowl eligibility.
Performance of the Week
Appalachian State 34 – North Carolina 31
A nice win for the Mountaineers over a Power Five team who has wins over SEC South Carolina and a good divisional one over Miami.  Ok, it took a blocked field goal to prevent OT but this is still an impressive upset. Appalachian State are now the only undefeated team left in the Sun Belt.
Valiant in Defeat
Miami 17 – Central Michigan 12 
Central Michigan was supposed to be whipping boys in this one 30.5 point underdogs. However, no one told them and they gave the Hurricanes quite a fright forcing a safety, missing a field goal and fumbling when deep in Miami territory. They even had a chance to win the game but an interception allowed Miami to close out the game.
One you might have missed
Boston College 30 Rutgers 16
Worth watching not only for Bostons nice bounce-back win, but also to see the strange Rutgers TD celebration ritual – probably why QB Artur Sitkowski is not scoring much this year.
He really punched his QB in the face to celebrate the TD 🤜 pic.twitter.com/Yc9zVpLDHQ

— ESPN (@espn) 21 September 2019
Looking Good
Wake Forest 49 – Elon 7
A beat down on a reasonably good FCS team wouldn't normally catch the eye too much, however, it was another good night for QB Jamie Newman who has 12 TD's for the year now and of course, Wake are now 4-0 and have a nice win over Utah State on the resume. They should be knocking on the door of the top 25 if they beat Boston next week and go to 5-0.
Honourable mention goes to Mississippi State, who are 3-1 with their only loss being by one score against a better than expected KSU. They look certain to make a bowl game and could give Auburn a bit of a game next week. With their schedule, you could say their destiny is in their own hands.
Slightly Disappointing
Michigan State 31 – Northwestern 10 
The Wildcats were awful on offence and although we didn't expect a repeat of their Big 10 Conference final appearance but thought that head Coach coach Pat Fitzgerald had turned them into a team to be reckoned with. They have only played three games so there is still time, however keep on like this and there will be no bowl slot this year.
Wake Me Up When It's All Over
Well like last week there was no really poor game with even the lowest-scoring one involving Miami being interesting as it was a classic David v Goliath – even if Goliath held on. Let's hope this is the pattern for the season.
So how did we do?
Well, our predictions were well off on week three and ended up a being a fairly mundane 12-7 straight up and 11-8 against the spread.