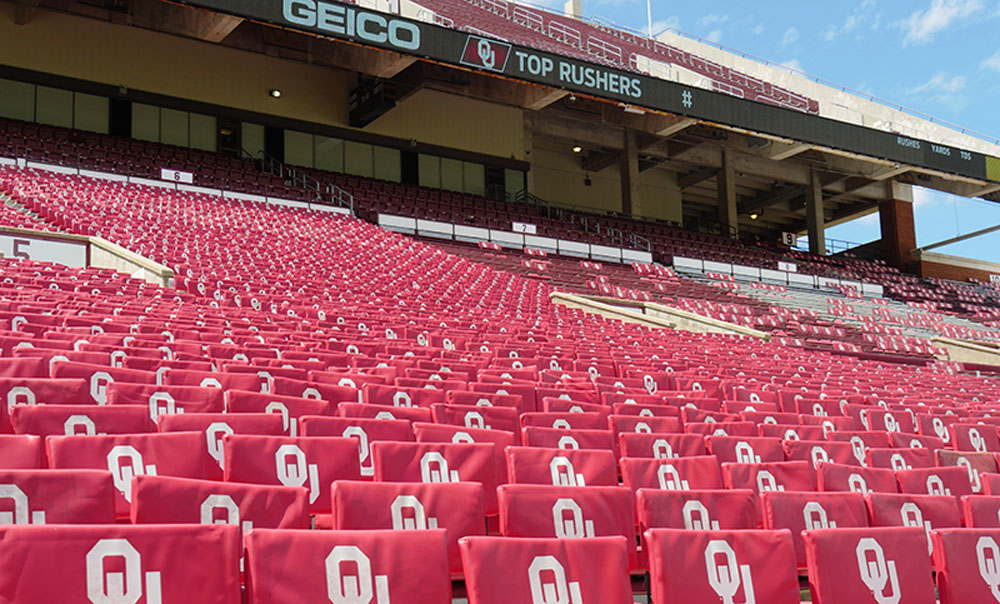 The Big 12 Conference (which only has 10 members) has been dominated by Oklahoma pretty much since its inception, and despite sending the number one draft pick to the NFL in each of the last two seasons, they still look the most likely winner and are potential national championship playoff candidates. the second place looks a lot more open and there could be a surprise team in the conference final this season.
BIG 12
1st Oklahoma Sooners
Not the edgiest of predictions – but when something looks such a sure thing why tip against it. They have won the Big 12 in each of the last four seasons have been in the playoffs the last two seasons and you have to go back to 2014 to find a season when they didn't have double-digit wins. Losing QB Kyler Murray is not such a problem given they will slot in Jalen Hurts who has transferred from Alabama and despite also losing a chunk of their O-Line and a star WR they should still be an offensive juggernaut in 2019. The defense has been viewed as optional in the last two seasons and this is a slight worry as you can't keep relying on winning shoot outs. Still the defense last year had a load of Freshmen and Sophomores and with a year's experience under their belts, they should be able to step it up if the offense falters.
The non-conference schedule doesn't look too taxing and they have Iowa State, WVU and Texas at home this year which is a bonus. It will be a major surprise if they don't rack up at least 10 wins again and they should be pushing for a playoff place.
Predicted record 11-1
Iowa State Cyclones
Iowa State has had a solid defense for a few years but has struggled to put points on the board. This looks set to change thanks to second-year QB Brock Purdey who came in and turned around their 1-3 start completed 66% of his passes for a 169.9 passer rating. They have a few tricky games on the schedule but they should eclipse last seasons eight wins and sneak into the Championship game.
Predicted Record 9-3
Texas Longhorns
After a shaky start to 2018 losing to Maryland, the Longhorns showed they were back with a narrow win over Oklahoma and were unlucky in their other two losses, which were by a combined 4 points! This season they still have Sam Ehlinger at QB and have brought back a lot of starters, so why the slight backward step. Well, its the schedule which looks tougher and six of their wins were one-possession games. This year they have LSU as a non-conference opponent and their conference road schedule is at Iowa State, WVU, TCU & Baylor. It's hard to see them winning more than two of these and we think they will lose the head to head with Iowa State for the Conference Final Place.
Predicted record 9-3
Oklahoma State Cowboys
OSU had a pretty good 2018 beating three ranked teams and only losing to Oklahoma by a point. Still, they also lost on the road to Kansas State, Baylor & TCU which cost them any chance at the conference game. This year schedule is a little harder road wise but they have lined up three winnable non-conference games so a winning season is almost assured. The only issue we see is who is going to be QB.
Predicted record 8-4
TCU Horned Frogs
TCU had a poor 2018 by their standards and although they don't look like getting back to the rankings they enjoyed in 2014 & 2015 – when they were National Championship contenders, they should at least match last season. Their conference schedule could have been kinder with five road trips, including Iowa State, Oklahoma & OSU (likely three losses there) They also have a tricky trip to Big-10 Purdue. Still, we can see them starting 3-1 or even 4-0 before that Iowa fixture.
Predicted Record 7-5
Baylor Bears
Baylor had a big turnaround in 2018 following the scandal and sanctions which plagued them in 2017,  although they don't look ready to scale the heights of 2-13 & 2014. They didn't lose many players to the draft and most of the last seasons' defensive starters will be back and they have an intriguing WR prospect in Tyquan Thornton who might just end up being Brewers favourite target.
Predicted Record 7-5
Texas Tech Red Raiders
Texas Tech have a new head coach in Matt Wells – who did a great job getting Utah State to 10-2 last year. It will probably take him a year or two to get the defense the way he wants it and a similar record to last season looks likely.
Predicted Record 5-7
West Virginia Mountaineers
WVU were expected to have a good year in 2018 and they duly obliged – well up to the point when they faced the Oklahoma teams losing both narrowly to end up 8-3 (the NC State game was cancelled). This year they have no Will Grier at QB and will also miss OT Yodny Cajuste. Their schedule is really tough too with even their token FCS game being against James Madison who we expect to challenge for the Div 1 Championship. Add to that inter-conference games at Missouri and against NC State and a 0-3 start is not beyond the realms of possibility. The running game should be good though.
Predicted Record 4-8
Kansas State
The post Bill Snyder ere begins now and the person with the thankless task of replacing a legend (the stadium is even named after him) is Chris Klieman who did a tremendous job at North Dakota State in the FCS. However, this is a big jump up and he is not exactly inheriting a stacked roster. Skylar Thompson will likely start at QB but unless he takes a big leap forward they will again struggle to move the ball through the air and with Alex Barnes now in the NFL the running game is less proven. They will play tough by there doesn't look like there are many winnable games on the schedule.
Predicted Record 4-8
Kansas Jayhawks
The Jayhawks have managed 8 conference wins since 2010 and last season even managed to lose their opener against FCS Nichols. Despite their record last year they did play quite well in some games and they are bringing back QB Peyton Bender who has gotten better each season so far and Pooka Eilliams Jr looks a capable RB who was 13th overall in average yards per carry last year. If they could just sort out the Defense.
Predicted Record 3-9
Overall the Big 12 might struggle to fill its Bowl allocation in 2019, however, Oklahoma should be in the National Champions conversation come December.