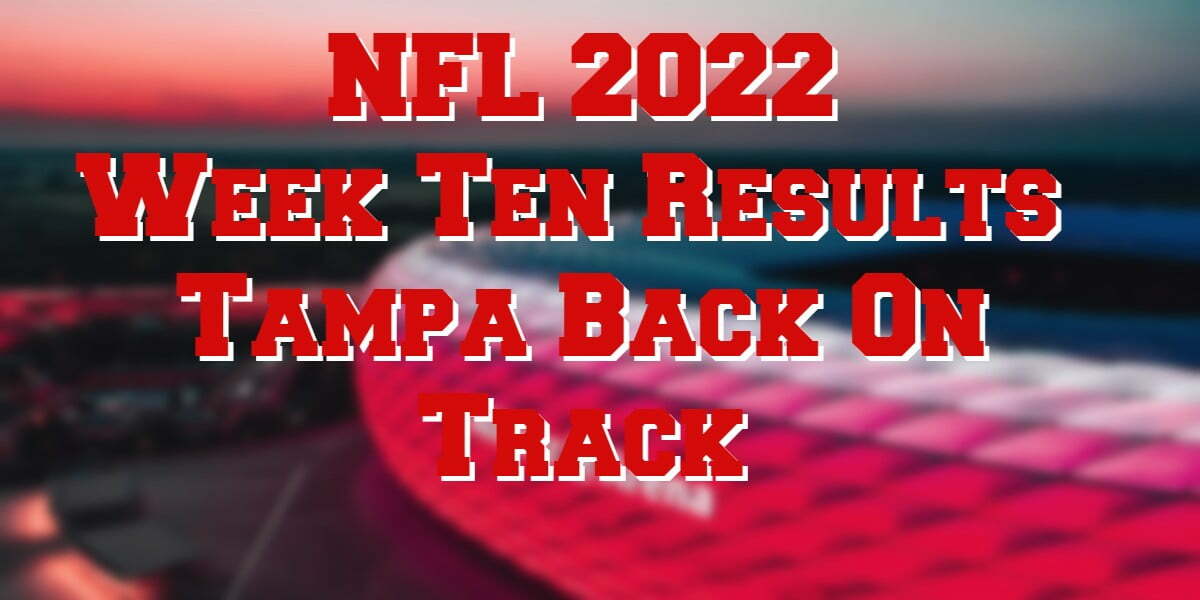 Week Ten saw the NFL play a regular season game in Germany for the first time. The game was as expected a sell-out and a raucous Allianz Arena seemed to bring the best out of Tom Brady as he got the Buccs season back on track. They are top of the admittedly weak NFC South but with players coming back from injury the rest of the NFC will be a little warier after this game.
He was not the only veteran QB to have a better weekend as both Aaron Rodgers and Matt Ryan got vital wins. Ryan, who was benched rather unfairly by the subsequently fired Frank Reich looked good in this crucial win capping it with a career-best, 39-yard run to convert on third and long.
Aaron Rodgers also had a good night as he led the Packers back from a 14-point fourth-quarter deficit. Wide receiver Christian Watson had a breakout game with 107 yards receiving and three TDs.
Finally, the Eagles' unbeaten record came to a shuddering halt against divisional rivals Washington. The score was not as clear cut as it looks as the final six points came from a desperation final play lateral that went wrong.  Overall it was another good weekend for the neutral fan with eight games being decided by a single score and the big game of the weekend in Buffalo lived up to expectations.
Anyway, the week's results are below…
NFL 2022 Week Ten Results
Thursday Night
Atlanta 15 @ Carolina 25
Not a game t dwell on too much, however, it was good to see D'Onta Foreman having a good night after all his injury problems. He had 31 carries for 130 yards and a touchdown as the Panthers got their third win of the season.
Munich Game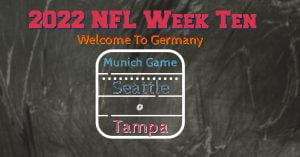 Seattle 16 @ Tampa Bay 21
The Allianz Stadium was bouncing and the atmosphere seemed to suit the Buccs better as they put their recent poor form behind them. The bright spot for Seattle was the continuing good play from Geno Smith.  He did his part putting up 275 yards passing however their running game was practically non-existent.
Sunday Early Games
Minnesota 33 @ Buffalo 30 (OT)
Detroit 31 @ Chicago 30
Denver 10 @ Tennessee 17
Jacksonville 17 @ Kansas City 27
Cleveland 17 @ Miami 39
Houston 16 @ New York Giants 24
New Orleans 10 @ Pittsburgh 20
The big game here saw the Vikings edge out the Bills in one of the best games of the season so far. Kirk Cousins had a big night rallying the Vikings late to snatch the lead before a last-ditch field goal forced OT.
In Chicago, Justine Fields continued to silence his critics with a solid performance. It was not good enough to get the win but he is emerging as one of the league's best dual-threat QBs. One has to wonder how good he could be if he wasn't playing behind an O-Line that resembles a set of swing doors.
Sunday Late Games
Indianapolis 25 @ LV Raiders 20
Dallas 28 @ Green Bay 31 (OT)
Arizona 27 @ LA Rams 17
Last year's Super Bowl Champions took another loss and are now bottom of the NFC West. There is still time but right now you wouldn't bet on them making it back to the playoffs never mind retaining their trophy.
Night Game
LA Chargers 16 @ San Francisco 22
The signing of Christian McCaffery is starting to look like an inspired trade as once again he was a difference-maker in the Niners' hard-fought win.  He scored the winning TD in this one, but overall it was their defense who were the stars of the game. They look like a complete team now.
Monday Night Football
Washington 32 @ Philadelphia 21
All good things have to come to an end and so it was with Philadelphia's unbeaten start. It would best be described as a sloppy performance by the Eagles who had four turnovers. Washington was not a whole lot better fumbling on their opening drive, however, they did control the clock better and deserved the win. That win means that every team in the NFC East is currently at least .500.
Bye Week
Cincinnati, New England, New York Jets & Baltimore
You can check out our earlier predictions for the above games here.
Header Image: uslatar/Shutterstock.com