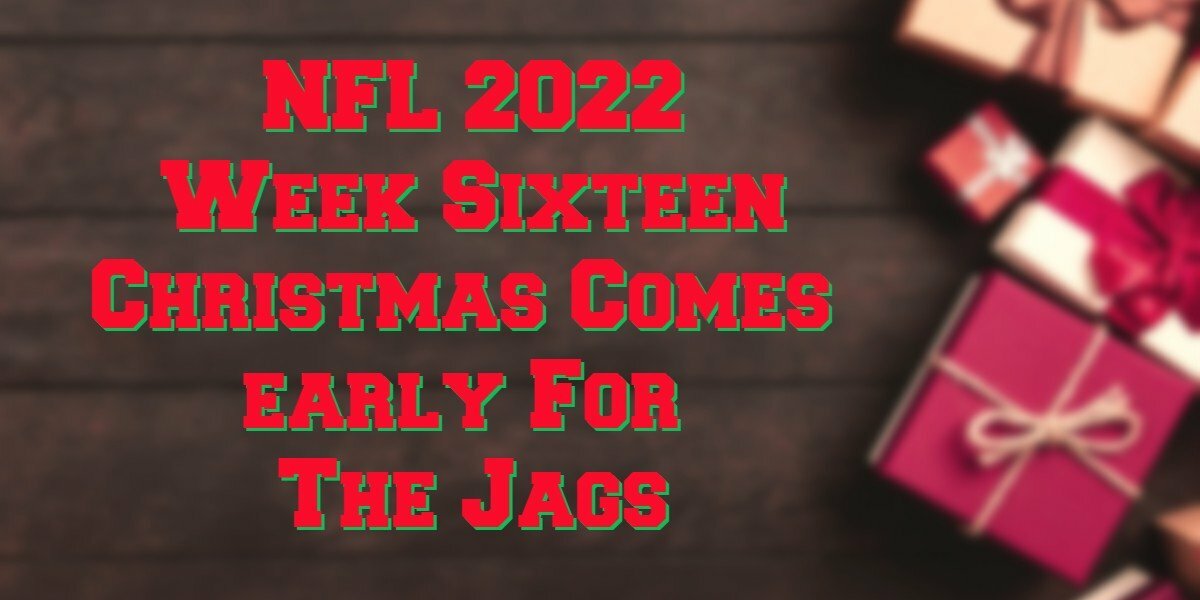 Week 16 saw the NFL give fans a bit of a Christmas treat by scheduling three games for the day itself.  As it turned out they picked two good ones and a bit of a damp squib obe. Still, as they say, two out of three ain't bad.  Although there were plenty of meaningful games the one that stood out the most was the Jaguars' excellent win over the Jets. Suddenly there is a real prospect of seeing Trevor Lawrence in the playoffs.
Staying with the improbable theme, Green Bay continued with its late run. Their defense stepped up big time in their excellent road win in Miami. Suddenly visions of 2016 are coming to mind when they ran the table to sneak into the postseason. Ironically they finish with a game against the  Lions again this year.
Mr Irrelevant Comes Good
When the 49ers traded for Christian McCaffery we thought they were on their way to the Super Bowl. However, when Jimmy G went down it looked like injuries would be their undoing. Step Forward Brock Purdy who was of course 2022's Mr Irrelevant. He admittedly has a great team around him, however, he has shown plenty of poise and looks good enough to steer them through. He had another solid game in the Niners' easy win over the Commanders and they are now pretty much assured a postseason place as NFC West champions.
Thursday Night Football
Jacksonville 19 @ New York Jets 3
The jags took a big step towards clinching an unexpected playoff place with a nice win at the faltering NY Jets. Zac Wilson had another poor game and one has to wonder how much longer the Jets will persevere with him under centre. Conversely, Trevor Lawrence continues to improve putting in a mistake-free performance which included a running jumping TD for good measure. With Tennessee losing again it now looks like the Jags can pinch the AFC South.
Saturday, December 24, 2022
Plenty of interesting games here which kept fans entertained in the final run into Christmas. The Lion's playoff hopes took a nose dive with a brutal loss to the Panthers. They gave up an incredible 320 yards rushing while only managing a partly 45 themselves. One has to feel sorry for Jared Goff. It's not often you have 355 yards passing and 3 TDs and end up well beaten.
The night's most entertaining game was saved for last as the Cowboys knocked off the Eagles with a fourth-quarter rally. Still, the Eagles were a bit below strength and should still get the top seed. Gardner Minshew filled in adequately for the injured Jaylen Hurts and on this showing the Eagles at full strength will go deep in the playoffs.
Buffalo 35 @ Chicago 13
New Orleans 17 @ Cleveland 10
Seattle 10 @ Kansas City 24
New York Giants 24 @ Minnesota 27
Cincinnati 22 @ New England 18
Detroit 23 @ Carolina 37
Atlanta 9 @ Baltimore 17
Houston 19 @ Tennessee 14
Washington 20 @ San Francisco 37
Philadelphia 34 @ Dallas 40
Sunday, December 25, 2022
The night started off with a whimper and ended with a bang! The opener is one that will not live long in the memory outside of the final game-winning drive where Kenny Pickett showed flashes of the promise that led the Steelers to draft him in round one. Derek Carr had a night to forget for the Raiders and this performance pretty much cemented his exit.
The Packers-Dolphins game was won by Green Bays' defense which forced four turnovers. This included picking Tua off three times including a game-ending one.  This leaves Green Bay with an outside chance of making the Wildcards and one has to wonder how their season would have gone had they not traded away their No1 & No2 receivers!
The night ended with a Christmas cracker for anyone except a Denver fan. Plenty of points and offense to entertain the neutral and of course some badly needed seasonal cheer for the much-maligned Baker Mayfield who scored his first TDs for his latest team. It was another dismal night for Russel Wilson though who threw 3 interceptions and ended with a QBR of 3.4! Lets hope Santa is kinder to him next year.
Las Vegas Raiders 10 @ Pittsburgh 13
Green Bay 26 @ Miami 20
Denver 14 @ AL Rams 51
Monday, December 26, 2022
Tampa continued their limp into the postseason beating the hapless Cardinals in OT.  Tom Brady did what he does best, engineering a late comeback for the win. The Buccs have been poor this year but one more win and they will win the NFC South.
Tampa Bay 19 @ Arizona 16 (OT)
Tuesday, December 27, 2022
The Chargers had a routine win over the hapless Colts, who will look to begin a rebuild in 2023 most likely starting with a rookie QB after their veteran experiment of the last few seasons failed to produce. At least they will have an early draft pick to address this with.
The Chargers booked their wildcard slot with this win. This will be their first appearance since 2018 and only their 3rd since 2010.
LA Chargers 20 @ Indianapolis 3
So ends our quick recap of the week's games.  You can check out our other round-ups here and if you like quizzes then give one of our many sports quizzes a try.