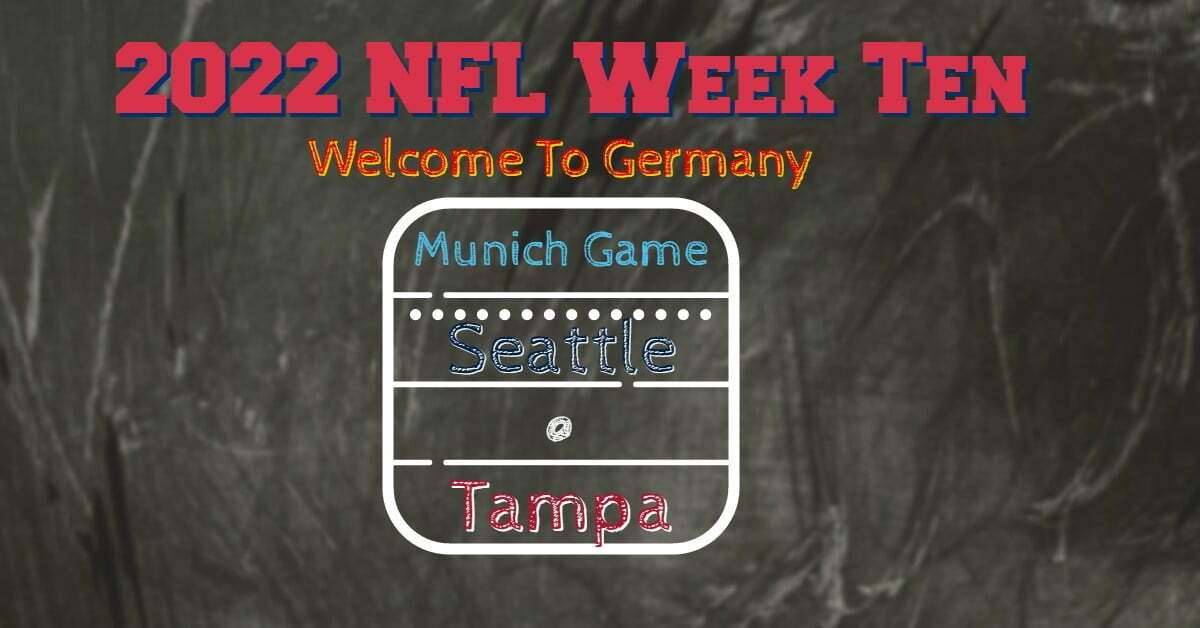 Week ten already and although it is not quite D-Day for any team several will know that another loss will leave them with little chance of reaching the postseason. The move to 17 games has made week 10 less pivotal, however, and as we speak even the one-win Texans are still technically in the hunt.
There are a few games of note this week headed by the Seattle-Tampa game which is being played in Munich.  This is the first NFL game to be played in Germany and it will be at the spectacular Allianz Arena. If successful it will no doubt mean that more international games will be added to the fixture list. It also features two divisional leaders too which always adds a bit of spice.
The week's games are below with our predictions in blue as per usual.
Thursday Nights Game
Atlanta @ Carolina
Not the most exciting of games on paper, however, they played out a thriller two weeks ago so it should be worth sitting up for.
Munich Game
Seattle @ Tampa Bay
The Seahawks have been one of the season's surprise teams. They have adjusted well to the post Russel Wilson era and Geno Smith has been a bit of a revelation as his replacement. The Buccaneers are not having a vintage season, however, Tom Brady has a habit of winning on the big stage so this should be quite close.
Sunday Early Games
Minnesota @ Buffalo
Detroit @ Chicago
Denver @ Tennessee
Jacksonville @ Kansas City
Cleveland @ Miami
Houston @ New York Giants
New Orleans @ Pittsburgh
The early games are headed by a huge AFC – NFC Clash between the Vikings & Bills, two teams who could possibly meet again in the Super Bowl.
The Vikings go into the game with the second-best record in the NFL but their schedule to date has been relatively light. They did beat the Dolphins on the road but they were missing QB Tua and they lost to the Eagles in their only other game against a team with a winning record.
Buffalo lost a close game against the Jets last week and has a host of injury worries going into this one.  The most concerning of these is QB Josh Allen who reportedly has an ulnar collateral ligament issue. This could end up needing surgery and they only have Case Keenum on the roster at this position.  The result and possibly their season could hinge on his fitness.
Sunday Late Games
Indianapolis @ LV Raiders
Dallas @ Green Bay
Arizona @ LA Rams
This weekend could prove pivotal for both Green Bay & The Rams as both are not living up to their pre-season expectations. The Packers are on a five-game skid and with the Vikings already four games ahead of them slipping to 3-7 will in all probability end their postseason hopes. they have actually played pretty well in their last two games but have not been able to turn red zone positions into points.
The Rams are defending Super Bowl Champions, however, they are languishing at 3-5 and would be bottom of the NFC West if they lose this one. They can still turn things around but another loss here would make things very difficult as they have lost twice to the 49ers. Will the dreaded Super Bowl Hangover strike again?
Sunday Night Game
LA Chargers @ San Francisco
The 49ers snapped a two-game losing streak last week and recent signing Christian McCaffery was a big part of that win. If he carries on in this vein the handful of draft picks they gave up for him will look cheap.
Monday Night Football
Washington @ Philadelphia
The Eagles have already made history reaching 8-0 with last week's win. Reaching 9-0 will not only extend their historic run but other results dependant just about guarantee them at least a wild card slot.
Bye Week Teams
Cincinnati, New England, New York Jets & Baltimore
So there we have it, a quick overview of week tens games.
Last Weeks Results