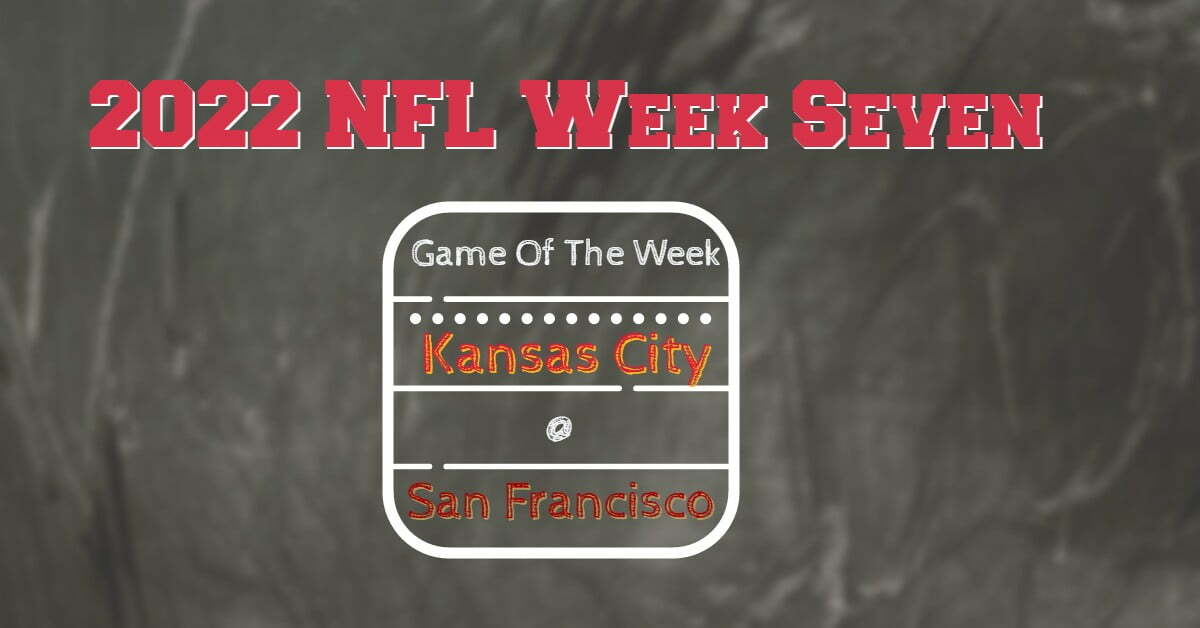 Week Seven already and what a crazy season it has been so far. One team remains with a 100% record and only eight have four or more wins. Even more surprisingly two of these are from New York!
The Eagles will preserve their unbeaten record through to week nine as they have a Bye which means the big game of the weekend is in San Francisco where they welcome the Chiefs. The two met in the 2019 season's Super Bowl and both are expected to figure in the playoffs again this year. Jimmy Garappolo gets a chance at revenge in this one having regained the starter's job.
Tom Brady & Aaron Rodgers both play on the road this week and they will be hoping for a change of fortune. Neither has played to their usual high standards so far this year although in both cases they are not helped by injuries and squad turnover. Both Tampa & Green Bay will be favourites in their respective games and neither can really afford to lose them.
Anyway, the full schedule is below together with our predicted winners highlighted in Blue.
Thursday Nights Game
New Orleans @ Arizona
After a couple of dismal TNF games, we finally have one that might be worth sitting up for. Both are 2-4 but only a game back in their respective divisions and both are coming off of painful losses. The Saints looked to have last week's game against The Bengals in the bag but gave up two scores in the last four minutes.
The Cardinals are not firing on offense, despite trading to get Kyler Murray his WR of choice, Hollywood Brown. Two TDs so far is not a great return on what they gave up for him. Still in this crazy season, 2-4 is not too far off the pace and this one should be close.
Sunday Early Games
There are a few interesting early games with the pick probably being the all AFC South clash between the Colts & The Titans. Tennessee lost both of their opening games but is now 3-2 and that winning streak includes one over Indianapolis. If they win this one they will have a clear head-to-head advantage and will be strong favourites for the division even at this early stage.
Atlanta @ Cincinnati
Detroit @ Dallas
Indianapolis @ Tennessee
Green Bay @ Washington
Tampa Bay @ Carolina
New York Giants @ Jacksonville
Cleveland @ Baltimore
It will also be interesting to see how Dallas QB Cooper Rush bounces back from his first bad game. His four-game winning streak since taking over from Zak Prescott came to a shuddering halt against the Eagles last week. He threw three interceptions in that one.
Sunday Late Games
New York Jets @ Denver
Houston @ LV Raiders
Seattle @ LA Chargers
Kansas City @ San Francisco
Here we will be watching both the Denver and Raiders games to see if either can finally find a way to stop snatching defeat from the jaws of victory. They both have four losses but seven of these have been one-score games!
Russell Wilson has not been the panacea expected, however, he did look a lot sharper in Monday Nights narrow OT loss to the Chargers. Maybe all those draft picks given up will prove worthwhile after all.
Sunday Night Game
Pittsburgh @ Miami
Will Trubisky keep the starting job after filling in adequately in the Steeler's win over the Buccs last week? Our guess is that Pittsburg will realise he needs a bit more time to adjust to life in the NFL and roll with Mitch until he has a bad game.
Monday Night Football
Chicago @ New England
The Patriots will most likely start rookie QB Bailey Zappe again in this one and if he wins another game Mac Jones might struggle to replace him as the starter. We bet Chicago had this problem, although Justin Fields had one of his better games last week. Worth sitting up for just to see how these QBs fair.
Teams On A Bye Week
Buffalo, LA Rams, Minnesota & Philadelphia
So there we have it, a quick overview of week Seven's games.