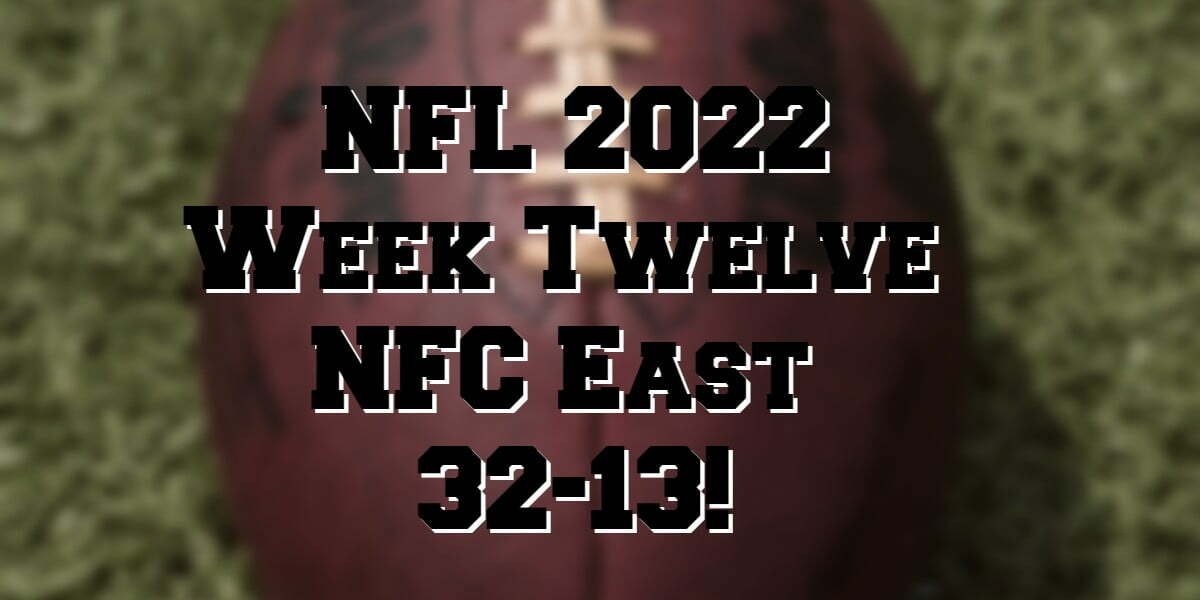 We were treated to a full slate of games this week with it being Thanks Giving Weekend and most NFC East fans will have enjoyed it immensely. Three of the four teams won and if the playoffs were to start this week all four would be in! Obviously, this will change by season's end given the head-to-head games to come, however it is a huge turnaround in just a couple of years.
The night's other big winners were the Minnesota Vikings, who can sew up their division next week with a win over the Jets and a Detroit loss. If they do it will be interesting to see if they keep playing hard for the final five games or try and get everybody rested for the playoffs.
In the AFC things are much tighter with only a couple of wins separating seven teams and all the divisions are still pretty much up for grabs. The Chiefs had a nice win, and in doing so put another nail in the defending Super Bowl Champions' coffin. The LA Rams are now 3-8 and need a miracle to get back into playoff contention.
Another Bad Night For The Veteran QBs
It was another bad night for two of the QBs who many (including us) were expected to lead their teams towards the playoffs and maybe a final tilt at winning another ring. However, both Tom Brady & Aaron Rodgers were on the losing side again. Brady to be fair had a decent game however the Tampa defense went to sleep in the fourth quarter allowing the Browns to snatch an unexpected win. Arron Rodgers was banged up and ended up having to come off.
His understudy Jordan Love played pretty well and one wonders if that will be the last we see of Rodgers starting this year as their season is now over. Still, they will get a decent draft pick which they should use on a run-stopper.  They gave up 363 yards rushing in this one!
Over in the AFC, it was a similarly miserable week for Russell Wilson & Matt Ryan, both of whom were expected to excel in their new surroundings. Wilson once again struggled with third-down conversions and this defeat pretty much ended the Broncos' season. They cant even grab a bit of solace from a high 2023 draft pick or two as they were traded to Seattle in exchange for his services.
Matt Ryan alsohad a nigt to forget as the Colts failed to capitalise on Tennessee's loss. His interception and botched hand off inside the 1 yard line were not the sole reason for the loss but they sure contributed.
Anyway, the week's results are below…
2022 Week Twelve Results
Thanks Giving Games
Buffalo 28 @ Detroit 25
New York Giants 20 @ Dallas 28
New England 26 @ Minnesota 33
Sunday Early Games
Tampa Bay 17 @ Cleveland 23 (OT)
Cincinnati 20 @ Tennessee 16
Houston 15 @ Miami 30
Chicago 10 @ New York Jets 31
Atlanta 13 @ Washington 19
Denver 10 @ Carolina 23
Baltimore 27 @ Jacksonville 28
Sunday Late Games
Los Angeles Chargers 25 @ Arizona 24
Las Vegas Raiders 40 @ Seattle 34 (OT)
LA Rams 10 @ Kansas City 26
New Orleans 0 @ San Francisco 13
Sunday Night Game
Green Bay 33 @ Philadelphia 40
Monday Night Football In Mexico
Pittsburgh 24 @ Indianapolis 17
You can check the previous week's results here.