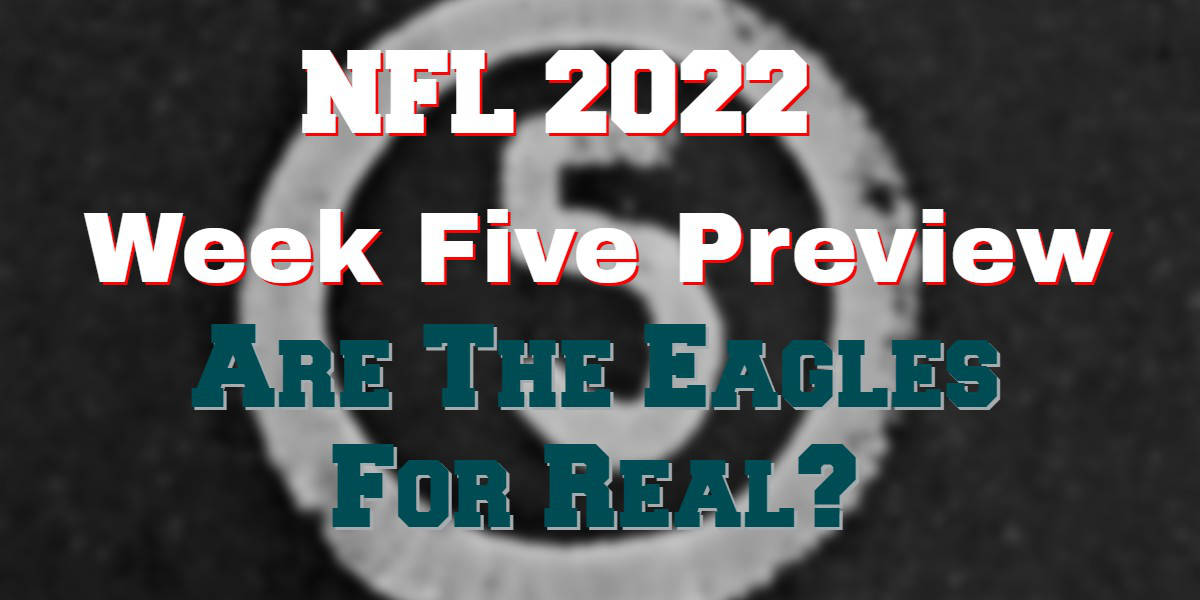 Week five and surprisingly we only have one team left with a 100% record. That honour goes to the Philadelphia Eagles who got the better of Jacksonville last week despite trailing by double digits early. They have their first real test this week when they travel to the Cardinals.
Thursday Nights Game
Indianapolis @ Denver
Thursday's game is of interest as it features not only two teams desperate to get back on track, but also two veteran QBs who have something to prove. The blockbuster trade for Russell Wilson was viewed by many (us included) as the final piece in the Denver jigsaw. However, so far he has struggled to gel in his new surroundings.
Still, he did play his best game so far in a Broncos uniform last week. His counterpart Matt Ryan is the Colts' latest attempt to find a solution at the position. This after years of stability with first Peyton Manning and then Andrew Luck.
Matt Ryan is looking for a fresh start after 14 years with the Falcons but so far it has been an up and down. The Colts were favourites for the AFC South pre-season but have struggled so far in their divisional games. Still, they have a win over the Chiefs so if he gets back to his best they could be contenders.
Neither, even at this early stage, can really afford a loss though so this will be hard fought.
Prediction
Broncos 24 Colts 17
London Game
The Packers are the only NFL team not to have played a regular season game overseas, however, this changes on Sunday when they face the Giants. Green Bay has won their last three games but their new look offense has looked far from convincing. Still given the Giants' injury list it will be a surprise if they don't move on to 4-1.
New York Giants @ Green Bay
Prediction
Packers 31 Giants 14
The Vikings will have happy memories of London given they won on their previous visit back in 2013. The Saints similarly have a good record in the Capital so we are expecting a few points. With Jamies Winston reverting to his old self there may be a few interceptions too!
Sunday Early Games
Once again it's an early start and to be fair as far as the neutral is concerned the big games are late on Sunday this week. Still, there are a few intriguing ones to keep us occupied, headed by The Falcons at the Buccaneers. Tampa is on a two-game skid and you have to go back to 2002 for the last time that Tom Brady lost three games in a row. To be fair their last two games have been against Super Bowl contenders so they will be hopeful of getting back to winning ways.
It will also be interesting to see how the jaguars bounce back from their loss in Philadelphia last week. Although they are only 2-2 it is fair to say they are one of the surprise teams of the season so far. Trevor Lawrence had an off day last week, however, he looks capable of having a breakout season and they will fancy their chances against their divisional rivals.
Finally the Dolphins @ Jets game should pique a bit of interest despite The fins being without Tua. If Bridgwater doesn't shine in this one we might see Rookie  Skylar Thompson get his chance. He is a much better QB than his draft position would indicate and had it not been for injury concerns he could have gone a lot higher.
Predictions
Pittsburgh @ Buffalo
Bills 31 Steelers 14
LA Chargers  @ Cleveland
Chargers 24 Browns 20
Chicago @ Minnesota
Vikings 21 Bears 10
Detroit @ New England
Patriots 30 Lions 27
Seattle @ New Orleans
Saints 24 Seahawks 20
Miami @ New York Jets
Dolphins 23 Jets 20
Atlanta @ Tampa Bay
Buccaneers 31 Falcons 18
Tennessee @ Washington
Titans 28 Commanders 21
Houston @ Jacksonville
Jaguars 33 Texans 17
Sunday Late Games
Three decent games here with the eagles looking to maintain the only unbeaten record. This will be their biggest test so far and a win in Arizona will really make people sit up and take notice. It's also a big night for Cooper Rush, who has stepped effortlessly into Dak Prescott's shoes in Dallas. If he gets another win this time against the current Super Bowl champions there could be a case for him to keep the starter's job.
Predictions
San Francisco @ Carolina
49ers 20 Panthers 17
Dallas @ LA Rams
Rams 27 Cowboys 20
Philadelphia @ Arizona
Cardinals 31 Eagles 30
Sunday Night Game
Cincinnati @ Baltimore
Both 2-2 but they will feel that they could easily be 4-0 given their losses have been by narrow margins. The AFC North looks like being brutal this year and every win will be crucial as there is a good chance that only one Wild card at best comes from this division.
Prediction
Ravens 28 Bengals 23
Monday Night Football
LV Raiders @ Kansas City
An all-AFC West clash and given the strength of the division one that even at this early stage is pivotal for the Raiders. They finally got a win last week, but dropping to 1-4 will probably end their hopes of reaching the postseason this year. The Chiefs will be buoyed by their excellent win in Tampa, however, the Buccs definitely had an off night so this one might end up being harder than it looks.
Prediction
LV Raiders @ Kansas City
Chiefs 37 Raiders 27
So there we have it a quick overview of the week five games,