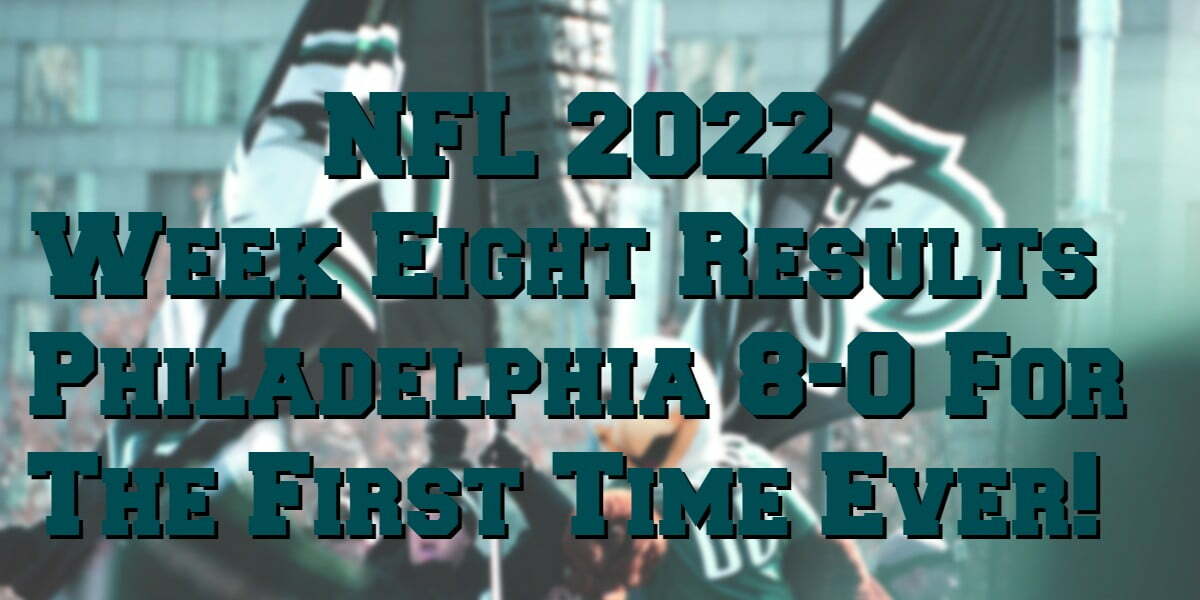 Week Nine will best be remembered as the week that Philadelphia reached 8-0 for the first time ever. They did it with some ease and given the turmoil we have seen they are almost assured of a playoff place already! They are the NFL's only unbeaten team and they sit atop the NFC rankings.  They are a game clear of the Vikings who they handed their only loss earlier in the season,
No other team has less than two losses at this stage and it is panning out as one of the most unpredictable years in as long as we can remember. For example who would have thought that at this stage Tom Brady & Aaron Rodgers would have a combined record of 7-11!
It was another good week for neutral fans though with lots of one-score games and a scintillating comeback by the Jags.  This pretty much ended the Raiders' hopes of a post-season place.
The Packers Lose Again
Green Bays' woes continued with a dismal performance against the Lions. They have now lost five in a row for the first time since 2008.
The Redemption of Geno Smith Continues
Geno Smith had another solid game for Seattle throwing for 275 yards and a couple of touchdowns. That's four wins in a row for the Seahawks, who remain clear at the top of the NFC West.  This was supposed to be a rebuilding season but if Smith continues to perform at this level they could not only end up as Super Bowl contenders but also be in an excellent position next year given all the draft picks they have.
Anyway, the week's results are below…
NFL 2022 Week Nine Results
Thursday Night
Philadelphia 29 @ Houston 17
The Eagles remained unbeaten with a routine win. They are 8-0 for the first time ever and look like genuine contenders.
Sunday Early Games
LA Chargers 20 @ Atlanta 17
Miami 35 @ Chicago 32
Carolina 21 @ Cincinnati 42
Green Bay 9 @ Detroit 15
Indianapolis 3 @ New England 26
Buffalo 17 @ New York Jets 20
Minnesota 20 @ Washington 17
LV Raiders 20 @ Jacksonville 27
Some nice games here, this pick of which has to be the Raiders  @ Jags. Jacksonville trailed 20-7 with a minute left in the first half but then put up 20 unanswered points to move to 3-6 on the season. Raiders coach Josh McDaniels is not quite on the hot seat yet but is certainly getting warmer.
The Colts fired Frank Reich after their dismal display against New England and have replaced him with former player Jeff Saturday whose coaching career to date has entailed three years at Hebron Christian Academy! 
On A happier note, it was nice to see the much-maligned (largely deservedly) Justine Fields have a decent day. OK, Chicago lost again, however, his 4 TD performance was fun to watch. Will he eventually mature into the Bears' franchise QB? Who knows but if Lamar Jackson can do it as a running QB there is hope for him.
Sunday Late Games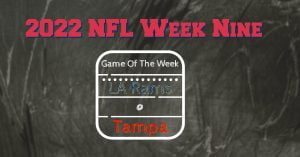 LA Rams 13 @ Tampa Bay 16
Seattle 31 @ Arizona 21
Our game of the week failed to live up to expectations. However, Tom Brady at least stopped the rot and the Bucs are top of the NFC South at 4-5. Yikes, not a good look but with all their injuries they will take that we are sure.
Night Game
Tennessee 17 @ Kansas City KC 20 (OT)
This one turned out to be well worth sitting up for. The Chiefs had one of those games but still came out on top thanks to a sprinkling of Patrick Mahomes magic. He not only ran for their crucial final TD but also ran in the two-point conversion to send the game into OT. To put the Chief's dominance into perspective they had over twice as many yards of offense, over 41 minutes of possession & 29 first downs to the Titan's 9!
Monday Night Football
Baltimore 27 @ New Orleans 13
A solid win for the Ravens who never looked troubled. Lamar  Jackson had a quiet night but it didn't matter as their defense shut down the Saint's offense with some ease holding them to 243 yards.
BYE WEEK
Cleveland, Dallas, Denver, NY  Giants, Pittsburgh & San Francisco
You can check out our earlier predictions for the above games here.