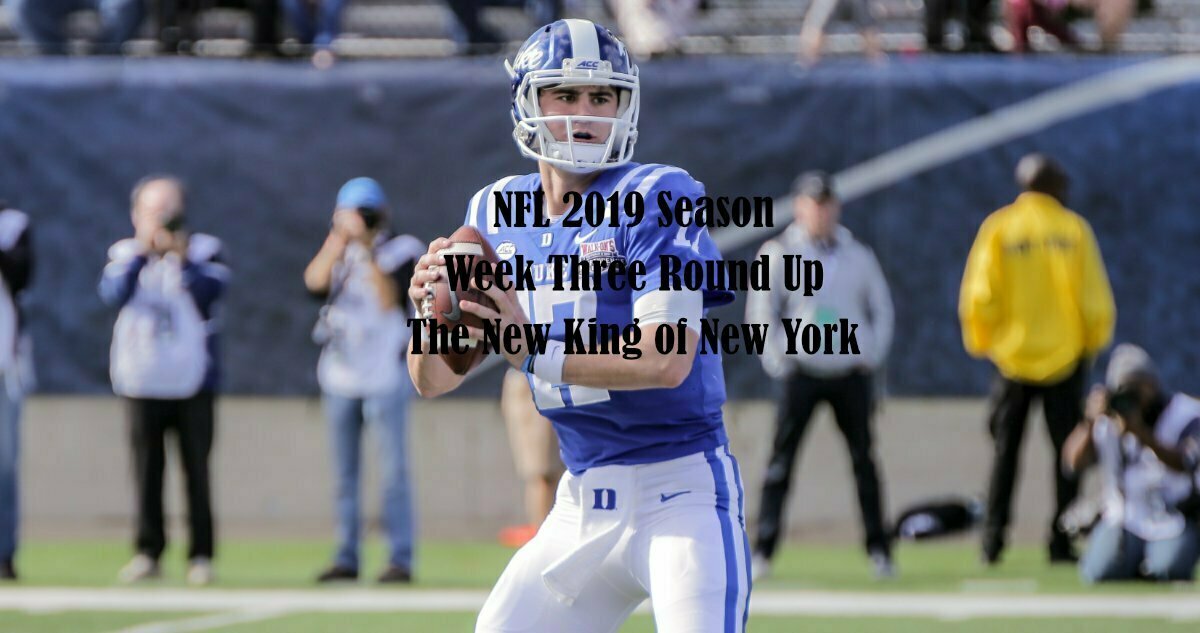 A Changing of the Guard at QB?
Week three of the 2019 season may go down as the week when we saw the QB's of the future take their first tentative steps into the limelight and for one – Daniel Jones Sunday must have been sweet. Otherwise, it was another week of relatively low scores, plenty of close games and some separation at the bottom if not the top. We are as close to 100% certain that a couple of teams will not be in the playoffs.
Anyway here is how the games panned out- staring with Thursday nights all AFC South clash:
Jacksonville 20 Tennessee 7
Who needs SuperBowl MVP Nick Foles at QB when you have rookie Gardner Mineshaw. He was an efficient 20-30 for 204 yards and 2 TDs. He was greatly helped by the return to form of the Jags defense which forced Tennessee to punt eight times, including on every one of their first-half possessions.  It was not a thriller but it certainly made headbands and Moustaches cool again (well sort of).
The man. The myth. The mustache. The Minshew. #DUUUVAL@GardnerMinshew5 | #TENvsJAX pic.twitter.com/f8qmX4WWAR

— NFL (@NFL) September 20, 2019
Buffalo 21 Cincinnati 17
The Bills are 3-0 and the Bengals are probably done for the season – we are saying probably because they actually played quite well, AJ Green will be back soon and the AFC north may not be as strong as we thought it would be coming into the season. The Bills, on the other hand, look better every week and once Josh Allen irons out the mistakes they could be a force in the AFC. The Defense already looks the part.
Dallas 31 Miami 6
The Dolphins decided it was time to throw Josh Rosen in, but with most their better players traded the result was pretty much as expected. The only consolation – the defeat was only by 24 points this week. Josh Rosen got the startdid ok considering the OL he had in front of him and the lack of weapons, and if Miami can make good use of next seasons three first-round picks they may be ok again by 2021. Dallas moved to 3-0 but have beaten possibly the worst three teams in the NFL in getting there. It will be interesting to see how they get on next week when they visit the Saints.
Green Bay 27 Denver 16
The Packers cruised to 3-0 thanks once again to their defense which is starting to look rather good. The offense is still spluttering but looks better than in the opening two weeks. Denver are struggling to put points on the boar, their much-vaunted defense has zero sacks (yes Zero) and at 0-3 are pretty much done and dusted. How long will Flacco stay as the starter?
Indianapolis 27 Atlanta 24
The Colts seem to be adjusting quite well to the post Andrew Luck era, and they won another close one, against a good Falcons team. Jacoby Brissett is yet another young gun QB to watch.
Kansas City 33 Baltimore 28
The Ravens played pretty well at Arrowhead exposing Kansas Citys suspect run defense but were unable to keep up with Maholmes high octane passing game. The game was over before Jacksons late TD run made the score look more respectable than it should have been. So Baltimore have beaten up on what are possibly the two worst teams in the NFL and never looked like winning this one. The AFC North is still wide open despite having two 0-3 teams in it.
Minnesota 34 Oakland 14
Kirk Cousins had a poor game but when you have the Vikings defense and running game you can get away with it. Oakland looks like a team still in rebuild and being in the AFC West can probably start planning for 2020 now.
New England 30 New York Jets 14
Tom Brady continued to pad his stats in what is shaping up to be an MVP style season with 306 yards passing and a couple of TDs. The Jets were missing a few players on defense and their offense never had a look in going 0-12 in 3rd downs and scoring exactly Nil points.  How bad are the jets – well right now we think they are nailed on for a top 10 draft pick and if their injury woes continue then the no 1 pick can't be ruled out. New Englan has cruised to 3-0 but their opponents to date are a combined 0-9! We will get a better idea after this weeks trip to the 3-0 Bills.
Detroit 27  Philadelphia 24
The Lions won another close game and so far this season they are 2-0 -1 with a positive points difference of six. The thing is they have beaten two supposedly good teams and threw it away in the draw against Arizona, so they might actually be good too. The Eagles are clearly missing the production from DeSean Jackson & Alshon Jeffrey. They will have to hope they recover soon.
Carolina 38 Arizona 20
Hands up all those (non-Panthers fans) who knew anything about undrafted free agent Kyle Allen before this game? Not many hands. Well after bouncing around the practice squad he is now 2-0 as a starter with 6 TDs and no interceptions. Not bad for a QB who struggled to get a College start in 2017. He is scheduled to starts again this week and if he makes it three wins then who knows he might just keep Cam on the sidelines. Little known fact. He played alongside Kyler Murry at Texas A&M in 2015 and shared the snaps with him. Arizona didn't look good again, and on this showing, they will have a long season ahead.
New York Giants 32 Tampa Bay 31
All hail the new king – the Daniel Jones era in NY got off to a good start with an admittedly quite lucky win. Still, you cant knock 353 yards passing and 2 TDs (and another 28yards & 2 TDs on the ground). The only blight on his performance was a couple of sack fumbles but given the O-Line he is playing behind you can't lay all the blame on him.  The Bucks defense played pretty well but the offense let them down a bit, having to settle for field goals on too many occasions, and of course, they missed what should have been the game-winner in the dying seconds.
Tampa Bay 17 New York Giants 14
Houston 27 LA Chargers 20
Another up and coming QB Deshaun Watson pulled off a couple of big plays in this impressive road win over the injury-plagued Chargers, whose season is close to unravelling after yet another close defeat.  They need some secondary help urgently.
San Francisco 24 Pittsburgh 20
The Steelers are yet another team who have been forced to start their second-string QB, and although Mason Rudolph played well, this was always going to be an uphill struggle. They are now 0-3 but have played well enough to indicate their season is not quite over yet.  The 49ers are 3-0 and look like they might give the Rams run for their money in the race for the tough NFC West.
New Orleans 33 Seattle 27
Yet another backup QB, but this time a different result. Teddy Bridgewater didn't look good against the LA Rams last week but looked a bit more composed this week and did enough to get the win. Seattle looked subdued on defense and it may take a few games for Jadeveon Clowney to settle in. Once he does the Seahawks will be ok.
LA Rams 20  Cleveland 13
Last years Super Bowl runners up the Rams continue to look good especially on defense, which was just as well as the offense didn't look great. Baker Mayfield had a quiet night and finished with only 198 yards and a costly red-zone interception in the dying seconds as the Browns tried tie the game up.
Chicago 31 Washington 15
The Bears finally got something out of their offense, while the defense continued to look good. The result an easy win against an 0-3 Redskins team which put in by far its worst performance of the season on both sides of the ball. Case Keenum turned the ball over 5 times including being picked off twice by their former player Ha Ha Clinton Dix (one of which went for a TD).  Washington's defensive coordinator Greg Manusky looks like a dead man walking and will probably be fired in the next couple of weeks, during which may also see yet another young QB (Dwayne Haskins) thrown in, and possibly the first head coach firing of the season too.
Starting QBs
As stated in our opener there were a few fresh faces under centre and before the season started who would have thought this list would be the starters for their respective teams:
Kyle Allen
Jacoby Brissett
Teddy Bridgewater
Daniel Jones
Gardner Minshew
Mason Rudolph
Josh Rosen
Luke Falk
3-0 vs 0-3
Seven teams are still 3-0 with the biggest surprise probably being the Buffalo Bills; if they go to 4-0 by beating the Patriots it will make a lot of people sit up.  Both of last years Super Bowl finalists are 3-0 and looking good, while Green Bay and San Fransisco have both taken big steps forward, with Green Bay, in particular, has made a massive leap on defense. If Rodgers can get the offense ticking again watch out.
Of the 0-3 teams – well Miami was pretty much doomed before they threw a ball this year given they have traded away their best players and the NY Jets have had it tough injury-wise. Both have close to zero chance of making the playoffs and look destined to get a high draft pick in 2020.
What of the other 0-3 teams? Well, Washington looks awful on both sides of the ball and with the Giants possibly showing signs of life have an uphill struggle, while in the AFC we still think there is hope for Pittsburgh, who after that thrashing by New England have looked pretty good in their two narrow losses to the Seahawks & 49ers. Only 2% of teams with this record have historically make the postseason and of the seven the steelers are the only ones we give a chance too.