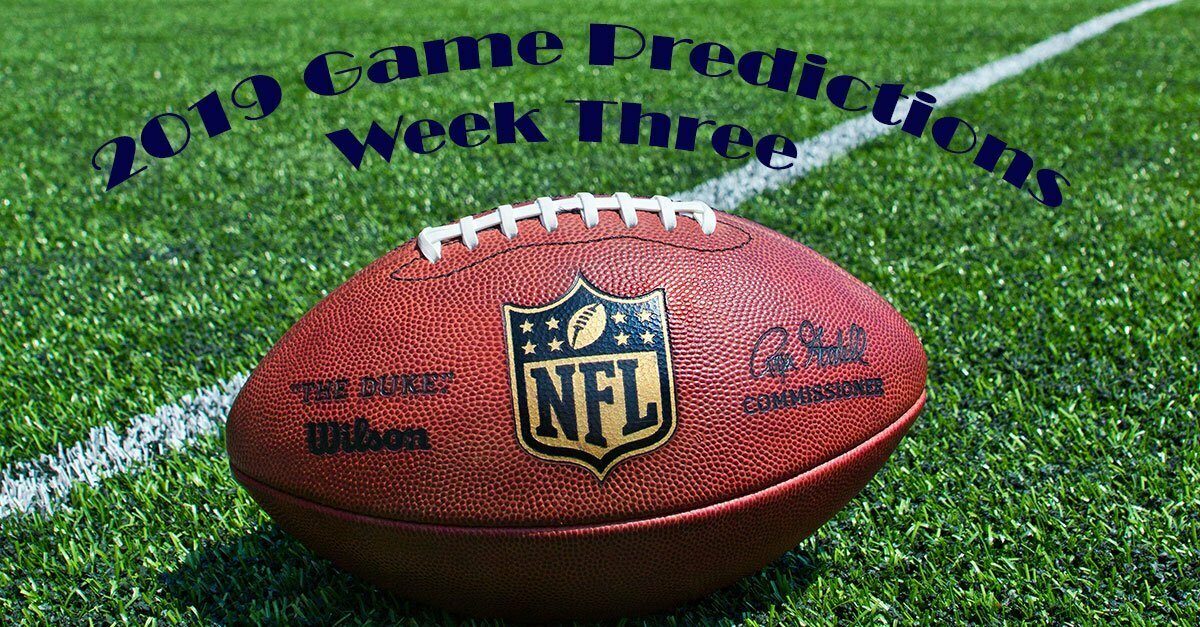 Week Three of the 2019 NFL season kicks off tonight with what looks like being another defense dominated encounter, as the Titans travel to the Jags in an all AFC South clash. This may not be all that high a profile game – especially as Nick Foles is out, however it will answer a few questions about Jacksonville. So far the season has been defined by defense and this could continue as several second string (and even third-string) QBs are being forced into action. Further, nine teams face the prospect of falling into the 0-3 abyss, which it is hard to climb out of. Teams losing their first three games have historically made the postseason less than 3% of the time and none have gone on to win the Superbowl.  If our predictions are correct a few teams will see their season effectively ended by Monday night.
Anyway here is how we see the games panning out:
Game Predictions
Tennessee @ Jacksonville
The Titans looked impressive in their opening game but served up a disappointing encore against The Colts. Jacksonville has played pretty well considering they have had to throw rookie QB Gardner Mineshaw in without too much preparation. He has looked quite good though and the Jags defense (most likely minus Jalen Ramsey) has been impressive. If Ramsey – who has asked for a trade and AJ Bouye are both absent then the Jags will be thin at CB, however, The Titans don't throw it a lot and the front seven can get the job done. The spread is +1.5 to the Jags and we would take that.
Jacksonville 21 Tennessee 17
Cincinnati @ Buffalo
Andy Dalton is missing the injured AJ Green and he won't be back for this one. Josh Allen looks to be improving with every game and they are at home too which is an advantage. The Bills should move to 3-0 while the Bengals fall into the Abyss.
Buffalo 28 Cincinnati 17
Miami @ Dallas
The Dolphins seem more interested in acquiring draft picks that in winning games, and seem happy to leave Josh Rosen safely tucked up on the bench for the season. They have been drubbed in both games, and although they may not lose by the same magnitude as their previous losses they will 99% certain lose this on. Dallas has looked good in both games so far and should move on to 3-0 with some ease.
Dallas 35 – Miami 10
Denver @ Green Bay
Both of Denver's opening losses have been in one-score games, and they will probably feel a little unlucky being in this position. Green Bay are still spluttering a bit on offense, but the defense looks the part. Aaron Rogers will get his eye in soon and it could be third outing lucky on Sunday. Green Bay to move to 3-0 while Denver joins Miami & Cinncinatti in the abyss.
Green Bay 24 Denver 12
Atlanta @ Indianapolis
The Falcons got back on track with a hard-fought win over Philadelphia last week and Matt Ryan looked something like his old self. The Colts are adjusting well to life without Andrew Luck and will be tough to beat at home. This should be close but we are going side with the Falcons who are at their best in a dome.
Atlanta 23 Indianapolis 21
Baltimore @ Kansas City
The Ravens have bounced out 2-0 but have beaten two of the worst team in the NFL in getting there. This is their first big test and it will be a surprise (to us anyway) if they can get out of Arrowhead with a win.
 Kansas City 30 Baltimore 20
Oakland @Minnesota
The Raiders seem to have put the Antonio Brown debacle behind them abut showed last week against the Chiefs that they are still a long way away from challenging the NFL's best.  We would put the Vikings in that upper tier and they should take this one at home with a bit of ease.
Minnesota 26 Oakland 14
New York Jets @ New England
Not too much needs saying here The Jets starting third-string QB Luke Falk and are travelling to the Patriots who look just Awesome both sides of the ball. This may not be a blowout but the Pats look 2-3 TDs too good for the Jets.
New England 35 Jets 12
Detroit @ Philadelphia
The Lions got lucky against the Chargers last week but overall they have looked better than expected. The Eagles have a host of injury concerns but should get enough players back to win this one.
Philadelphia 21 Detroit 17
Carolina @ Arizona
A lot will depend on whether Cam Newton plays. If he does then they might edge this one, however, if not then Kyler Murray should get his first NFL win. At 0-3 it could be the end of the Panthers season. The Cardinals have shown flashes this year and we think they will edge this and in doing so all but end the Panthers season.
Arizona 21 Carolina 18
New York Giants @ Tampa Bay
Worth watching as it will be the start of the Daniel Jones era in NY. The Giants have not looked good defensively and with limited options on offense they could struggle against a very good Tampa defense. We are not expecting a lot of points in this one.
Tampa Bay 17 New York Giants 14
Houston @ LA Chargers
The Chargers looked like the self destruct team of old against Detroit last week, and they nearly blew it against the Colts in week one too. The Texans just held out against the Jags last week, however, even with Laremy Tunsil, we fear for Deshaun Watson. The Chargers should get back on track in this one.
LA 27 Houston 18
Pittsburgh @ San Francisco
Pittsburgh has had two tough opening fixtures and this is a tricky road trip too, especially with an inexperienced QB. Still, they should be better defensively and will make a fist of this one. The 49ers are 2-0 with a couple of nice road wins and when you look at their roster they don't look too far away from being a contender. This could be close but the 49ers should shade it at home.
San Fransisco 31 Pittsburgh 28
New Orleans @ Seattle
The Saints have lost QB Drew Brees, who will be out for about six weeks following thumb surgery and back up Teddy Bridgewater didn't look good (we are being polite) in their subsequent loss at the LA Rams. If this had been at home we might have given the Saints the edge – but on the road at one of the most hostile atmospheres in the NFL. well you can see where we are going. The Seahawks should take this one.
Seattle 24 New Orleans 14
LA Rams @ Cleveland
Quite possibly the game of the week featuring two playoff calibre teams. Cleveland bounced back from their disappointing opening loss to outclass the Jets, with Mayfield & OBJ looking to have found some chemistry. The problem here is that the Rams are really good while the Jets were fielding a third-string QB. The Rams have already won a tough road game at the Panthers and are our tip to sneak this one.
Rams 31 Cleveland 28
Chicago @ Washington
Tough game to call this one with Washington having played pretty well in their two NFC East defeats, while Chicago has looked good Defensively but are seriously misfiring on the other side. Washington led in both games but couldn't stop high octane offenses from coming back at them. Chicago has been the antipity of high octane so far and may be without Bilal Nichols which will hamper the defense. The Bears are 4 point favourites, however, we think the Skins can sneak this one and just about keep their season alive.
Washington 23 Chicago 19