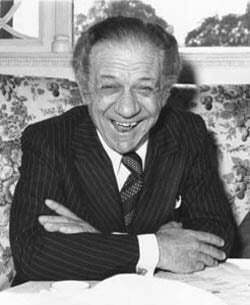 Early Life
The comedy actor Sid James was born Solomon Joel Cohen on 8 May 1913 to Jewish parents in Johannesburg, South Africa. As a small boy, he performed with his parents in their music-hall act. In 1919, his parents, Laurie (Lou) and Reine Cohen left South Africa for a 2-year tour of Australia. James and older brother Maurice were farmed out to relatives in Natal. James never forgave his parents for the abandonment, especially his mother.
After leaving school James trained as a hairdresser and quickly showed a flair for his chosen profession. He soon became a much sought-after stylist by the Johannesburg elite. It was at a hairdressing salon that he met Berthe Sadie Delmont. The couple soon married in August 1936. James's father-in-law, Joseph Delmont, a successful Johannesburg businessman, bought him his own hairdressing salon. The business quickly became highly successful.
However, within a year James had become disillusioned with the hairdressing game. He decided that he wanted to become an actor. Subsequently, he joined the Johannesburg Repertory Players. He later gained his first television experience with the South African Broadcasting Corporation.
Early Acting Career
The Second World War temporarily stalled James's acting ambitions. In 1940, he joined the allied war effort himself, eventually serving as a sergeant in the South African Army. The now divorced James spent much of his service in the Defence Force Entertainment Unit. The experience helped to strengthen his determination to become a professional actor. After demobbing from the army he decided to head to London to try his luck in Britain's budding post-war film industry.
Now remarried, he arrived with his second wife at Tilbury Docks on Christmas Day 1946. Within days of landing in London, James had secured a role in the film crime drama 'Black Memory' (1947). For his portrayal of Eddie Clinton, he received his first screen credit as Sidney James. From that point onwards, he was typically cast as a cockney wide-boy or petty criminal character.
Stardom
James's major film breakthrough came in a supporting role in the popular Ealing comedy The Lavender Hill Mob (1951), starring Alec Guinness and Stanley Holloway. His much higher profile from the film directly led to him landing the role as Tony Hancock's sidekick in BBC radio's highly popular 'Hancock's Half Hour'. He achieved nationwide fame through the radio broadcast which ran for 5 years (1954 – 1959).
From 1956, the show also ran on television (1956 – 61) under the same name, with the same writers and players. However, after the 3 years, James's onscreen partnership with Hancock broke up. Reportedly, Hancock had become jealous of James, believing that his loveable rouge character had become more popular in the show than himself.
In 1957, James landed a supporting role in the Charlie Chaplin film 'A King In New York'. The film, written and directed by the legendary Chaplin, would be the last starring role for the Hollywood funnyman.
Carry On and TV
In 1960, James made his 'Carry On' debut when he landed the lead role in 'Carry On Constable'. He went on to appear in a further 18 'Carry On' films as well as most of the various stage and television spin-off productions. Reputedly, James did not exactly see eye-to-eye with fellow co-star Kenneth Williams on the 'Carry On' set. However, the affable James was universally respected by almost everyone else he worked with, often being described as a true gentleman. The down-to-earth, self-effacing James was certainly under no illusions about his acting pedigree. He once described his appearances in the 'Carry On' films  as "I've played a hell of a lot of different roles, but they're all me – with different hats on."
In all, James appeared in well over a hundred films, mostly in comedies as a loveable rogue character. His last outing on the big screen was in the dual role of Big Dick Turpin/Reverend Flasher in 'Carry On Dick' (1974), a parody of the notorious highwayman Dick Turpin story.
As well as big-screen performances, during the 1960s and 1970s, James starred in a variety of television sitcoms, especially written for him. These notably included; Citizen James (1960 – 62), George and the Dragon (1966 – 68), Two In Clover (1969 – 70), and Bless This House (1971 – 76). The latter was by far the biggest hit, running for 6 series, it only ended with James's untimely death in 1976.
Personal Life
Sid James was married three times. His first wife Berthe Sadie Delmont was the daughter of a wealthy Jewish South African businessman. Their marriage in 1936, saw their daughter Elizabeth, arrive the following year. The couple divorced in 1940, mainly as a result of James's persistent philandering. In 1943, James married for the second time. This time to Meg Williams, a dancer, who was better known by her stage name of Meg Sergei. Their daughter Reina, was born in 1948. The couple divorced in August 1952.
James married for the third time only four days after his second divorce was made final. This time it was to the 24-year-old actress Valerie Elizabeth Patsy Assan. Better known as Valerie Ashton, she wed James on 21 August 1952. Their son Steve was born in 1954, and their daughter Sue in 1960. During his marriage to Ashton, James had a much-publicised affair with 'Carry On' co-star Barbara Windsor. The relationship lasted for at least 3 years, though some speculate much longer
In private, James was a hardened but largely unsuccessful gambler. However, he kept his gambling a secret from his family. He would often siphon off much of his earnings towards feeding his addiction. Some that knew him well, estimate that he lost tens of thousands of pounds over his lifetime.
Ill-health and Death
James was a heavy smoker and drinker throughout most of his adult life. His work-hard, play-hard lifestyle came to a head in 1967 when he suffered a massive heart attack. He had been scheduled to star in the 'Carry On' Foreign Legion romp 'Follow that Camel'. He was replaced by the American comic actor Phil Silvers. Later that year, he did appear in 'Carry On Doctor' but was shown on screen as mainly lying in a hospital bed. After his big health scare, James did give up cigarettes but soon took to smoking up to three bowls of pipe tobacco a day.
In April 1976, James was touring the UK with the comedy farce 'The Mating Season'. On the evening of 26 April, he was appearing at the Sunderland Empire Theatre. Mid-performance, James failed to deliver his lines in accordance with the play's dialogue. At first, even the other players thought he was playing a practical joke. However, it quickly became apparent that something was seriously wrong. The theatre's technical manager called for the curtain to close and made an urgent request for a doctor from the assembly. The audience laughed at the proceedings, believing that it was all part of the show. James was taken to hospital by ambulance but did not survive the journey.
James died just a few days short of his 63rd birthday. He was cremated at Golders Green Crematorium soon afterwards, and his ashes were scattered in the grounds.
Header image credit: Wikipedia/UK Fair Use Policy