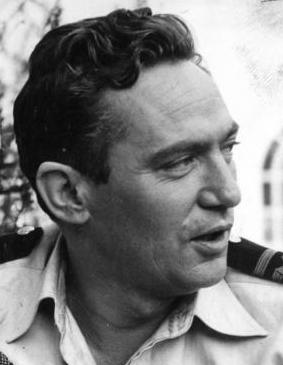 Early Life
The English-Australian actor Peter Finch was born on 28 September 1916 in London, England. He was given the birth name of Frederick George Peter Ingle Finch. His parents were George Ingle Finch, a chemist and noted mountaineer, and his wife Alicia, who he had married the previous year. However, his parents divorced in 1920 owing to his mother's extramarital affair with Army officer, Jock Campbell.
Peter then lived in France, Switzerland, and later India, with various relatives. In 1926, he emigrated to Sydney, Australia, to live with a great uncle. After leaving school he went to work as a 'copyboy' with the Sydney Sun newspaper. However, Finch had acting ambitions, and in 1933, landed himself a job in repertory theatre. Later, he worked various jobs in the theatre before making his film debut in the Australian short 'The Magic Shoes' (1935). He then went on to appear in several Australian feature films and establish himself as a popular radio actor.
World War Two
Finch served in the Australian Army during World War II. This saw him make an appearance in several government propaganda shorts. He also featured in two Australian full-length films made towards the end of the war; The Rats of Tobruk (1944) and Red Sky at Morning (1944). Additionally, he both produced and directed stage works for the Army Concert Party. His relative success led to him being chosen to narrate the popular documentary films Jungle Patrol (1944) and Sons of the Anzacs (1945). Finch was discharged from the army in October 1945 at the rank of sergeant.
In 1946, Finch co-founded the Mercury Mobile Players repertory theatre, though he still maintained some film work. A 1948 theatrical performance by Finch was saw by Laurence Olivier, who just happened to be touring Australia with the Old Vic company. Olivier was so impressed with Finch that he immediately signed him on a personal contract. In 1948, Olivier pursued him to move back to London on a permanent basis. Finch's last film appearance in Australia was in the Ealing Studio production Eureka Stockade (1949) which was both a critical and box office failure.
Return to the UK
After returning to the UK, Finch immediately found work when he was cast in the Ealing Studio production 'Train of Events' (1949). Though the film was lauded as mediocre, Finch's performance was critically acclaimed. Afterwards he worked in theatre, radio, and television, as well as film, to much applaud. However, after co-starring with Elizabeth Taylor in the Hollywood film 'Elephant Walk' (1954), Finch decided to focus much more on cinema work.
One of Finch's most memorable portrayals was that of an Australian POW in the British WW2 drama 'A Town Like Alice' (1956), starring opposite Virginia McKenna. The film saw him win the first of his five BAFTA awards for best actor. He followed that with starring in another successful war movie, 'The Battle of the River Plate' (1956). He then starred in the British made  Australian Western 'The Shiralee' (1957). He later said the part of Jim Macauley was one of his favourite film roles.
His role as doctor in the highly acclaimed 'The Nun's Story' (1959), starring opposite Audrey Hepburn, made Finch an international star. He won a second BAFTA playing the titular role in The Trials of Oscar Wilde (1960), though the film itself was not popular. His third BAFTA came for his role as womanising MP in the political drama 'No Love for Johnnie' (1961). Some of his other notable films include 'The Pumpkin Eater' (1964), 'Far from the Madding Crowd' (1967), and 'The Red Tent' (1969).
Later Career
In 1972, Finch received an Oscar nomination and a fourth BAFTA for his role in John Schlesinger's Sunday Bloody Sunday (1971). Following the 1972 film and leading up to his death in 1977, Finch made seven more movies. The first five, including the big budget but universally slated musically fantasy Lost Horizon (1973), where forgettable. His role as PM Yitzhak Rabin in the posthumous released TV film 'Raid on Entebbe' (1976) was well received. However, he saved the best for last in his portrayal of Howard Beale in Network (1976). He becoming the first actor to be awarded an posthumous Oscar for his role as the crazed newscaster. The film also earned him a Golden Globe and a fifth BAFTA.
In all, Finch appeared in 64 films in his 41 year movie career, between 1935 and 1976. He also had an extensive stage career in both the UK and Australia.
Personal Life
Finch was married three times. His first marriage was to the Romanian-born French ballerina Tamara Tchinarova. They met while working on a film set together and married in 1943. Their daughter, Anita, was born in 1950. They divorced in 1959 after Tamara discovered Finch was having an affair with the married actress Vivien Leigh.
Later in 1959, Finch married the South African-born actress Yolande Turner. The couple had two children together, Samantha and Charles. During the marriage, Finch had a well-publicised affair with the singer Shirley Bassey. The world-renowned Welsh songstress gave birth to a daughter, Samantha, in 1963, with many believing Finch to be the biological father.  In 1965, Finch and Turner divorced, following the actor's scandalous affair.
In 1966, Finch moved to Jamaica to live with his new partner Mavis "Eletha" Barrett. Their daughter, Diana, was born in 1969. The couple married in Rome in November 1973.
In his mid-40s, Finch learned that it was the Army officer, Jock Campbell, and not George Finch, who was his biological father. His mother, Alicia, married Campbell in 1922, following her divorce from George, two years earlier.
Death
On 13 January 1977, Finch appeared on American TV's 'The Tonight Show' hosted by Johnny Carson, to promote the film 'Raid on Entebbe'. Ironically, during the interview, he joked about death. The day after, Finch, aged 60, suffered a fatal heart attack in the lobby of the Beverly Hills Hotel in Los Angeles. He was buried soon afterwards at the Hollywood Forever Memorial Park. He was survived by his wife and children.
Header image credit: Creative Commons (Public Domain Mark 1.0)