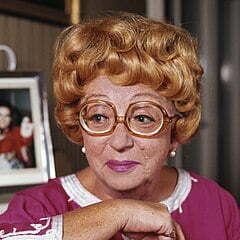 Early Life
The English character actress and comedian, presenter and writer Thora Hird was born on 28 May 1911 in Morecambe, Lancashire. Her parents James and Jane Hird were both from a theatrical background. Her father was the manager of a number of theatre venues in Morecambe, while her mother was an actress. Thora had two older siblings, a brother Neville and a sister Olga.
Hird popped up on the stage at just 8 weeks old in a play in which her mother was appearing. She left school in her mid-teens and began work at her local Co-op store. Soon after, she joined the town's Royalty Theatre company, where her father was the manager. In the years that followed, she made countless appearances on the Morecambe stage.
Film Career
In 1941, comedian and actor George Formby visiting Morecambe saw Hird at the Royalty. Formby gave a glowing endorsement of her performance to Ealing Studios film producer Michael Balcon. In 1942, she made her screen debut in the Ealing comedy and wartime propaganda film 'Black Sheep of Whitehall', starring Will Hay and John Mills. She went on to make five further films in the same year. This included starring alongside Will Hay in the Ministry of Information short comedy film 'Go to Blazes'. Her next big career step came in 1944 when she made her West End debut in the stage play 'No Medals'.
Hird went on to appear in scores of films, typically playing supporting roles such as a landlady, barmaid, housekeeper, mother, mother-in-law, grandmother, etc. A versatile actress, she proved to be equally happy performing in both comedy and drama. By the 1950s, Hird had established herself as one of Britain's leading character actresses. Her best-remembered film roles include those in 'The Entertainer ' (1960), starring Laurence Olivier, and 'A Kind of Loving' (1962), with Alan Bates and June Ritchie.
Her last big-screen role was as Mrs Gordon in the 1988 British comedy Consuming Passions. However, she did go to make several more TV movies, most notably, in the acclaimed 'Lost for Words', where she starred with Pete Postlethwaite. In all Thora Hird appeared in some 80 films, including those made for TV, during her 70-year acting career.
Stage and TV
From the mid-1950s onwards, Hird increasingly returned to the stage. There she mostly appeared in comedy productions, alongside the likes of Arthur Askey and Harry Secombe. At the same time, she also began her TV career. One of her first television appearances was in 'The Adventurers of Robin Hood' (1955) as Ada. In 1963, she got to star in her own sitcom 'Meet the Wife'. Comedian and actor Freddie Frinton played Freddie Blacklock, while Hird played his overbearing wife, Thora. The popular comedy show ran for five series.
Hird then went on to star in another 1960s sitcom, 'The First Lady' (1968). In Loving Memory, in which she starred opposite Christopher Beeny (first piloted in 1969), ran for five series between 1979 and 1986. She was also the main protagonist in 'Hallelujah', a sitcom centred around the Salvation Army, which ran for two series between 1983 – 84.
Over the years, she also made numerous guest appearances in other popular TV shows. These included the likes of 'All Creatures Great and Small' (1989 – 90), Perfect Scoundrels (1991), Heartbeat (1994) and Dinnerladies (1998). In 1986, she also appeared on set of the BBC's world-record beating, long-running sitcom, 'Last of the Summer Wine'. Reportedly, Hird was expected to make only a couple of appearances but she ended up playing 'Eide' for seventeen years, which was right up to her death in 2003.
In 1998, she received critical acclaim for deliverance of one the playwright Alan Bennett famed monologues 'Talking Heads'. In the episode, she portrayed Violet, a confused and lonely old woman, seeing out her final days in a care home.
Personal Life
In 1937, Thora Hird married the musician James Scott. They had a daughter, Janette, the following year. Scott eventually gave up his own career to manage his wife's and take care of the household. Hird was widowed in 1994, having been married for 57 years.
Hird underwent a heart bypass operation in 1992. She also suffered from severe arthritis which saw her confined to a wheelchair in later life. A committed Christian, she carried out charity work throughout almost the entirety of her adult life, even into advanced old age.
Despite a long career in the often glitzy world of entertainment, Thora was famed for her down-to-earthiness and retention of her working-class identity. Once asked by a reporter about a recent visit to Beverly Hills, she retorted "It's perfect for a holiday, but there's no corner shop. You know what I mean, luv, don't yer?"
Thora Hird was awarded the OBE in the 1983 Queen's Birthday's Honour's List for her contribution to acting. In 1993, she was awarded a Damehood for her continuing services to drama.
Death
Thora Hird passed away on March 15, 2003, at the age of 91. She had spent her final days at 'Brinsworth House' in Twickenham, London, a retirement and nursing home for ex-entertainment professionals.
A memorial service was held on 15 September 2003 at Westminster Abbey. The funeral was attended by more than 2000 people, including a good number of celebrities from the entertainment world. She was buried at the Chichester Crematorium and Garden of Remembrance in West Sussex, England.
On 7 July 2019, a commemorative blue plaque was installed at Hird's former Bayswater home where she had lived for over 60 years.
Header image credit: Wikipedia Commons