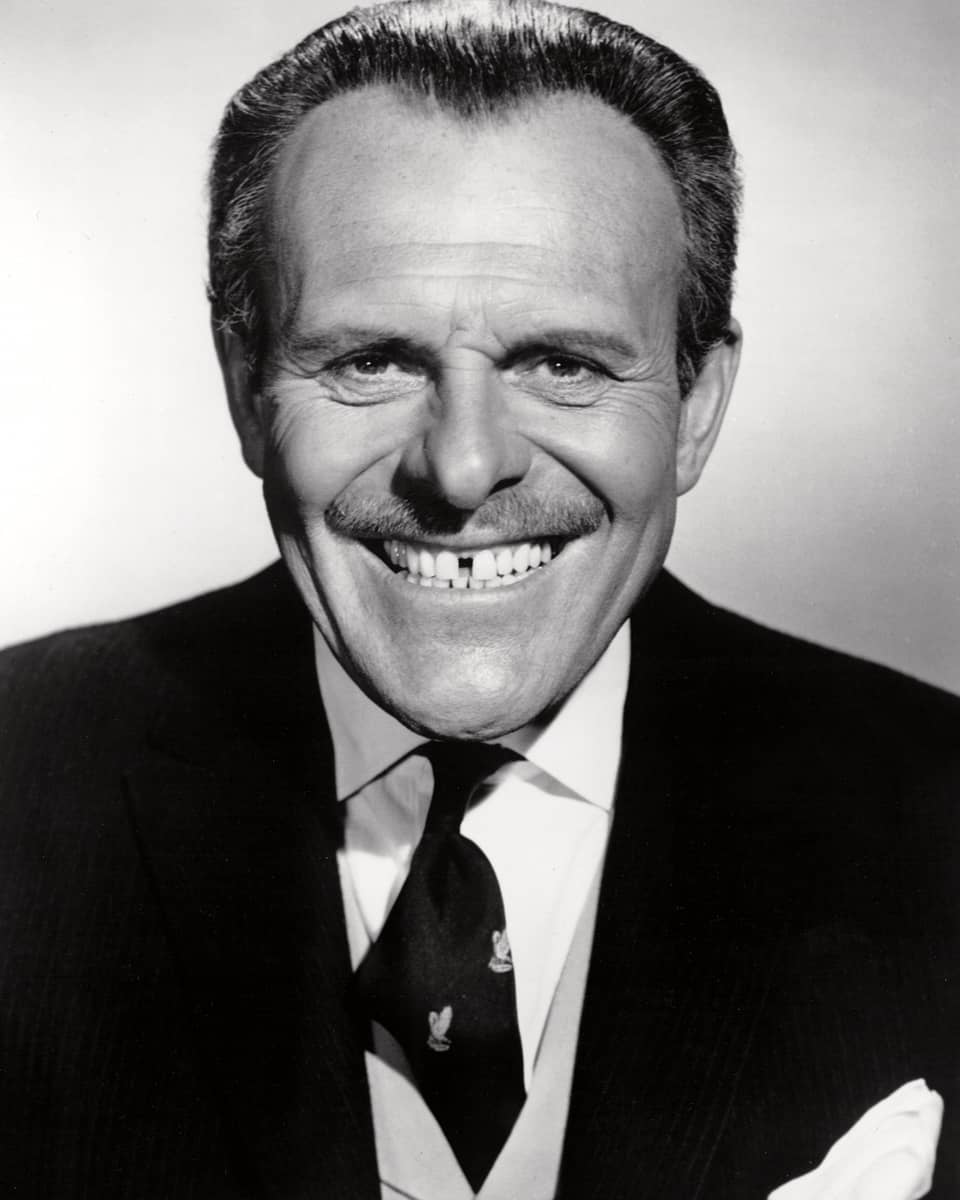 Early Life
The comedy actor Terry-Thomas was born Thomas Terry Hoar Stevens on 10 July 1911 in Finchley, North London. He was the fourth of the five children of Ernest and Ellen Stevens (née Hoar). Ernest Stevens was the manager of a butchery business at Smithfield Market and an amateur actor in his spare time.
Initially, Terry attended Fernbank School in Hendon Lane, Finchley. By the time he had reached his teens, both his parents had both descended into alcoholism, which saw their marriage ultimately fail. When he was 13, he transferred to Ardingly College, a public school in Sussex. Though he excelled at Latin, he was an otherwise average student. He left school at 16 to take up a job as a transport clerk at Smithfield market. In the workplace, he proved to be a natural clown with a gift for mimicry. One of his work colleagues encouraged him to join a local amateur dramatics group, where he soon became a regular performer.
By his late teens, Thomas was already searching for upward mobility. His first move was to change his North London accent to something much more upper crust. He changed his tones to match that of one of his matinee idols of the day 'Owen Nares'. He also changed his dress sense, styling himself on one of his other film heroes, Douglas Fairbanks Junior. In his spare time, he began playing the ukulele and fronted a local jazz band, the Rhythm Maniacs. Next, he took up dance training and formed a cabaret act with the sister of the famed actress Jessie Matthews.
Early Career
In 1933, Thomas moved out of Finchley to share a flat with a friend who worked as a film extra. He then thought he would give the acting game a try himself. Thomas made his debut film appearance as an extra in The Private Life of Henry VIII (1933), starring Charles Laughton. Between 1933 and 1941, he appeared in a further 15 films, mostly as an uncredited extra.
During this period he also changed his stage name from Thomas Stevens to Thomas Terry. Reportedly, often taken as a relative of the actress Ellen Terry, he finally settled on the name Terry Thomas. He later made the name a little more exotic by adding a hyphen, stating that it "matched the gap in his front teeth.''
World War II
In 1939, just when Thomas's career appeared to be on the up, it was interrupted by World War II. He spent the early part of the war entertaining troops in the service of the Entertainments National Service Association (ENSA). However, in 1942, he received his own call-up papers and duly joined the Royal Corps of Signals. By February 1943, Thomas found himself back on the stage after being invited to join 'Stars in Battledress'. The performing troupe was made up of professional entertainers who were serving in the armed forces. Thomas finished the war as a sergeant and was demobbed in April 1946.
The war years had seen Thomas's profile as a performer raised to new heights. Thus, immediately after demobbing, he went straight to the West End stage to star in 'Piccadilly Hayride'. He went on to perform at the Royal Command Performance and made a number of popular BBC radio shows. In 1949, he starred in the first comedy series to be screened on British television, How Do You View? Thomas then made the smooth transition back into British film.
Film Acting Career
In 1948, Thomas appeared in his first post-war film, starring in the musical comedy 'A Date with a Dream'. That was followed up a year later by his starring role in Melody Club. Even by this time, his future customary big-screen role as the upper class, cash-strapped, lovable rouge was already taking root. However, after Melody Club, tied up with TV, radio, and stage commitments, he did not make another film for 7 years.
His next film was Private's Progress in 1956, in which he starred as Major Hitchcock. He then appeared in such popular films as The Green Man (1956), Blue Murder at St Trinian's (1957), and I'm All Right Jack (1959). He made 15 films in the five years that led up to him getting his first lead role in an American film, i.e. Bachelor Flat (1961).
Thomas soon became a household name States side after co-starring in big box office success like The Wonderful World of the Brothers Grimm (1962) It's a Mad, Mad, Mad, Mad World (1963), How to Murder Your Wife (1965), Those Magnificent Men in their Flying Machines (1965) and Where Were You When the Lights Went Out? (1968).
A Diminishing Career
In 1971, Thomas became quite unwell during a tour of Australia. On his return to England, he was diagnosed with Parkinson's disease. Though he continued to work as much as possible, offers of decent film work appeared to deteriorate in line with his health.
In 1977, he appeared in the nondescript films 'The Last Remake of Beau Geste' and 'The Hound of the Baskervilles'. Thomas's film career was brought to a conclusion when he appeared in the lacklustre German-Italian 1980 co-produced film 'Febbre a 40!' It brought his 47-year career total to almost 90 films.
Private Life
In 1937, Thomas met South African dancer and choreographer Ida Patlansky in London. They formed the cabaret double-act 'Terri and Patlanski, which quickly proved popular. While their act only lasted a few months they became romantically involved, marrying in February 1938. Though they allegedly both had affairs from the outset, they remained wed for 24 years. They divorced on good terms in 1962.
Shortly after his divorce, Thomas met Belinda Cunningham while holidaying in Majorca. She was 30 years his junior but that didn't stop them from marrying a year later. Their wedlock produced two sons, Timothy (1964) and Cushan (1968). In the late 1960s, the couple bought a villa retreat on the Spanish island of Ibiza. After Thomas's diagnosis of Parkinson's disease in 1971, the family spent increasing amounts of time there. However, mounting debt arising from Thomas's inability to earn a living and treatment for Parkinson's, saw them forced to sell up in the mid-'80s.
Terry-Thomas was described by all who knew him as being an extremely friendly man with a self-deprecating sense of humour. Friends and associates alike dubbed him a compulsive clown, who was every bit as funny, chivalrous and debonair as any of the characters he had portrayed on screen.
Final Years and Death
Following Thomas's devastating Parkinson's disease diagnosis in 1971, his career path followed a steady decline. His last big-screen appearance came in 1980. As his condition worsened, TV and stage work also began to dry up. By 1983 he could no longer work at all. Throughout the rest of the '80s, he was forced to live off his savings while also paying for expensive medical treatments. This saw both his London flat and villa in Ibiza sold off.
By the late '80s, he had completely withdrawn from public life. Towards the end, friends discovered that he was living with his wife in a sparsely furnished charity flat. It was at that point that his situation became public knowledge. Subsequently, an all-star charity concert was held for his benefit, which raised thousands of pounds.
Thomas's final days were spent at the Busbridge Hall nursing home in Godalming, Surrey. He died on 8 January 1990, aged 78, just a few months after his celebrity fundraiser had taken place. Terry-Thomas, recognised by many as the quintessential English gentleman, was buried at St Peter's, Combe Martin in North Devon, England.
Header image credit: Wikipedia Commons