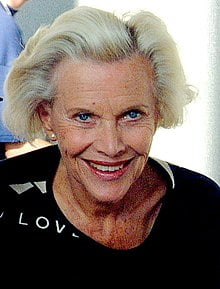 Early Life
The English actress Honor Blackman was born on 22 August 1925 in Plaistow, East London. Her parents, Frederick, a civil servant, and Edith, a housewife, had three daughters and a son. Third-born Honor had one younger sister. She attended North Ealing Primary School, where she proved to be an athletic child from an early age. At the Ealing County Grammar School for Girls, she was encouraged to take elocution lessons. In 1940, her parents gifted her acting lessons at the Guildhall School of Music and Drama for her 15th birthday.
After leaving school, Blackman temporarily took a job as a clerical assistant at the Home Office. After graduating from the Guildhall, she was offered an understudy role in the West End's The Guinea Pig. When the leading lady fell ill, the young Honor stepped up to the plate to fill in.
Film Career
After appearing in a couple of more plays, she went on to make her film debut in 'Fame Is the Spur' (1947). Though just cast as an extra, the Rank Organisation offered her a 2-year contract. She then appeared in a supporting or co-starring role in five films in two years; Daughter of Darkness (1948), Quartet (1948), Boy, a Girl and a Bike (1949), Diamond City (1949, and Conspirator (1949), the latter starring Elizabeth Taylor.
Some of Blackman's most notable film appearances of the 1950s include So Long at the Fair (1950), with Dirk Bogarde; Green Grow the Rushes (1951), starring a young Richard Burton; A Night to Remember (1958), an account of the Titanic disaster; and the comedy The Square Peg (1958), starring Norman Wisdom. From the late 1950s onwards, she increasingly worked on television, appearing in the likes of Africa Patrol (1958), Probation Officer (1959), and The Four Just Men (1959 -60). Blackman's most memorable TV role came in 1962 when she joined The Avengers, playing Dr Cathy Gale.
A Career High
Playing the self-assured, witty, leather-clad, judo expert Kathy Gale set Blackman up perfectly to play her most famed film role. In 1964, she left 'The Avengers' series to co-star as Pussy Galore in the James Bond film Goldfinger, alongside Sean Connery. Then 38, she has the distinction of being one of only two Bond girls to be older than the actor portraying James Bond himself.
After her outstanding performance in Goldfinger, it seemed that Blackman was destined for future greatness within the film industry. However, serendipity appears to have escaped her as the expected best big-screen offers just did not come her way. From 1965 onwards, she ended up mostly making what proved to be second-rate movies. These included the likes of the Western adventure Shalako (1968); the historical drama The Last Roman (1968); the romantic drama The Virgin and the Gypsy (1970); the horror film To the Devil a Daughter (1976); and the whodunnit The Cat and the Canary (1978).
Later Career
After 1978, Blackman did not make another film for 20 years. However, she did continue to work in TV appearing in such popular shows as Doctor Who, Midsomer Murders, and Coronation Street. She also pursued her career in the Theatre, often to great acclaim. In 1990, she had a surprise hit song with 'Kinky Boots', which reached No. 5 in the UK charts. She had recorded the song back in 1964 with her Avengers co-star Patrick Macnee.
Her comeback film role was portraying Captain Shea in the Anglo-America horror film Tale of the Mummy (1998). Notably, she made a cameo appearance as Penny Husbands Bosworth in the 2001 box-office smash-hit Bridget Jones's Diary. Her last film role came playing Peggy in the 2012 British horror-comedy romp Zombies vs Cockneys. In all, Blackman made 46 film appearances over her 65-year movie-acting career.
After her final film appearance in 2012, Blackman continued to work. In her late 80s, she toured with her one-woman show Honor Blackman as Herself, where she sang, did recitals, and told personal anecdotes. She also continued to feature on TV, appearing in episodes of Casualty (2013), By Any Means (2013), and You, Me & Them (2015). Her very last screen role was an uncredited appearance in the British crime drama Silent Witness as a resident of an old people's home.
Personal Life
Honor Blackman married businessman Bill Sankey in 1948 when she was twenty-two years old. They divorced eight years later, in 1956, after Sankey said he wanted them to emigrate to Canada. Blackman stated that she did not want to be controlled by anyone. She married her second husband, British actor Maurice Kaufmann, in 1961. The couple unable to conceive adopted a daughter Lottie in 1967, and a son Barnaby, a year later. The couple divorced after 14 years of marriage in 1975. Blackman stated that she had no plans to remarry, as she preferred being single.
Blackman, never afraid to express her political views, was initially an avid Labour supporter before she switched her allegiance to the Liberal Democrats. In 2002, she refused to accept a Commander of the British Empire (CBE) from the Queen. An advocate of a British republic, she thought it would be hypocritical to accept the award. Blackman also had a long association with the Fairtrade Foundation, the British organization that seeks to ensure overseas workers that produce imported goods receive fair treatment.
In downtime, Blackman enjoyed spending time at her summer home in Islesboro, Maine, in the USA. She was also a keen football fan.
Death
Honor Blackman died at her home in Lewes, East Sussex, on 5 April 2020, aged 94 years old. It was recorded on her death certificate that she had died from natural causes. She was buried at the Hoop Lane Jewish Cemetery in Golders Green, Barnet, Greater London. She was survived by her two adopted children and four grandchildren.
Header image credit: Wikimedia.org (CC by 2.0)