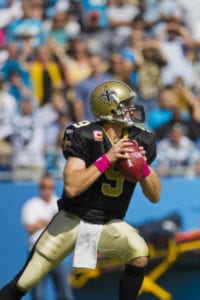 It was only a matter of time before Drew Brees overtook Peyton Manning to become the NFL's all-time leader in passing yards, however he chose to do it in some style breaking the record with 62-yard touchdown pass to Tre'Quan Smith in Monday night's 43-19 drubbing of the Washington Redskins at the Mercedes-Benz Superdome. He finished with 363 yards passing and three touchdowns just to add a little gloss to what was for him a night to remember.
The game itself epitomised the well-known saying "penalties will kill you" as both Saints opening touchdowns came on drives where unnecessary penalties kept them alive. Overall New Orleans picked up four first downs from penalties.
The Redskins were uncharacteristically poor on the night with Alex Smith often under pressure and the running game being practically non-existent, mustering only 39 net yards. This was the first time this season that they had given up more than 21 points and at 2-2 they are still top of the NFC East, however this could change on Sunday as they face another tough match up against the Carolina Panthers.
The Saints moved on to 4-1 and at this early stage of the season are number two seeds in the NFC going into their bye week.
Image Credits
Action Sports photography/Shutterstock.com GagliardiImages/Shutterstock.com