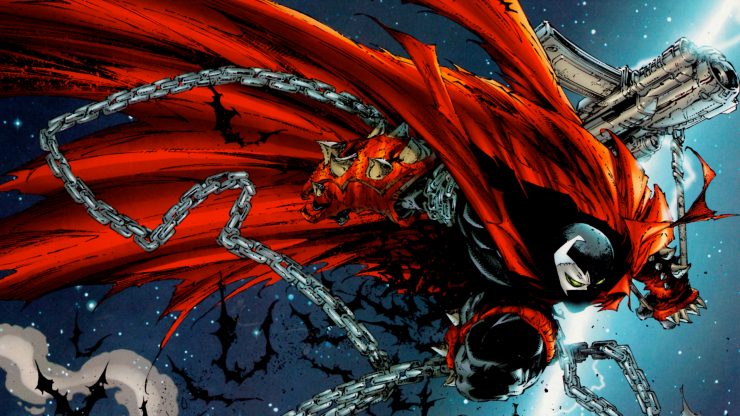 Spawn Reboot, Everything You Need To Know
Since the theatrical release of Spawn in 1997, fans of Todd McFarlane's comic-book hellspawn anti-hero have been begging for a spawn reboot to bring back the character to the big screen and give it the theatrical release spawn deserves.
Who is Spawn?
Spawn is a Fictional Antihero created by Todd McFarlane and published by Image Comics. Before being reincarnated as a hellspawn, Spawn was Albert Francis Simmons, a highly decorated Officer in the U.S Marine Corps, recruited by the CIA as a highly trained assassin after serving within the Secret Service. Simmons, who had a solid moral compass, was murdered by a team member while on a Botswana mission. Upon his death, Simmons is sent to Hell and makes a deal with the devil Malebolgia. Simmons agreed to become a Hellspawn and serve Malebolgia if he was allowed to see his wife Wanda Blake one last time.
Malebolgia agrees and returns the now Spawn to earth alongside his demonic guardian, the Violator. However, Upon arrival, Spawn has very little memory of his previous life and still has a badly burned and scarred body rendering his last appearance as Al Simmons unrecognisable.
During a series of painful flashbacks, Spawn eventually remembers his deal with Malebolgia but not his wife's name. Using CIA files, he tracks down Wanda only to find her married to his former best friend Terry, with whom she has a daughter named Cyan. Finally, Spawn arrives at the truth that five years have passed since his death.
Spawn later runs into a fellow Hellspawn, who informs him that Necroplasm fuels his powers and that he will return to Hell once they are depleted. Therefore, Spawn attempts to find a new purpose in life while using as little of his power as possible. Spawn is thrust into several antihero adventures, taking down street gangs and organised crime in New York City. Spawn finds a new purpose in stopping evil, battling against Italian mobsters and eventually killing a serial murderer and paedophile, Billy Kincaid.
This lays the foundations of a new excellent Antihero Spawn.
Who will be cast in the Spawn Reboot?
So far, only two people have been announced as cast members in the Spawn reboot. Jamie Foxx was announced way back in 2018, as seen in the article from Deadline dated May 29th 2018. Foxx has been cast to play Al Simmons/Spawn. Foxx had initially shown his interest in the character publically way back in 2014.
.@iTunesMovies...I also am a big fan of Spawn. #AskElectro

— Jamie Foxx (@iamjamiefoxx) May 1, 2014

Since then, Jeremy Renner has been cast as  Detective "Twitch" Williams, a fearless agent who investigates the aftermath of Spawn's Heroic antics.
What will the Plotline of the Spawn Reboot be?
Todd Mcfarlane has announced that the script has been finished and has secured his position as a director, and a screenwriter has been put in place. McFarlane has made his demands clear: he wants the film to be rated R (18+). This was announced after the success of Joker (2021) and the ongoing success of the Deadpool movie franchise and has been Mcfarlane's clear intention all along.
There haven't been any forthcoming hints about what to expect within the script and where precisely in the Spawn timeline the film will cover.
It will be interesting to see how much they develop the character in a single movie and which of the Spawn enemies will also be enlisted into the project.
When will the Spawn Reboot be Released?
Well, this is the big question, we know where some things have progressed really nicely, and other things haven't moved as quickly as we would like to see. However, with such an iconic character like Spawn, I would rather wait for brilliance than rush for mediocre. I wouldn't expect to see this until 2024, but we will keep our eyes peeled for further updates.