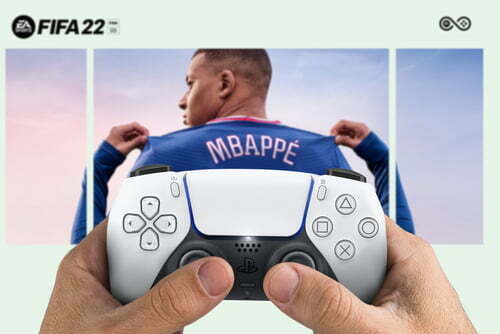 BitLife: Life Simulator!
Game Status: £69.99/Now Cheaper
Release Date: 2th September 2021
Rated: PG
Games Summary
This is a football game that allows the average football fan to play as their favourite team and try and bring them to glory in Career mode. Maybe a player wants to build their dream team and play against other players online in Ultimate Team, Or those causal players that like a bit of everything with Football. FIFA is the game for you.
---
Details of the Game
Inside the Game
Creator: EA Sports
Devices: Xbox one, Xbox Series S/X, PlayStation 4, PlayStation 5, PC, Nintendo Switch!
In Game Purchases,
Offline fun
Online fun
Creativity
This is my views and opinions on all the game modes, features and gameplay. This could be different for anyone else, however if you have anything you would like to say, leave it in the comments and I will respond, however this is my views on the game!
FIFA 22 did a lot of things differently this year, the introduction of create a team in Career mode, including more promos on Ultimate Team and even adding a lot of new gameplay mechanics to the Goalkeepers to make the game seem more realistic. Some stuff they did incredibly well, others not so much in my opinion.
Gameplay Review.
For me, the gameplay isn't as fast paced as other FIFAs. Don't get me wrong, the players can be fast and the gameplay itself can be fast, but for some reason when playing this game, the gameplay seems like my players are jogging around while others are slightly faster. The running mechanic is great for this year however!
The goal scoring aspect of things however is amazing, being able to score some amazing goals from outside the box, the goals you can score inside the box. I think EA managed to nail this part of the game and some parts of the skills in the game too. The skills can be incorporated into the goals which if your incredibly good at the game, you can implement, however I was unable to but, I have seen it and it made me want to know how to do it! 5 out of 5 for the gameplay involving skills and shooting!
Goalkeepers however... They need to get more work done on them. Some goalkeepers are amazing and they have an incredible match, however 90% of the time, the keeper makes a massive error that would allow the opposition to score a goal... or make a terrible save to make it a goal. Keepers have always been an issue with EA Sports as they are trying to hard to make keepers like real life. Mendy, Manuel Neuer and other keepers are considered "overpowered" however when I were able to use them... they would make a fatal error in every game and never save a shot. Goalkeeping needs improved massively for next FIFA and or EA Sports FC.
Overall, I would give the gameplay a 5.2 out of 10, as there is many things in this game that needs improved overall. Some of the tackling animations are terrible, the amount of times you can intercept a pass, the passing can be off and straight to an opponent rather than the player you looked at, its all over the place this year. FIFA has always been that controversial game that makes people rage and rethink some stuff about it, however improving a lot of the mechanics to the older generations like FIFA 13 and FIFA 17, would improve the player count as a lot of fans say this was the golden years of FIFA.
Career Mode Review.
Career Mode this year is like the last years, and the year before that, and the year before that... nothing much really changes about career mode, as there isn't much that EA Sports want to do with Career mode. Not many players complain about this as they should be. It is a great game mode and has a lot of potential to be a classic and more played game mode, they need to listen to what the community actually want rather than what they think they should do with this.
I haven't played much of this, however I played a lot last year and this year, from what I've seen, it is very similar than this one apart from one fan favourite feature came out. Create a club, this was a massive feature that should of been added before hand, however this was added now with some minimal features that make the game somewhat fun. Your able to create a team with new players by replacing a team, however the team can be a 5 star to 1 star.
This wasn't it for me as I was hoping for a full blown create a team where you start with all the teams and you and you can only have academy players and or free players. However they did that all for you, but still a worth it game mode. 5.8/10 for me.
Ultimate Team Review!
This is what I play the most of and enjoyed the most and this is only my views and opinions. 
FUT for me this year, they managed to top FIFA 21 for me. The amount of content that was added, compared to the rewards and chances to have the player you were hoping for was a lot better this year compared to every other year. The packs where incredible too, allowing those who actually play the game more to be rewarded as I've played this since it's launch and I've managed to pack the likes of Messi normal, Prime Icon Moments Garrincha and the FUT Captains Marcelo!
The games that you play are based on your skill level which is great for me and many other players, however there is a bit of a skill cap once you hit the elite division, they compare you to your last game rather than the division your in and give you harder opponents and or easier based on your performance.
The content that was added has made it easier to get coins this year and made it easier to use all of everyone's favourite players. From the likes of Torres being 200k and a 91 rated Maradona card being only 700k instead of over 2 million coins.
The issues for me was the amount of content that was added didn't help in games as some cards in the game were too "overpowered". Kimpembe is one of them, a 83 rated centre back could easily take a 94 rated striker with 90 physical off the ball no problem but an 90+ rated centre back couldn't take someone off the ball at all!
From the start of the game, to the end of the game, or until now, there has been a couple of game breaking cards and formations that has ruined the game, however I'm not sure if this is me thinking this or not, but EA change the way formations work each update to make the META different each time!
I will have to give Ultimate Team a 8.6 out of 10 as I loved it from the beginning, just a couple of things that they need to change. Overall, the game would be better if the gameplay was slightly better.
Banner and Image Credit: Diego Thomazini