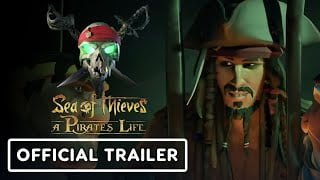 Sea of Thieves as people already know is an exclusive game for Xbox Game Pass and you can only Play on the Xbox consoles and Windows 10. In a shocking reveal that no one saw coming a brand new crossover coming to game which brought shock but also a lot of excitement to the game since the cross over is with the movie many people know and love which is the pirates of the Caribbean. They are bringing non other than Captain Jack Sparrow himself  to this treasure hunting pirate game.
The new update is call A Pirate's Life, which will drop later this month into the massive multiplayer game with new campaign which is very exciting so make sure you get your crew to together to play though this brand new content. This update will drop on the 22nd of June.
Below is the official announcement to the update.

In this update its been announced on the Xbox twitter page that we have the Disney's pirates set the course sailing straight into Sea of Thieves. This is an amazing crossover and that the updates will have a lot content such as new enemies and environments with new adventures are awaiting your call when the update drops.
Are you ready?