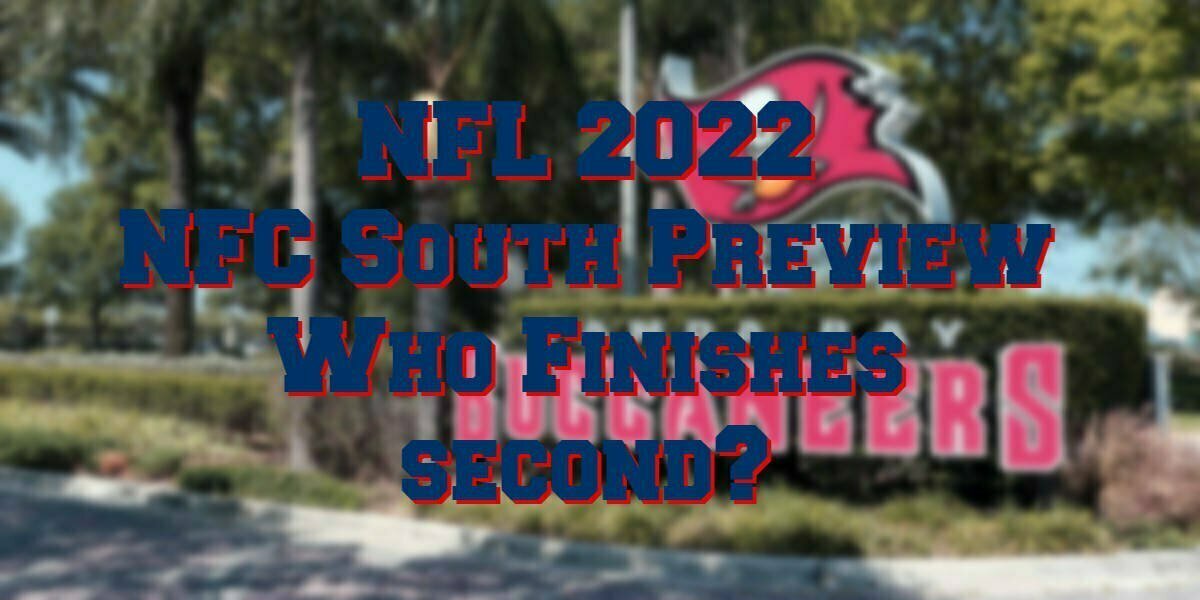 We asked the same question in our 2021 NFC South Preview and as expected nobody could. The Buccs ended up with a 13-4 record and need up losing narrowly in the playoffs to the eventual winners. Once again it's hard to make a case for them not winning the division.
The Saints enter the post Sean Peyton era with Jamies Winston at QB and a host of injuries. They showed ambition by trading up in the draft to snag Chris Olave and have made some nice free-agency moves.  You have to go back to 2016 for the last time they had a losing season. Is that run about to end? Probably too early to say but they might struggle to make the post season.
The Panthers might end up challenging the Saints for second in 2022. Why? Well, contrary to what the Facebook Trolls would have you believe Baker Mayfield is a decent QB. Not great but good enough to get you 8-9 wins with the right support. They look to have strengthened overall in free agency and added to their OL by drafting Ikem Ekwonu
The Falcons have moved on from Matt Ryan at QB and parted ways with a host of starters in free agency. They look to be in full rebuild mode and it's hard to see them emulating last season's wins total with Mariota under centre. No major knock on him it's just the lack of talent around him.
Speaking of last season the finishing order was…
NFC South 2021 Finishing Order
Tampa Bay Buccaneers 13-4
New Orleans Saints 9-8
Atlanta Falcons 7-10
Carolina Panthers 5-12
This gave the Buccs the No 2 seed while the Saints missed the playoffs for the first time since 2016.
2022 Predicted Finish
1st Tampa Bay Buccaneers
The Buccs, assuming Brady stays fit should win the division with some ease. Their schedule is tough as expected, however, they get the Packers, Ravens, Rams & Chefs at home. This is a big help as in their easier run-in after the bye week. Losing Alex Cappa in free agency was a blow but overall they look to have done ok here.
The arrival of Russell Gague & Julio Jones helps ease the blow of Chris Godwin's injury. Also, the probable retirement of Gronk eased with the addition of Kyle Rudolph plus they drafted Cade Otton. The offense looks stacked again and Godwin should be fit again in time for the run-in.
Other than an injury crisis of biblical proportion it's hard to see them not winning the division.
2nd New Orleans Saints
The Saints still look to be in win-now mode and they filled their most glaring need in the Draft all be it at a cost. Their starting eleven looks strong on both sides of the ball but after that, it tails off a bit. Their season pretty much hinges on which Jamies Winston shows up. If he can avoid the turnovers then they will be tough to beat.
They have a fairly taxing schedule, including a home game in London and trips to the Eagles & 49ers. The division faces the AFC North and NFC West which looks quite brutal. Their finishing position could hinge on how they fair against their divisional rivals and this might cost them a Wild Card slot.
3rd Carolina Panthers
The Panthers look to have finally decided to call an end to the Sam Darnold experiment. He looked good in their first four games but it was all downhill thereafter. They lost their last seven games and that undoubtedly cost Darnold the starting job.
Head coach Matt Rhule will know his job is on the line after consecutive 5-win seasons and this probably led to the Mayfield trade. We still rate Mayfield and although the Panthers roster doesn't look strong enough to compete, they should improve on that 5 win total.
With a bit of luck and a largely injury-free year we can see them pushing the Saints for second place. That 8th January trip to the  Caesars Superdome might have some meaning in 2023.
4th Atlanta Falcons
The Falcons are in a rebuild and we won't be surprised if Desmond Ridder ends up under centre by the end of October. They are adding some good young talent on the offense with Kyle Pitts & Drake London giving them a huge (literally) threat. However, the roster overall has that wooden spoon look about it and we will be surprised if they challenge.
Anyway, our predicted wins total is below and we expect Tampa to be the only NFC South team in the playoffs.
NFC East Final Wins Total
Tampa Bay Buccaneers 13-4
New Orleans Saints 9-8
Carolina Panthers 8-9
Atlanta Falcons  4-13
So there you have it our predictions for the NFC South and in answer to our opening question, no one in the South but we will be interested to see how the others perform.
While you are here why not check out our other NFC South Posts or have a go at some of our NFL Quizzes. Go on everyone loves a Quiz, don't they?