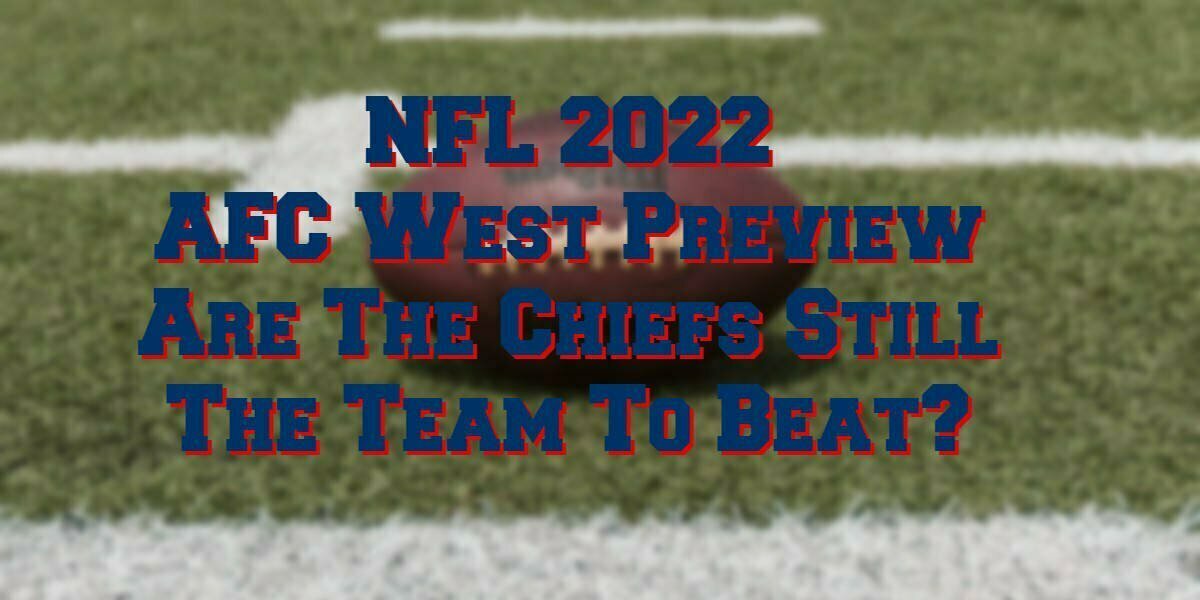 The AFC West is shaping up to be a bit of a group of death in 2022 with there being a case for calling all four teams Super Bowl contenders. The Broncos & Raiders have both made splashy free agency moves and both will be looking to improve on their 2021 showing.
Kansas City have let Tyreek Hill go but has added a bevvy of other WRs to the fold. Will any step up to replace him? Their reign as divisional winners may depend on one of them stepping int his shoes.
Finally, we have The Chargers who were expected to make huge strides in 2021. Things didn't go according to plan though and although Justin Herbert stayed on an upward trajectory the Chargers did what they do best – lose key games in bonehead fashion. Still, 9-8 was a winning season and if they had a lot of one-score losses.
It will not be too much of a surprise if the AFC West produces two wild card teams this year and the final finishing order will no doubt be decided on divisional record.
AFC West 2021 Finishing Order
Kansas City Chiefs 12-5
Las Vegas Raiders 10-7
Los Angeles Chargers 9-8
Denver Broncos 7-10
This gave The Chiefs the No 2 seed while the Raiders took the 5th seed wild card slot. The Raiders snatched that slot in the most dramatic of fashion beating the Chargers in a three-score OT "Winner Takes All" encounter. They were a tad unlucky to lose in the first round to eventual Super Bowl finalists The Bengals.
The Chiefs would go on to play in the AFC Championship game for the fourth consecutive season losing in OT to The Bengals.
2022 Thoughts
The NFC West will be fun to watch this year, however, they all have pretty brutal stretches in their schedule and they have the NFC West in the inter-conference games. Given that Division has three playoff probables but the overall divisional win count might not top 2021.
AFC West Predicted Finish.
We don't think there will be much in it from top to bottom and we expect a new face at the top in 2022.
1st Denver Broncos
The Broncos were only a decent QB away from competing last year and they look to have addressed this. Acquiring Russel Wilson is a bit of a coup and he is not short of receivers to throw to even if Noah Fant will be a miss.
Their defense was pretty good last year and they have bolstered it further with the addition of Randy Gregory & D.J. Jones. Their likely starting secondary is solid and despite giving up their first-round pick to acquire Wilson they managed to add some depth on this side of the ball with Oklahoma pair Nik Bonitto & Delarrin Turner-Yell both looking like solid picks.
They finished bottom last year and thus benefit from the easiest schedule in the division. They have a tough time of it from December on, however, they should have snagged enough wins by then to see them sneak their first divisional title since 2015 when they lifted Super Bowl 50.
2nd LA Chargers
The Chargers did what they do best in 2021 – seemed to find a way to lose games they should have won! Still, their luck has to change at some time and they have had a good free agency and draft. The OL will benefit from the addition of 1st round draft pick Zion Johnson. The right side of the line was a problem last year and they now have some decent depth there.
However, it's on defense that they have made the big moves adding Khalil Mack to an already formidable pass rush. It cost them their second-round pick but when you are in win-now mode it makes sense. J.C. Jackson across from Asante Samuel Jr. is as good a corner pairing as any and the D-Line is improved with the additions of Joseph-Day & Austin Johnson.
They have a fairly easy opening schedule, however, it is brutal after the bye week. Their last nine games are against potential playoff teams and this might just catch them out.
3rd Kansas City Chiefs
The Chiefs have arguably the best QB in the AFC and a future HOF head coach in Andy Reid.  So why do we have them finishing third? Well parting with Tyreek Hill won't help and losing Charvarius Ward & Tyrann Mathieu is also a blow.
Patrick Mahomes (pictured above) will also have to get used to a new receiving corp with Marquez Valdes-Scantling & JuJu Smith-Schuster being likely starters. Neither are as good as Hill and it may be rookie Skyy Moore that ends up being his secondary target.
They have the 5th hardest strength of schedule and their opening run sends them on the road against Arizona, Tampa, The Colts and San Francisco! Add in home games against the Chargers & Buffalo and it's easy to see them having a losing record going into the bye week. Thereafter it does get easier but there are tricky games in that stretch too including facing the two Super Bowl finalists from last year the Bengals & the Rams.
Despite this we still see them as challenging and a Wild Card place looks possible.
4th LV Raiders
The Raiders probably overachieved a little in 2021 and although they make the playoffs it was mighty close. They have made a bit of a splash in acquiring Davonte Adams from Green Bay but it cost them their 2022 draft. Adams & Carr have a history going back to their college days and should be fun to watch, however they need the rest of the team to perform.
They let a lot of players walk in free agency and their only big move was signing veteran linebacker Chandler Jones. He is a solid player but his bey years look to be behind him. They will be hard to beat, however with the seventh hardest strength of schedule in the NFL added to the fact that the rest of the division looks to have pulled away from them leaves us with little choice but to put them last.
AFC North Final Wins Total
Denver Broncos 11-6
LA Chargers 10-7
Kansas City Chiefs 10-7
LV Raiders 8-9
So there you have it our predictions for the AFC West. Maybe a little bold, but we think that the Chiefs' brutal schedule will finally end their six-season streak as AFC West winners. However they will still make the postseason and probably have a deep run.
While you are here why not check out our other AFC West Posts or have a go at some of our NFL Quizzes. Go on have a go and don't forget to share your result.