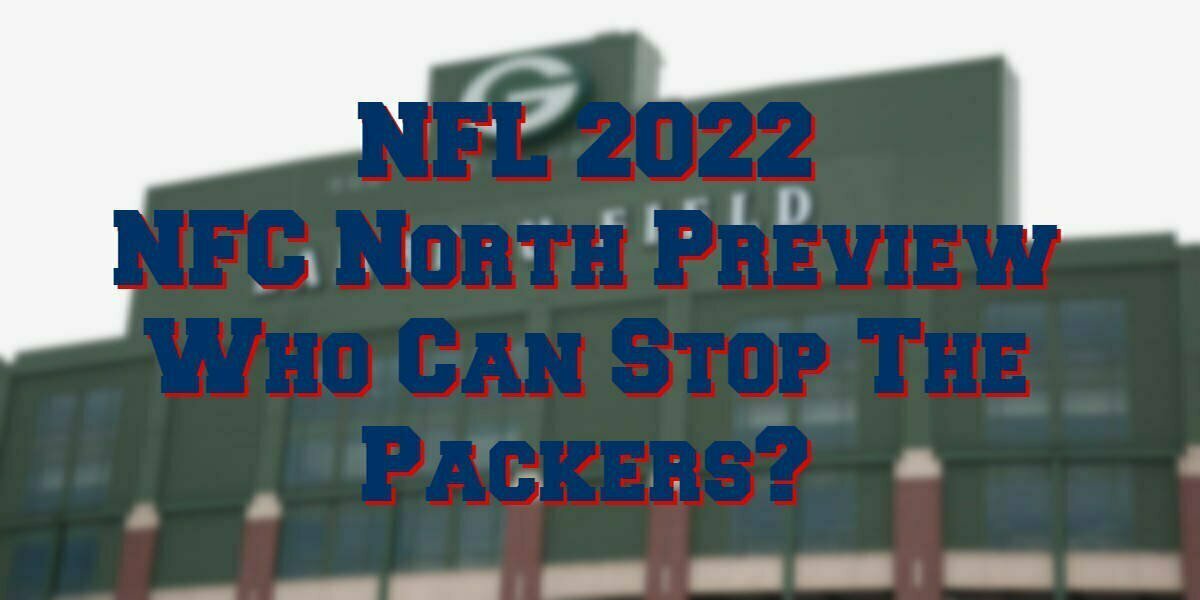 The NFC North has been rather predictable the last three seasons given that Green Bays' competitors have all gone through rebuilds of sorts. This has led to The Packers winning it for the last three seasons amassing 13 wins in each. They go into 2022 with a completely new offence, however, with Rodgers under centre, this shouldn't be too much of an issue. Their defense looks much improved though.
Minnesota moved on from Head Coach Mike Zimmer after a slightly disappointing 2021. He has been replaced by Kevin O'Connell who has spent most of his career as an offensive coordinator. Can he get the best out of Kirk Cousins? If so the Vikings could be a threat.
This leads us nicely on to The Lions who were (in our opinion anyway) a bit better than their record suggested. Rookie Penei Sewell was impressive on the O-Line and Jared Goffs improved towards the end of the year. If Aidan Hutchinson has the same impact on the defensive side they could surprise a few teams in 2022.
Finally, we have the Bears, who have been stuck in limbo for a few seasons now. Their hopes largely depend on whether Justin Fields can take the next step.
Last season's finishing order is as follows…
NFC North 2021 Finishing Order
Green Bay Packers 13-4
Minnesota Vikings 8-9
Chicago Bears 6-11 
Detroit Lions 3-13-1
The Packers got the No 1 seed and a first-round bye, but once again fell to their bogey team San Francisco.
2022 Overall Thoughts
The Packers still look like the pick of the NFC North, however, another 13-win season might be a stretch. The offense is unproven and even with Rodgers throwing the ball it might take time to gel. Fortunately, their defense looks formidable, which should win them those inevitable close games.  The Vikings have improved as have the Lions, however, we are not convinced that the Bears made the right choice in giving up a chunk of this year's draft to nab Justin Fields. They might just end up with the wooden spoon this year.
1st Green Bay Packers
The Packers are hard to fathom in 2022. They have pretty much revamped their wide receiver corp and could end up relying heavily on their two rookie acquisitions Christian Watson and Romeo Doubs. This would normally be an issue, however when you have Rodgers at QB who knows? If the O-Line can stay injury free it will be a big help and of course, they have a decent running game, so double-digit wins look probable.
The defense could be where the success comes from this time though. They used both 1st round picks on Georgia linemen and they already have one of the best secondaries in the league. Letting Za'Darius Smith walk to a divisional rival is not as bad as it looks given he missed most of last season and adding Rasul Douglas leaves them stacked in the secondary.
If the Packer's defense ends up being as good as it looks on paper they should be a lock for a Wild card at least and are justified favourites for the division.
2nd Minnesota Vikings
The Vikings offense with Kirk Cousins, Dalvin Cook, Justin Jefferson, and Adam Thielen should be piling up the points every game. However, their O-Line play has been pretty poor of late and its hard for Cousins to throw the ball effectively when you are under constant pressure. Surprisingly they made no real effort to improve this in either the draft or free agency. This could be their downfall in 2022.
The defense looks solid enough on the line, however, they lack depth at Corner.  Their CB1 likely to remain the talented but ageing Patrick Peterson.  They will need rookie Andrew Booth Jr. to hit the field running to have any chance at the division.
Overall they should flirt with the Wild Card slots, and if Green Bays' new look offense fails to shine who knows?
3rd Detroit Lions
The Lions enter the season with the dubious distinction of having double-digit losses in the four preceding seasons. They will be quite hopeful of snapping that streak in 2022. They didn't make any splashy moves in free agency, but still added depth all round and they drafted well.
Their Offensive Line could be one of the best in the league in 2022 if they stay healthy and if Jared Goff carries on his form from the second half of 2021 then they will be good this side of the ball. Free agent DJ Chark will give them a deep threat.
They also have a quality TE in Hockenson and if Jameson Williams is as good as he looked at Alabama Goff will have plenty of targets. Add in a solid running game and there is no reason to doubt they can score points. It's stopping them that's the issue.
The defense was poor in 2021 and outside of adding some pass rush with Hutchinson it doesn't look massively improved. Facing Rodgers & Cousins twice will test it. Plus they also have Dak & Josh Allen on the list.
The good news is they have the 5th easiest Strength of Schedule in 2022 so some wins are inevitable but reaching double-digit wins looks like a massive stretch.
4th Chicago Bears
The Bears were not great in 2021 and go into 2022 with a largely new coaching staff and an unproven roster. They will be hoping Justin Fields will develop in year two, however they have given him no help. He was sacked 36 times in his rookie campaign and he will no doubt spend much of 2022 running for his life.
They had a massive turnover in free agency, but look considerably weaker for it. They were somewhat limited in the draft given they gave up a chunk to get Fields last year. Still, they did add an intriguing WR in Velus Jones Jr.
They once again look like ending in limbo missing the playoffs but drafting in the teens.
NFC East Predicted Wins Total
Green Bay Packers  11-6
Minnesota Vikings 9-8
Detroit Lions  7-10
Chicago Bears 6-11
So there you have it our finishing predictions for one of the divisions with the most imponderables.
While you are here why not check out our other NFC East Posts or have a go at some of our NFL Quizzes. Go on everyone loves a Quiz, don't they?