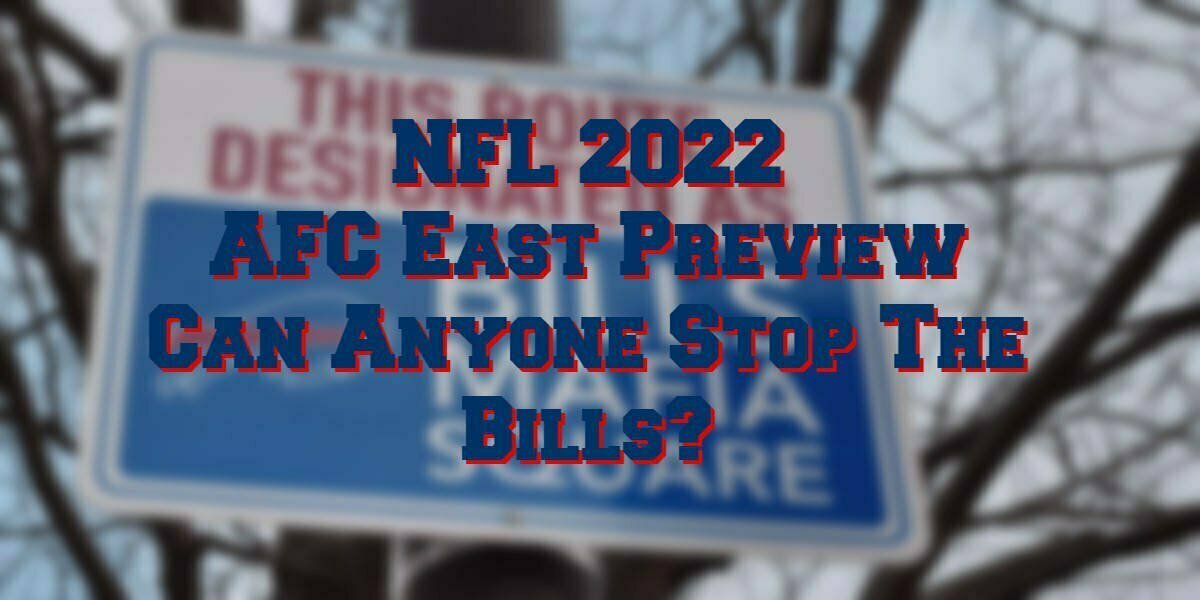 The AFC East is once again taking on the mantle of the most predictable division.  The only difference now is that Buffalo has taken over from New England as the team to beat! Their win total in 2021 was less impressive than in 2020, however, five of their losses were by a TD or less. They also went 5-1 in the division.
In the postseason it took OT for the Chiefs to get past them, in what was one of the best games we have seen. They were very active in free agency and drafted well. It will be a surprise if they don't win the division and being the No 1 seed looks likely.
The Patriots & Dolphins look set to battle it out for the second place. The winner of this duel will likely be the one whose QB makes the leap. Miami has kept faith with Tua and has given him the weapons to succeed. The Patriots made the playoffs last year with a rookie QB. Mac Jones looks the part but is there enough talent around him?
This leaves the NY Jets, who are still rebuilding. Their rookie QB Zac Wilson had a mediocre start, but the lack of talent around him played a big part in that. They have addressed a few of these issues in free agency and used their two 1st round draft picks on probable starters. They should improve on last year's wins total but probably need another year before they compete.
2021 Finishing Positions
Buffalo Bills 11-6
New England Patriots 10-7
Miami Dolphins 9-8
New York Jets 4-13
This meant that the Bills & Patriots met in the Wildcard round. A convincing win for the Bills
AFC East Predicted Finish.
1st Buffalo Bills
The Bills were potentially a coin toss away from the AFC Championship game and didn't really have any weaknesses in 2021. They look even better this year, especially on the defensive side of the ball. Adding Von Miller gives their already formidable pass rush an extra dimension. Their secondary is stacked and Josh Allen is fast becoming one of the stars of the game. They have a pretty brutal opening schedule, however, it gets easier after the bye week. Twelve wins look achievable.
2nd Miami Dolphins
Miami's season was pretty much over after Tua Tagovailoa got injured early in their second game. They went on a seven-game losing streak thereafter but improved once Tua got healthy again and only just missed the playoffs. They showed their ambition going into 2022 when they gave up their draft in the Tyreek Hill trade and they have been busy in free agency. This is a roster built to win if the QB play is up to scratch. If they stay injury free the playoffs beckon and could be the surprise team in 2022.
3rd New England Patriots
New England made the playoffs last year but is still suffering from a post Tom Brady hangover. They have one of the best Head Coaches ever though and he is slowly building a roster that can challenge. They lost a couple of key players in free agency and haven't done a whole lot to replace them. Hence we feel they might struggle to match last season's wins total. They will be on the fringes of the playoff picture though.
4th New York Jets
Its really hard to make a case for the Jets not finishing bottom again in 2022. New York were active in free agency but most of this was on the offensive side. The Jets still lack depth and it is likely that both their 1st round draft picks will be expected to contribute from day one. They are moving in the right direction and at least Zac Wilson will have some better options in 2022.
AFC North Final Wins Total
Buffalo Bills  12-5
Miami Dolphins 10-7
New England Patriots 9-8
New York Jets 5-12
So there you have it our predictions for the AFC East which looks like a one horse race. Still, the fight for second should be interesting.
While you are here why not check out our other AFC East Posts or have a go at some of our NFL Quizzes. Go on have a go and don't forget to share?
Header Image: JoanneStrell/Shutterstock.com