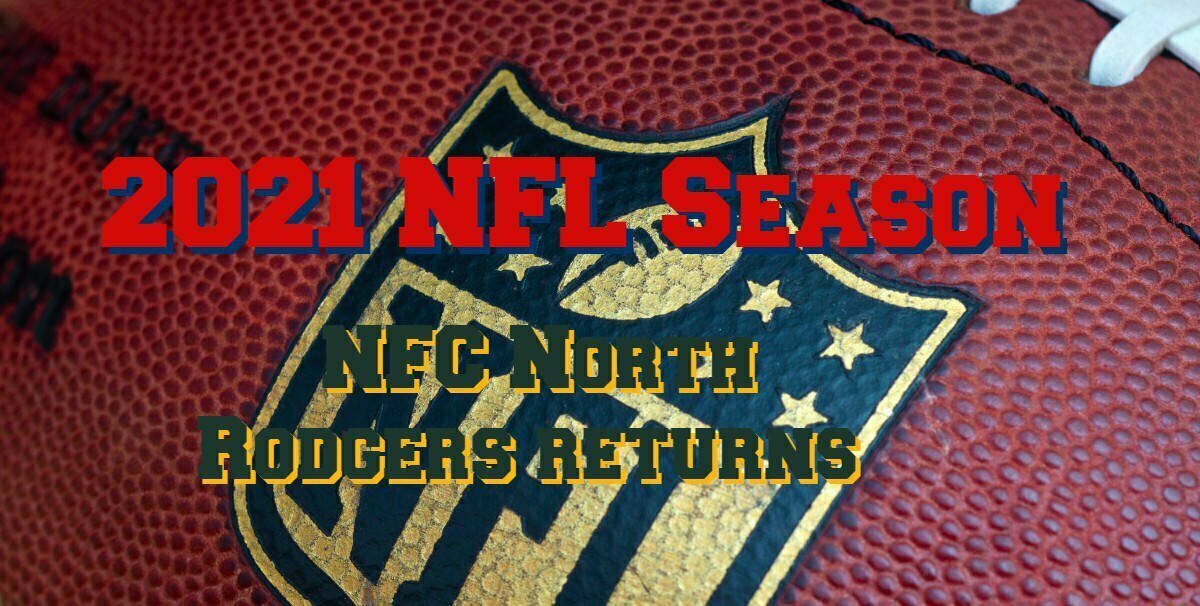 The NFC North has more than its fair share of coverage in the 2021 pre-season. This was largely due to the Aaron Rodgers saga in Green Bay, but the Bears and Lions also contributed. The good news for the Packers (and bad for the rest) is that he is back for at least one more tilt at a ring. That will likely mean that the Packers start as most peoples favourites for the division.
News from the Vikings camp has been sparse but it would be unwise to write them off completely. 2020 had the look of rebuild written all over it but they still finished 7-9.  They have made some intriguing free agency signings on the defense. Whether this will be enough to get them back to the postseason is questionable though.
Anyway, now that the majority of the drama is over we can get down to making our probably too early divisional predictions…
NFC North Predicted Finish
This is how we see the division panning out.
1st Green Bay Packers
After a brief holdout Aaron Rodgers turned up for pre-season practice and with his return, the Packers remain genuine Super Bowl contenders in 2021. Whoever's side you take in the standoff the fact remains that without him Green Bay are likely also-rans.
Their drafting of late has been unusual for want of a better word and caused much of the dissent in the camp. Again this year, despite lacking a true No 2 receiver they passed on a lot of potential at the WR position.
Losing centre Cory Linsey & Jammal Williams has not helped the offense and it looks like 2nd round pick Josh Myres will be playing from day one. Nothing they did in free agency has helped the team, however, given they were only a blown coverage and a questionable offensive call away from being in the Super Bowl last year maybe that's not too bad.
We expect them to dominate the division in what might be Rodgers last season with them. Packers fans make the most of it.
2nd Minnesota Vikings
The Vikings had a relatively quiet offseason, buy comparison anyway. They made some decent free agency moves, stiffening the D-Line and sorting (well sort of) their secondary adding a couple of veteran Corners. Not inspiring we know.  However, they already had enough talent on both sides of the ball to do better than their 2020 record suggests. Dalvin Cook and Adam Thielen can both be game-changers offensively while the secondary looks much improved.
They have a bit of a brutal schedule in November which includes road games against the 49ers, Ravens & Chargers. But that aside they have winnable games and 10 a ten-win season doesn't look too much of a stretch.
3rd Chicago Bears
Chicago has once again taken a punt on a QB. This time by trading up for Justin Fields out of Ohio State. This will leave them with no first-rounder next year, however this time it might have been worth it. Fields have great potential and we really like the rest of their draft picks too. Their O-Line should be better and with Andy Dalton onboard they don't have to rush Fields in on day one.
The Bears made the playoffs last season as the No 7 seed and we think that is probably their ceiling again this year. Still, their future looks bright.
4th Detroit Lions
The Lions are pretty much in a rebuild having traded their star QB Matthew Stafford to the Rams. They have received a serviceable replacement in Jared Goff, but who is he going to throw to in 2021? Their three main wide receivers all walked in free agency, and they haven't done much to replace them.
The good news for long-suffering Lions fans is that they have a lot of drafts picks in the next couple of years. Potentially 5 in the top 100 in 2022 and an extra first in 2023. They look set to finish 4th and possibly by some margin.
NFC North Final Wins Total
Green Bay Packers 13-4
Minnesota Vikings 10-7
Chicago Bears 9-8
Detroit Lions 4-13
So there you have it our predictions for the NFC North and in answer to our opening question, no one in the South but we will be interested to see how the others perform.
While you are here why not check out our other NFC North Posts or have a go at some of our NFL Quizzes. Go on everyone loves a Quiz, don't they?