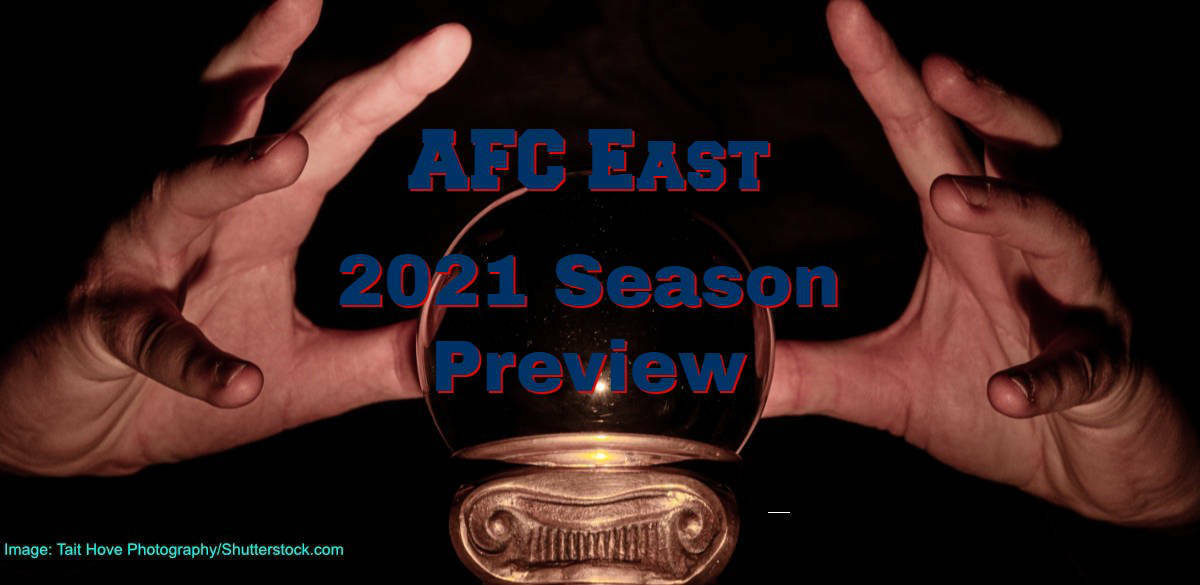 The AFC East used to be the most predictable division in the NFL well as far as the winner was concerned. However, the departure of a certain QB combined with the rise of another has changed that. The Patriots had their first losing season since 2000 last year and have spent big in free agency to rectify that. They should return to winning ways, but both the Bills & Dolphins may be better.
Last season, the Bills made it to the AFC Championship game, thanks largely to their defense outslugging the Ravens in the divisional round. That still looks like the strength of the team and it could be even better in 2021!  They drafted extra pass rush depth in rounds one & two and their running back stable looks deep thanks to the addition of Matt Breda from the 49ers.
Miami continues to progress under Brian Flores and they have massively improved their offense, both in the draft & via free agency. If 2nd year QB Tua Tagovailoa lives up to his potential, they will push the Bills close and could be genuine contenders.
This leaves the Patriots in the unusual position of being underdogs in the division, despite having one of the greatest coaches of all-time at the helm. Bill Belichick will be desperate to prove to the world his success was not all down to Tom Brady and the Patriots have certainly spent big in free agency.
This leaves the NY Jets, who are a young feisty bunch. They will play tough and we are looking forward to seeing their shiny new QB Zac Wilson playing. They are on the up but Six wins would probably be considered a good season for them.
AFC East Predicted Finish.
1st Buffalo Bills
Josh Allen has evolved into one of the most promising young QBs around and the Bills have rewarded him with a substantial new contract. This will have salary cap implications down the line, however, they are in win-now mode. They have given him a bit of extra help by adding veteran Emmanual Saunders to an already loaded receiving corp. With an already strong defense it's hard to look past them for the division, although it might not be as clear cut as last year.
2nd Miami Dolphins
Ok let's start with a bad song lyric pun "it takes Tua". That pretty much sums up the Dolphins prospects. If he has a breakout year the Dolphins are heading for the playoffs and possibly the Superbowl. Honestly, their roster is good enough if their QB play matches it.
Free Agency signing Will Fuller gives them a genuine deep ball threat. He will miss a few games due to suspension but he looks like a great signing. Plus they have drafted Tua's favourite Alabama target Jaylen Waddle. Scoring points shouldn't be a problem in 2021.  Their defense is loaded as well boasting a quality Cornerback pairing of Xavian Howard & Byron Jones.
Their opening schedule is tough (especially the first five games) but if they can get through that with a winning record they are for real. Whatever we can see them winning 10 games plus.
3rd New England Patriots
New England had a great defense in 2019 and with some of their 2020 opt-outs returning plus the additions they could be top 10 again. They will need this as there are questions marks on offense. Cam Newton didn't have a great 2020, however, with no pre-season and a much reduced supporting cast it was not a great surprise. There will be no excuses this time with Joe Thuney being added to the line. They also have an intriguing Tight End paring in Hunter Henry & Jonnu Smith. If Cam can't win games with this cast then Rookie Mac Jones will soon be the starter.
Outside of the division, their schedule is not too bad and some of those tougher games are at home which will help. Speaking of these, all eyes will be on the match up with the Buccaneers on the 4th of October when Tom Brady pays them a visit. A winning season looks on the cards and possibly a wildcard.
4th New York Jets
What can you say about the Jets chances in 2021. Well the old any given Sundaysprings to mind, and we are pretty sure they will win some games. They also have an exciting rookie QB in Zac Wilson who was scintillating for BYU in 2020. If he makes the jump then they could be fringe playoff contenders.
Their defense gave up too many easy yards in 2020 and they have looked to address this in free agency. They spent big on Carl Lawson and former 1st round pick Sheldon Rankins. Lawson is out for the season which is a blow but Rankins should help shore things up.
Offensively they have added Corey Davies who was the no 5 pick in 2017. He has not really lived up to expectations TD wise but did put up 984 yards receiving last year.
Overall though they still have the look of a team in rebuild and they could struggle to get more than 5 wins.
AFC North Final Wins Total
Buffalo Bills  12-5
Miami Dolphins 10-7
New England Patriots 9-8
New York Jets 5-12
So there you have it our predictions for the AFC East which looks like the most unpredictable division in the AFC. This doesn't guarantee a Superbowl slot though!
While you are here why not check out our other AFC East Posts or have a go at some of our NFL Quizzes. Go on have a go and don't forget to share?