Its that time of the year again when NFL fans everywhere get the chance to unleash their inner GM. We are no different and below is our best guess as to where this year's top talent will land. This assumes no draft day trades, however, there are likely to be some, especially towards the end of the day as teams seek that 5th year option.
Anyway without further ado here are our predictions…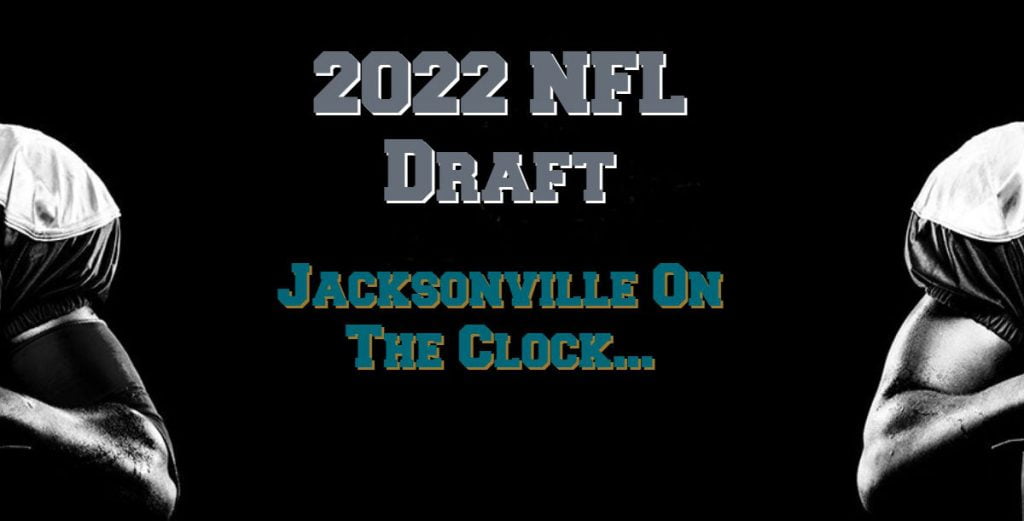 1) Jacksonville Jaguars
Aidan Hutchinson DE Michigan
The Jags pass rush was a bit anaemic last year – to say the least! Hutchinson is coming off a tremendous season and has the size and instincts to be a difference maker from day one.
2) Detroit Lions
Travon Walker DE Georgia
The Loins would probably like to trade out of here, however our mock assumes no trades. They need more pass rush and Walker will fill the gap left by Trey Flowers departure.
3) Houston Texans
Evan Neal OT Alabama
The Texans are in a full rebuild so why not start with the offensive line. He can play Right side while Laremy Tunsil anchors the left.
4) New York Jets
 Kyle Hamilton Safety Notre Dame
Arguably the most talented all-round player in the draft with a rare blend of size &
speed (well at the Combine anyway). He will add a bit of badly needed thump to the Jets secondary.
5) New York Giants
Ikem Ekwonu OT NC State
The Giants are short of talent on the O-Line and Ekwonu should help Saquon Barkley get back to his best.
6) Carolina Panthers
Kenny Pickett QB Pittsburgh
This is a stretch but given the Panthers struck out in free agency they need to take a chance. Pickett may not be the best QB in the class of 2022 but is probably the most NFL ready. He led Pittsburgh to a rare ACC championship in 2021 and he also Broke Dan Marino's Pitt passing records. If he is anywhere near good as he was then the Steelers will have their new franchise passer.
7) New York Giants (from Bears)
Ahmad (Sauce) Gardner CB Cincinnati
The Giants need help in the secondary more than they need pass rush (just) and Gardner is too good to pass up here. Assuming he is still on the board.
8) Atlanta Falcons
Drake London WR USC
The Falcons have addressed their QB issues (temporarily at least) by acquiring Marcus Mariota. However, he needs weapons to have a chance and London gives him a big target.
9) Seattle Seahawks (from Broncos)
Charles Cross OT Mississippi State
QB was an option here however we think they will give Drew Lock a season at least. If he is going to get a fair chance, they will need to give him some protection and Cross is the best OT left if our mock pans out.
10) New York Jets (from Seahawks)
Kayvon Thibodeaux DE Oregon
Not their most glaring of needs but Thibodeaux is probably too good to pass on at this stage of the draft. You can never have enough pass rush, can you?
11) Washington Commanders
Garrett Wilson WR Ohio State
The Commanders are paying Carson Wentz $30 million in 2022 so they better give him some weapons. Playing him opposite Terry McLaurin will give him every chance.
12) Minnesota Vikings
Trent McDuffie CB Washington
The Vikings added Patrick Peterson in free agency but at 32 he is not the long-term answer and there is not a lot of depth behind their starting duo. He is not the biggest CB in the draft but can play in the slot as well as outside bringing badly needed versatility.
13) Houston Texans (from Browns)
Andrew Booth CB Clemson
The Texans roster is so full of holes it resembles a colander, however, Cornerback is the most glaring need.
14) Baltimore Ravens
Tyler Linderbaum OC Iowa
The perfect replacement for Bradley Bozeman and probably an upgrade too! Linderbaum is a day one starter and dark horse for the defensive rookie award.
15) Philadelphia Eagles (from Dolphins)
Derek Stingley CB LSU
The Eagles made the playoffs last year and are not too bad offensively but they need younger talent on defense, especially at Corner and Line Backer. For us, it's a toss-up which they go for first and Stingley is worth a punt here. If he didn't have injury concerns, we would have had him going top 10.
16) New Orleans Saints (from Colts via Eagles)
Jameson Williams WR Alabama
It looks like the Saints are eschewing a rebuild post-Brees and although they could be planning to draft his successor it's more likely that they want to give Winston another chance. After all you don't give someone you are planning to dump a $28m extension. Their Receiver cupboard behind Michael Thomas is currently pretty bare and Williams is a day one starter.
17) Los Angeles Chargers
Kenyon Green OG Texas A&M
The Chargers really need a right tackle but they are also thin at the Guard position and Green has experience playing both positions.
18) Philadelphia Eagles (from Saints)
Devin Lloyd LB Utah
Lloyd is quite versatile being able to play most LB positions. He had a great 2021 not only recording 8 sacks but also 6 passes defended.
19) New Orleans Saints (from Eagles)
Bernhard Raimann OT Central Michigan
If as we expect the Saints are committed to Winston then strengthening the line is the next priority. Raiman switched from Tight End to Left Tackle in 2020 and seemed to take to it like a duck to water. He may need a few games to adjust to the NFL but has great potential.
20) Pittsburgh Steelers
Matt Corral QB Ole Miss
Mitchell Trubisky is going to start in 2022 and given the talent around him, he should do ok. This gives them the opportunity to groom his successor for 2023. We watched Matt Corral play quite a bit last year and he reminds us of a taller if rawer Russell Wilson. He will benefit from a year on the bench.
21) New England Patriots
Chris Olave WR Ohio State
Despite trading for DaVonte Parker the Patriots could still do with more weapons for Mac Jones. Olave is a field stretcher and a polished route runner. If he has a weakness its his slight build. However, the same concern was raised about Devonta Smith last year and that worked out just fine.
22) Green Bay Packers (from Raiders)
Treylon Burks WR Arkansas
The Packers acquired this pick by trading their WR1 and they will need to find his replacement early. Burks is a big strong guy and surprisingly fast as such. He was first-team All-SEC and set a school record with six 100+ yard receiving games. Will he replace Adams? Not in year one but he has huge potential.
23) Arizona Cardinals
Jermaine Johnson DE Florida State
The Cardinals need to replace Chandler Jones and although Johnson is inexperienced, he showed significant progress in 2021 finishing ACC Defensive Player of the Year. He is one to watch.
24) Dallas Cowboys
Nakobe Dean LB Georgia
Dean picked up the Butkus Award (best Line Backer) and although they added Micah Parsons last year the rest of that group are either heading for Free agency or ageing. The Cowboys do need O-Line help but can probably address that later.
25) Buffalo Bills
Breece Hall RB Iowa State
The Bills are loaded in pretty much every position except running back. Breece Hall could be the difference-maker they need to take that final step. He will give Josh Allen another outlet.
26) Tennessee Titans
Zion Johnson OT/G Boston College
With Rodger Saffold now at Conference rival Buffalo the Titans really need O-Line help and Johnson can play both OT & Guard giving them a bit of flexibility.
27) Tampa Bay Buccaneers
David Ojabo DE Michigan
The Bucs need more DL depth and despite the injury concerns, Ojabo is something of a bargain here. He was the unsung hero of the Wolverines' 2021 season recording 11 sacks playing across from probably 1st pick Aidan Hutchinson. He might not be ready for week one but given Tampa will likely be playing deep into January that's not as big an issue.
28) Green Bay Packers
Arnold Ebiketie DE Penn State
The Packers offseason has been dominated by the loss of Adams and the need for a Wide receiver, however, losing Za'Darius Smith leaves them a bit light at pass rush too and they should address this early. Ebiketie transferred from Temple to Penn State for the 2021 season and took the step up in his stride leading the team with 9.5 sacks and earning first-team all-conference honours. He is versatile and could play Line-backer in the right scheme if needed.
29) Kansas City Chiefs (from 49ers via Dolphins)
Jordan Davis DL Georgia
The Chiefs have a few holes to fill including at WR & Corner, however with plenty of later picks they can address their D-Line early with two consecutive picks. Davis is a huge run stopper who can move surprisingly fast for a man of his size (4.78 40 at 341lbs!).
30) Kansas City Chiefs
Boye Mafe DE Minnesota
The Chiefs pass rush was a little disappointing in 2021 and although Frank Clark is back they still need depth. Mafe's playing style is perfectly suited to the Chiefs bae 4-3 defense and he should contribute early.
31) Cincinnati Bengals
Roger McCreary CB Auburn
The Bengals went all out to protect Joe Burrow in free agency and look fairly solid at all positions apart from Cornerback. Probably not a day one starter but will give some badly needed cover and may eventually replace Eli Apple.
32) Detroit Lions (from Rams)
Malik Willis QB Liberty
The Lions are pretty much committed to Goff in 2022 and if he plays as he did in the closing games of the season they will be happy. Willis has a huge ceiling but is not a starter and getting a year as backup under his belt will do him good. Getting that 5th-year option makes it worth a punt and they could be fielding a lot of trade calls if he is still on the board at 32.
So there we have it three QB's and only one safety and Running Back. Will we do better than last year? Who knows but you can check out that one here.