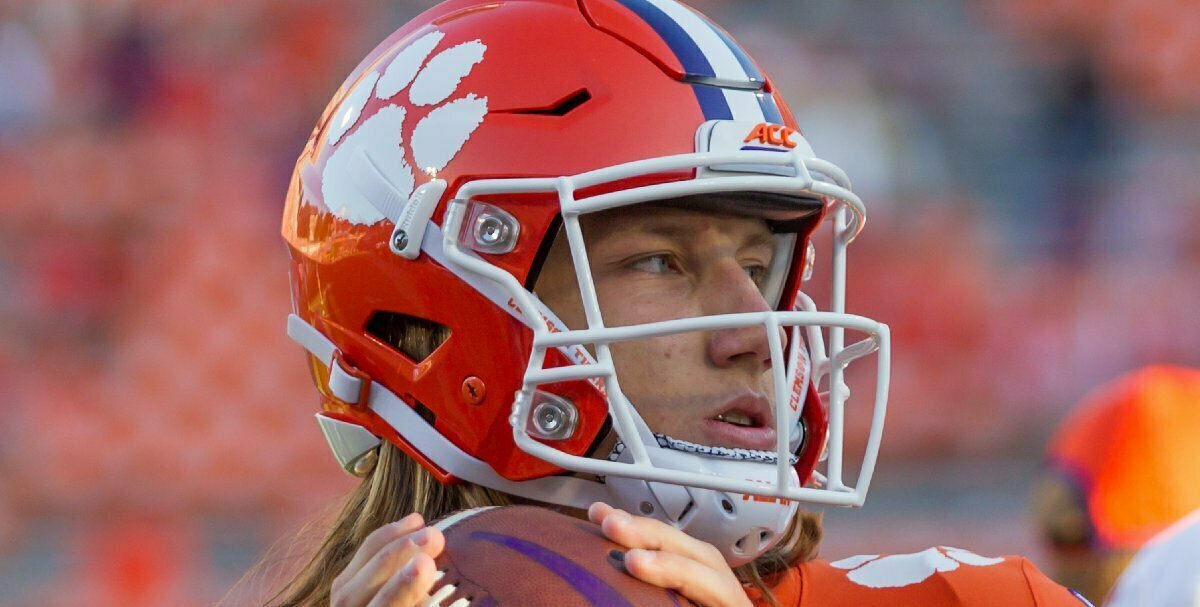 2021 NFL Mock Draft Final Version 
The draft is finally upon us and with the order unlikely to change before the clock starts tomorrow it's time for us to publish our best guess as to who goes where. The Baltimore Ravens trade with Kansas City for the 31st has made the bottom half interesting and we fully expect a few trades to occur in the opening rounds.
The likely trade candidates in round one are Atlanta who might get an offer they can't refuse for that No 4 pick: probably from a QB hungry team. We also think the Detroit Lions might consider trading back a little as they have no late-round picks.  Day one will be quiet for Chiefs Fans with their 1st round pick now with the Ravens, and spare a thought for Seahawks fans who might as well not bother watching given they only have 3 picks left! Just as well they have a franchise QB.
Anyway without further ado here is our Prediction.
2021 Mock Draft
1. Jacksonville Jaguars
Trevor Lawrence QB Clemson
It will be one of the biggest surprises in years if the Jags don't take TL. We can't even begin to contemplate another possible pick.
2. New York Jets
Zac Wilson QB BYU.
The Jets are going QB now that Sam Darnold is history. We think Wilson is the most suited of the crop for LaFleur's offense. They could also go for Trey Lance or Justin Fields but whatever it's going to be a QB.
3. San Francisco 49ers 
Justin Fields QB Ohio State
You don't trade up to take a Tight End so QB it is and although there are whispers that Mac Jones is their man we think Fields is the one.
4. Atlanta Falcons
Kyle Pitts TE Florida
The Falcons need a Tight End and one of the best in years falls into their laps. The only other possible choice is Penei Sewell who is another outstanding prospect. A trade is possible but it would be for a king's ransom.
5. Cincinnati Bengals
Penei Sewell OT Oregon
Outstanding prospect and arguably the Bengals biggest need. They need to keep Joe Burrows healthy more than they need to give him weapons.  The only other pick that would make sense would be Ja'Marr Chase who would relish playing with his former LSU teammate.
6. Miami Dolphins 
Ja'Marr Chase WR LSU
Biggest need and if the above plays out arguably the best player still on the board. They traded back up to get one of the Three Jewels Pits Chase or Sewell so either of them would be the pick should Chase be gone.
7. Detroit Lions
Rashawn Slater OT Northwestern
The Lions are pretty much in rebuild (again!) and could go a number of ways, including trading down. However, Slater a day one starter and can fill their gaping hole at Right Tackle. If they decide to look elsewhere then WR Devonta Smith or possibly one of the two top Cornerbacks, Horn or Surtain II could be on their radar.
8. Carolina Panthers
Patrick Surtain II CB Alabama
The Panthers need to shore up their secondary and Surtain has both the pedigree (his father was a Pro Bowler) and the measurables 6'2 and 208lbs to be a handful for any WR.  Jaycee Horn the other top CB is also a possible pick. They also need to strengthen their OL so they could look at Christian Darrisaw but this might be too high for him. Trading down is also possible given Trey Lance and Mac Jones are likely still available.
9. Denver Broncos
Micah Parsons LB Penn State
The Broncos have just traded for QB Teddy Bridgewater and still have Drew Lock so they might just resist the temptation to spend a 1st round pick on a QB. They need some help on defense and Parsons might just be worth taking a punt on even if pick 9 looks a little high. They could of course take either Trey Lance or Mac Jones and stuff the QB room or possibly address their secondary with Jaycee Horn.
10. Dallas Cowboys
Jaycee Horn CB South Carolina
The Cowboys need a top Cornerback and they will take either Horn or Surtain II if either is on the board. We think the latter will be gone so Horn it is, and that's no bad thing.
11. New York Giants
DeVonta Smith WR Alabama
Big Blue would probably have liked to see Parsons or one of the two top CB's slides to them here, however, if as we predict they are gone then it's between Smith & his Alabama teammate Jaylen Waddle. Either makes sense as Jones needs more weapons.  They also could do with some pass rush to don't rule out them going for Kwity Paye.
12. Philadelphia Eagles 
Jaylen Waddle WR Alabama
The Eagles need a WR and Waddle is small but beautifully formed. There are a few injury worries, however, he is well worth a punt here. He is explosive and will be fun to watch.
13. Los Angeles Chargers
Alijah Vera-Tucker OL USC
The Bolts need a Left Tackle and Vera-Tucker has experience there. He looks like a plug and play starter.  If he is gone then Darrishaw is a possibility or they could even go Edge with Kwity Paye. Bookending Paye and Bosa would be scary!
14. Minnesota Vikings
Kwity Paye Edge Michigan
The Vikings need help here and Paye looks like the best of a not particularly deep class. Grabbing Edge help here makes more sense than taking a gamble later on.
15. New England Patriots
Mac Jones QB Alabama
The Pats are keen to move on from their disappointing (by their standards) showing in 2020 and Jones is the more NFL ready of the two best remaining QB's. They could take Trey Lance, however, he would benefit from a few games on the bench while he learns.
16. Arizona Cardinals
Caleb Farley CB Virginia Tech
Arizona needs a CB and Farley who sat out 2020 showed great promise in 2019 with 4 interceptions in 13 games. He has some health concerns, but with Patrick Peterson gone, they need to fill this roster gap pronto. Greg Newsome II is also a possibility here.
17. Las Vegas Raiders
Christian Darrisaw OL  Virginia Tech
Trent Brown has been less than spectacular since his free agency acquisition and this would allow the Raiders to move on from him or at least have some cover.
18. Miami Dolphins
Jaelan Phillips Edge Miami
The Dolphins would probably have liked to go OL here, but with the cream gone, they can fill another gap by taking Phillips out of their local University. He is fast off the blocks and as long as he can stay healthy he should be a long time starter.
19. Washington Football Team
Trey Lance QB North Dakota State
The Football team will be delighted to see Lance slide to them. They have the ultimate mentor for him in Fitzmagic and we would expect to see him take the field towards the tail end of the season if they draft him.
20. Chicago Bears
Teven Jenkins OL Oklahoma State
The Bears have a solid enough QB this year in Andy Dalton, who we think is much maligned. So what better than to make sore he has a decent line in front of him. Jenkins can play either right or Left Tackle and this versatility will come in useful if the Bears have another injury-plagued season.
21. Indianapolis Colts
Alex Leatherwood OL Alabama
The Colts need to replace Anthony Castonzo and Leatherwood is as good as they will get at this stage of the draft. Some may think this is a reach, however its a need.
22. Tennessee Titans
Zaven Collins LB Tulsa
The Titans would love one of the top CB's to slide but assuming things pan out like this then grabbing a versatile LB makes sense. Collins can play OLB but has had the bulk to play in the middle.
23. New York Jets 
Najee Harris RB Alabama
The Jets have plenty of roster holes to fill, however giving their shiny new QB an outlet makes sense with their second 1st round pick. Harris has the size to plough the ball up the middle but is also dangerous catching short passes. This is an ideal solution for a rookie QB, especially one with a questionable line in front of him.
24. Pittsburgh Steelers
Travis Etienne RB Clemson
The Steelers run game was uncharacteristically poor last year and they have done nothing to address this in free agency. Ettienne won't be around in the second round when they pick next so filling a big need here makes sense even if it may be a little high. Trading back a few spots is a possibility here too.
25. Jacksonville Jaguars 
Trevon Moehrig Safety TCU
The Jags will need some Ol help, but with all the 1st round talent gone, they can fill a need in their secondary with by far the best safety in this year's draft. He will be a contributor from day one.
26. Cleveland Browns
Jeremiah Owusu-Koramoah LB Notre Dame
The Browns have a pretty mean defense in the making and adding the ACC Defensive Player of the Year to this may just be enough to keep them atop the AFC North.
27. Baltimore Ravens
Azeez Ojulari Edge Georgia
The Ravens need an edge rusher and anyone who saw Azeez Ojulari in the Peach Bowl will know that he can be disruptive. he is quite versatile too though and can play LB if needed.
28. New Orleans Saints
Asante Samuel Jr. CB Florida State
The Saints need a CB and Samuel is the best left.  If he had been a couple of inches taller he could have been in the top 10 conversations.
29. Green Bay Packers
Kadarius Toney WR Florida
The Packers have a few needs, including on the Ol and at CB but with the top prospects likely gone they can give Arron Rodgers an early X-Mas gift by adding a versatile receiver to his currently somewhat limited array of weapons.
30. Buffalo Bills
Terrace Marshall Jr. WR  LSU
The Bills look set for another playoff push in 2021 but could do with adding a bit of youth to their receiving corps.  Beasley & Saunders are both well north of 30 so having a potential day one starter will give Josh Allen a bit of comfort.
31. Baltimore Ravens 
Jalen Mayfield OT Michigan
The Ravens traded their Left Tackle to conference rivals the Chiefs, so they will be seeking his replacement early in the draft. Mayfield can play multiple roles so should be able to slot in at the LT position pretty much straight away.
32. Tampa Bay Buccaneers
Gregory Rousseau Edge Miami
What do you give the team which looks to have everything? How about a bit of extra pass rush. Rousseau has not got many games under his belt, but he doesn't need to be rushed and he should be game ready in the latter stages of the season.
So that's 5 QB's and a couple of running backs. A bit of a change from our early version which you can see here