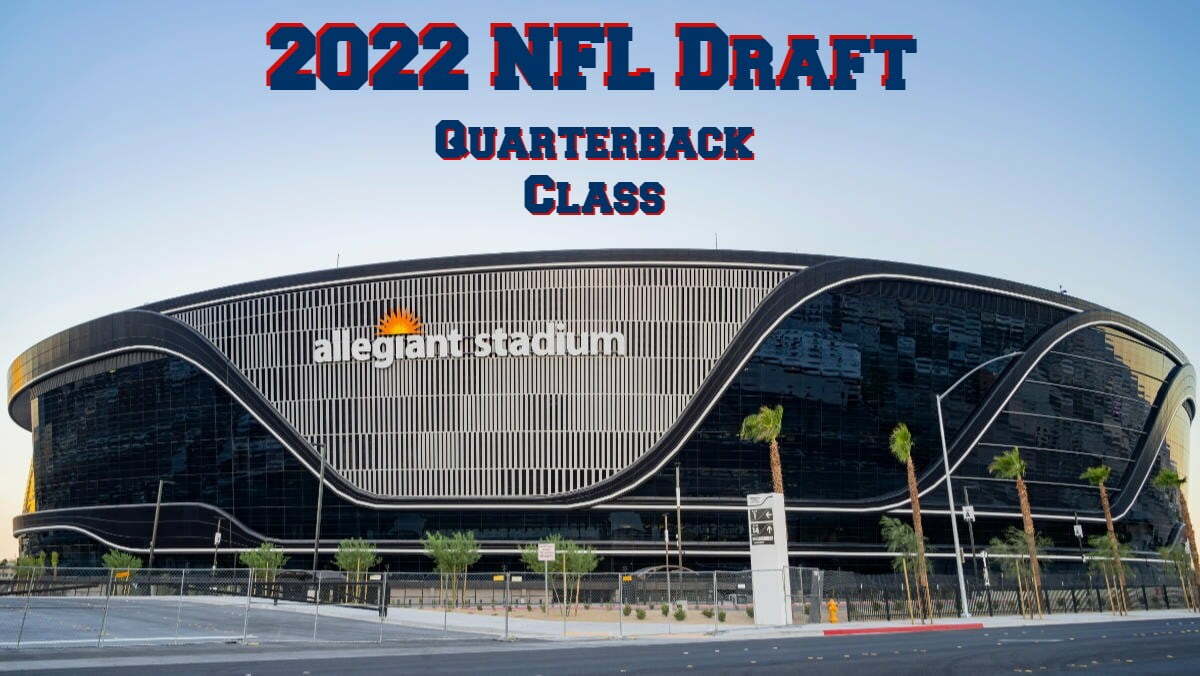 2022 is not viewed by some as a vintage year for QBs, however, there are enough teams looking for a signal-caller to ensure that some will go in the first round. We currently expect at least two will be picked and at least one of those will be a reach as a team gambles on finding the face of their franchise.
Anyway here is how we rank the available Quarterbacks this year.
Our Top Three
1 Matt Corral – Ole Miss
Corral was a 5-star recruit in 2018 and probably benefitted from having a couple of quiet seasons before being thrown in as the starter in 2020. He showed flashes in that season and apart from two horror shows against LSU & Arkansas where he had a combined 11 interceptions, he was solid. 2021 saw marked improvement with 20 TDs and only regular-season 4 picks. He also added 11 with his legs and even ran in a 2pt conversion.
He is tough, mobile and has a decent arm.  If we had to compare him to an NFL QB we would say, Russell Wilson. He should go in round one and possibly quite high if a team panics on the position (Carolina we are looking at you!).
2 Kenny Pickett – Pittsburgh
Pickett came back for a 5th season following the Covid shortened 2020 and boy did he make use of it. He set two Panthers single-season records, 4,319 yards passing & 47 total TDs. He also holds both career records as well. There are enough QB, needy teams, to ensure that his name is called on day one and he might be staying local as the Steelers are one of those needy teams!
3 Malik Willis – Liberty
Willis has loads of potential but we are not sure he is a day one starter. He has a decent arm and can run when needed but he would benefit from sitting for a year before being thrown into what would likely be a mediocre squad. His 2021 stats were good overall but his completion percentage was not great at 61.1%. He reminds a bit of Lamar Jackson more dangerous when he takes off than standing in the pocket. He could go anywhere in round one.
Day Two Candidates
4 Sam Howell – North Carolina
Despite losing most of his offense to the NFL in 2020 Sam had a pretty good 2021. He averaged nearly 324 all-purpose yards per game and scored 35 TDs of which 11 were on the ground. He was sacked 48 times last year and often had to scramble to keep the chains moving. This is reflected in the fact that he had five 100 yard plus games and also put up 98 in two more! With more talent around him, he has the potential to be a dual-threat starter.
5 Desmond Ridder – Cincinnati
Ridder is a hard one to fathom. He has been a part of the Bearcat's tremendous achievement over the last few seasons, but how big a part? He led them to the CFP playoffs last year (the first non Power Five team to achieve this) but the defense was a big part of that.
His stats were impressive last year, however when he has played the top teams his production has dropped off massively.  When facing Indiana, Notre Dame & Alabama his completion record was 55.6%, 59.4% & 53.1%. This compares to a season average of 64.9%. This seems to indicate that he struggled against the better defenses and feasted on the weaker ones. He will be facing pressure every week in the NFL. He might need a season or two to adjust.
Third Round Possibles
6 Jack Coan – Notre Dame
Coan is built to be a pocket passer with good size and an accurate arm. Just don't ask him to scramble as he finished with -100 yards rushing last year! Still, he led the team to an 11 win season and had 25 TDs and only 7 interceptions. He ended his career with an eye-catching performance in the Fiesta Bowl where he threw for 509 yards and 5 Tds. He will need to be in the right set-up to succeed as a starter but if given time – watch out. Check out some of his Fiesta Bowl throws below…
7 Carson Strong – Nevada
Team captain and with the physical traits to be an NFL starter. Had it not been for the multiple surgeries on his right knee he would have been a potential first-round pick.  Someone may take a flyer on him but the injuries are a red flag. He should find a backup role and it will be a surprise if he is not off the board by the end of round four.
Late Round Possibles
8 E.J. Perry – Brown
Could be anything, athletic for a QB and has won a heap of awards at an admittedly lower level of play. Should be drafted late on and he is one we will be watching out for. We have covered him in a little more depth here.
9 D'Eriq King – Florida
A team will almost certainly pick up D'Eriq King, but most likely they will view him as a future slot receiver. He is a bit undersized for an NFL QB but undoubtedly has talent.
10 Skylar Thompson – Kansas State
Thompson will be 25 when the season starts and that will probably count against him. He has also had an injury-plagued last two seasons. On the bright side, he did win the Texas Bowl MVP award in 2022.
11 Anthony Brown Jr. – Oregon
Had a decent season with the Ducks having been made starter in 2021 when he opted for another year due to the covid affected 2020. He has played in a couple of Bowl games for Oregon and had prior P5 experience at Boston College.
12 Anthony Russo – Michigan State
Impressed greatly in his early career at Temple before transferring to try his luck in the Big 10. His limited gameplay will count against him but he did impress at the Tropical Bowl where he won overall MVP.
Sought After Free Agents
13 Aqeel Glass – Alabama A&M
Played a 5th college season using the Covid clause and finished his Alabama A&M career on a high with 3,568 yards passing 36 TDs to 7 interceptions. He won the Deacon Jones Trophy for a second year running too!
14 Cole Kelley – SE Louisiana
Kelley was an FCS First Team All America in both 2020 and 2021 and last season he scored an impressive 60 TDs in 12 games. 16 of these were rushing which is impressive for a big guy (he is 6ft 7″). He started out with Arkansas in the SEC, and he scored 5 TDs against FBS Louisiana Tech in last season's opener. Kelly was one of the 21 FCS players invited to the Combine and only three of these were QBs.
Likely Undrafted (in no particular order)
Brock Purdy
Levi Lewis Louisiana
Brandon Peters Illinois
Eric Barriere Eastern Washington
Zerrick Cooper Jacksonville State
Logan Bonner Utah State
Nick Starkel San Jose State
McKenzie Milton Florida State
Header Image: Kit Leong/Shutterstock.com